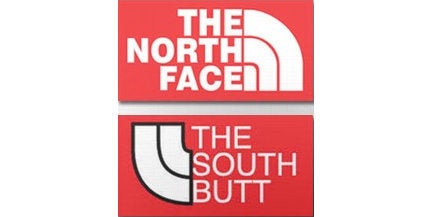 The popular outdoor apparel company North Face is threatening an 18-year-old Missouri college student with legal action for trademark infringement. Law lawsuit stems from the sudent--Jimmy Winkelmann--trademarking a parody of North Face's iconic logo, turned upside down to look like a butt.
Jimmy Winkelmann said he has no intention of complying with the cease and desist request sent last month by lawyers for The North Face Apparel Corp., saying his 2-year-old business -- The South Butt LLC -- poses no threat to it.

Winkelmann's attorney Albert Watkins, who plays squash with his client's father and traded his services for a really good bottle of burgundy, responded to North Face with a Sept. 10 letter in which he not only declined the company's request but told it that The South Butt should be considered flattery.
The St. Louis Post-Dispatch reports that the order is the best thing to happen to The South Butt, which launched a marketing campaign in response to the order.

It was a carefully coordinated offensive that turned Winkelmann's sarcastic critique of consumer culture into a case of corporate bullying. It was David vs. Goliath. A college freshman with more outside help than you might think fighting against The North Face, part of a multibillion-dollar apparel empire.

"I don't think they have any grounds to stand on," Watkins said. "They're just being bullies."