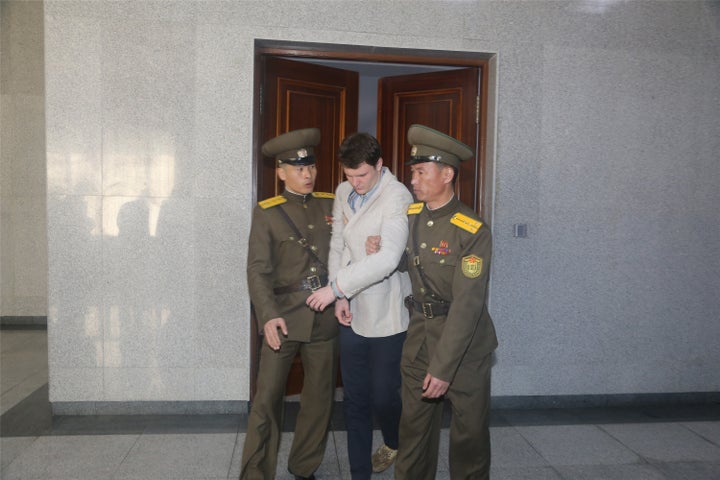 North Korea's state news agency, KCNA, said Monday that a 21-year-old University of Virginia student, who was detained last month, was arrested for stealing a propaganda sign from his hotel.
KCNA claims that Otto Frederick Warmbier stole the sign and that the theft was pre-planned as part of a plot by a U.S. church to get a "trophy" from the country.
While Warmbier's arrest may have been shocking, it was only the latest reported case of a Westerner being held in North Korea, which is a notoriously secretive and isolationist country.
Warmbier also appeared at a press conference Monday, during which he confessed to his alleged crimes, and begged to be returned home. His video confession was reminiscent of other instances where North Korea has arrested foreigners. Detainees are often filmed reading pre-written statements admitting their guilt, as well as giving assurances that the country is treating them well.
The U.S. and Canadian governments both strongly advise against traveling to North Korea. Neither country maintains consular relations with the country or has a government office there.
"Do not assume that joining a group tour or using a tour guide will prevent North Korean authorities from detaining you or arresting you," the U.S. Department of State website warns.
There's a long list of things that can get you into trouble in North Korea. Foreigners can be arrested for such acts as exchanging currency with an unauthorized vendor, possessing printed or digital pornography, taking unauthorized photographs, engaging in unauthorized interaction with locals, shopping at stores that aren't designated for foreigners, criticizing the government, and disrespecting the country's current or former leaders. Cell phones will likely be confiscated or closely monitored.
Despite the warnings, North Korea attracts an estimated 6,000 Western tourists each year. While many have visited and returned home with no major problems, others like Warmbier have not been so lucky. Here are the stories of eight other North Americans who had trouble in North Korea in recent years: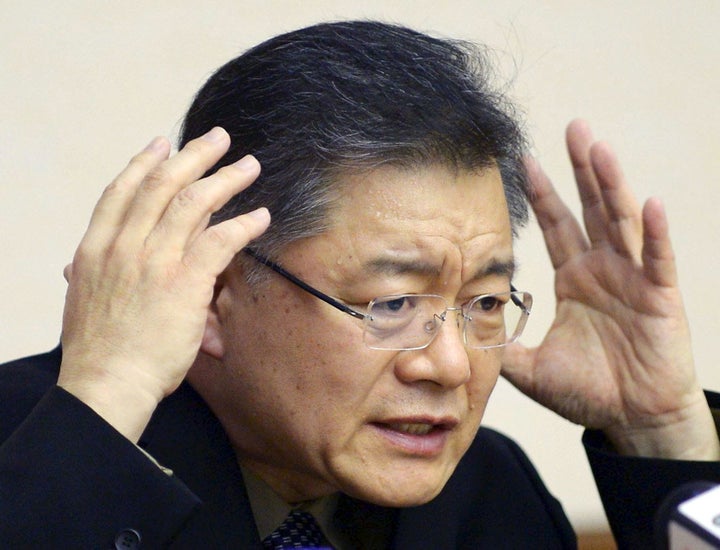 Hyeon Soo Lim
Canadian pastor Hyeon Soo Lim, who is in his 60s, was detained during a humanitarian trip to North Korea in 2015. He had visited the country more than 100 times before to support a nursing home, a nursery and an orphanage.
Lim was convicted of "crimes against the state" and sentenced to life in prison with hard labor by North Korea's highest court in December. Prosecutors had originally sought the death penalty and accused him of other crimes such as harming the dignity of the supreme leadership, using religion to destroy the North Korean system and disseminating negative propaganda about the country.
According to local media, Lim confessed to his crimes. Now, he reportedly spends eight hours a day, six days a week, working in a labor camp.
Kim Dong Chul
CNN revealed in mid-January that it had spoken with Kim Dong Chul, a North Korean prisoner who claimed to be a naturalized American citizen who used to live in Virginia and China. The U.S. government has not confirmed his citizenship.
Kim, 62, was allegedly arrested in October 2015 and remains imprisoned. He told CNN that he had been spying on behalf of South Korean individuals and that he was instructed to take photos of military secrets and spread anti-North Korean propaganda.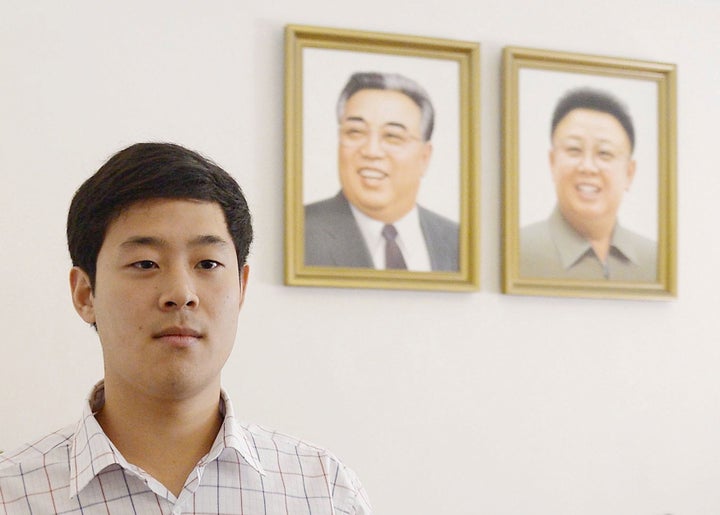 Won Moon Joo
North Korean officials arrested New York University student Won Moon Joo in 2015 for crossing the Chinese border into their country. Joo, who was 21 at the time, is a South Korean national with permanent residency status in the United States. His reasons for entering North Korea are unknown, and he was deported after about six months of detention.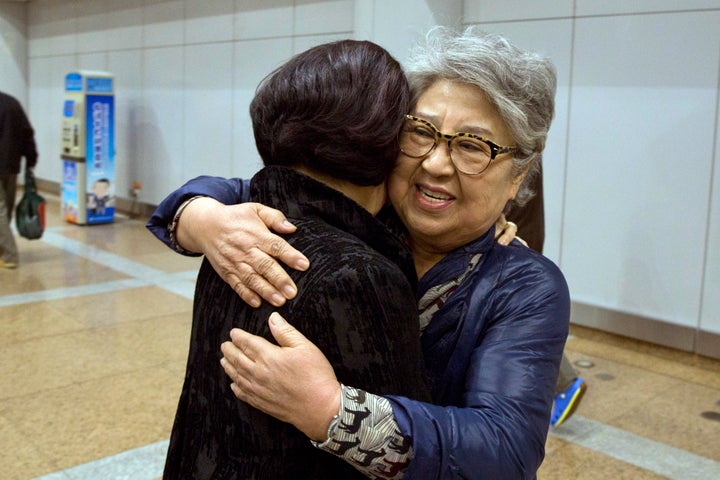 Sandra Suh
North Korean authorities deported frequent visitor Sandra Suh in April 2015 for alleged "plot-breeding and propaganda." Suh, an American, was accused of secretly producing negative videos during humanitarian trips "out of inveterate repugnancy" toward the state. North Korea also claimed that she had admitted to insulting the people's trust in leader Kim Jong Un.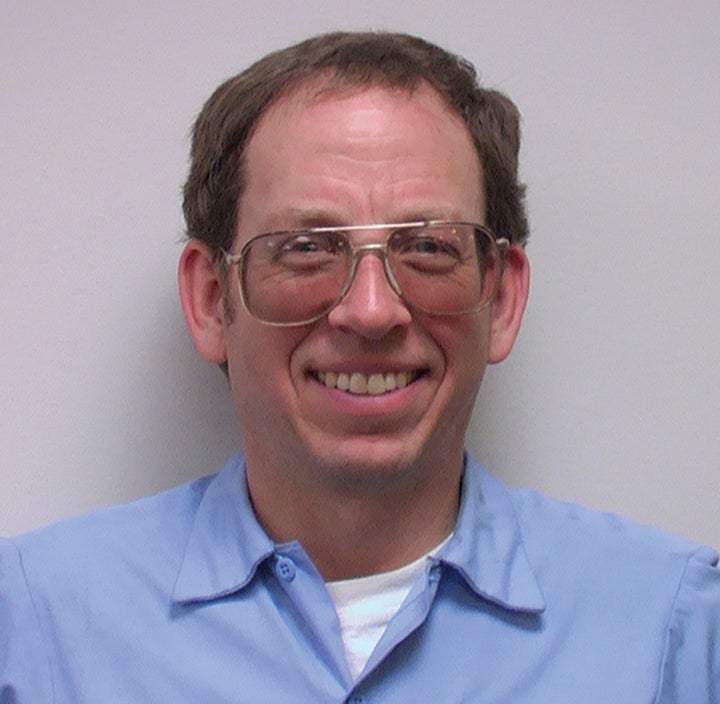 Jeffrey Fowle
Perhaps the most puzzling case of all is that of Jeffrey Fowle, a middle-aged father of three from Ohio who dared to leave a Bible in a North Korean bathroom. Fowle was held for several months in 2014 before his release was negotiated by the U.S. government in October of that year.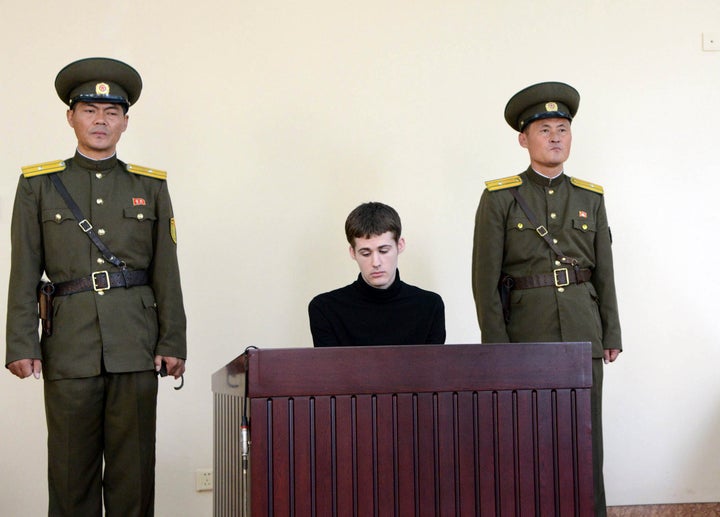 Matthew Miller
U.S. citizen Matthew Miller was accused of destroying his tourist visa while in North Korea in 2014 so that he could experience prison and secretly investigate the country's human rights situation. The Californian was sentenced to six years of hard labor, but the U.S. government secured his release later that year.
"Prison life is eight hours of work per day. Mostly it's been agriculture, like in the dirt, digging around," Miller told The Associated Press in a brief interview from prison.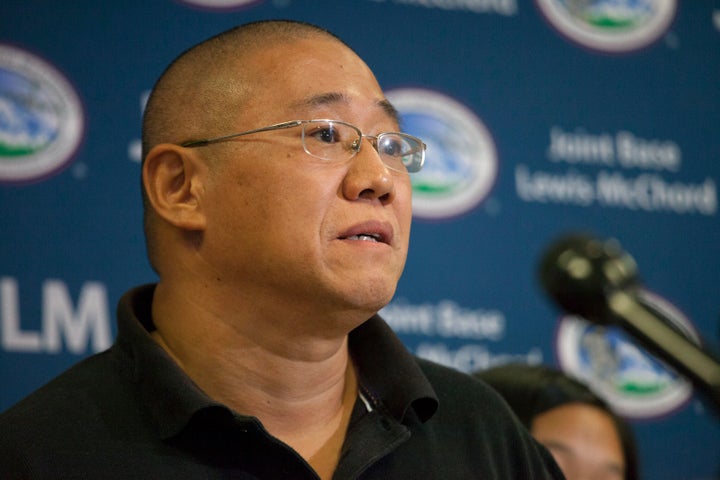 Kenneth Bae
Missionary Kenneth Bae was North Korea's longest-serving American prisoner of recent times. He was detained in late 2012 while leading a tour group and sentenced to 15 years of hard labor for anti-state acts. While under guard, he apologized for his alleged crimes at a press conference and pleaded for the U.S. government to help him.
Bae was released along with Miller in November 2014.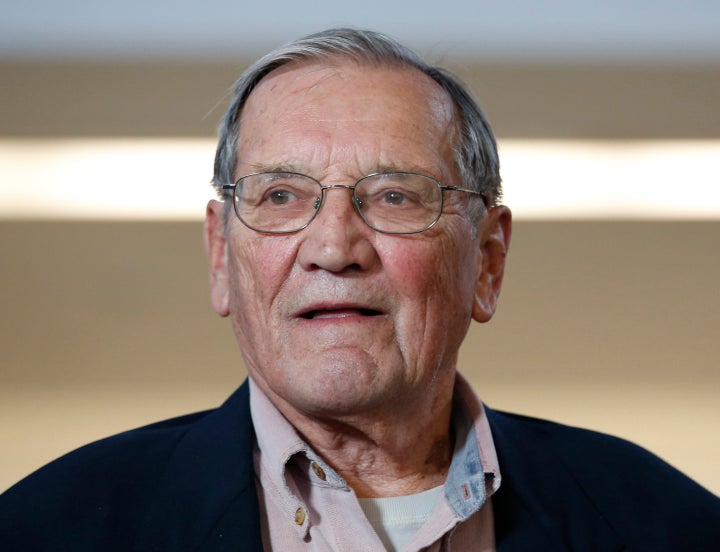 Merrill Newman
Korean War veteran Merrill Newman, a U.S. citizen, was detained during a visit to North Korea in 2013. Newman, 85 at the time of his arrest, later said he thought he was held because he wanted to visit other war veterans.
As for his videotaped confession, Newman said in a statement after his release later that year that he had spoken under duress. "Anyone who knows me knows that I could not have done the things they had me 'confess' to," he said.
It's not clear what the exact charges against Newman were.
This entry has been updated with new information on the arrest of Otto Frederick Warmbier.