North Korea test-fired what appeared to be another ballistic missile on Sunday, South Korean news agency Yonhap reported, further defying international pressure on the isolated nation to give up its missile and nuclear programs.
South Korea's military identified the projectile as a short-range Scud missile. It had been been launched from near the coastal city of Wonsan and flew about 280 miles east.  
Japan said the missile had landed in its exclusive economic zone in the Sea of Japan but caused no damage to planes or ships. "This ballistic missile launch by North Korea is highly problematic from the perspective of the safety of shipping and air traffic and is a clear violation of United Nations Security Council resolutions," Japan's Chief Cabinet Secretary Yoshihide Suga said, according to Reuters.
"Japan absolutely cannot tolerate North Korea's repeated provocative actions. We have strongly protested to North Korea and condemn its actions in the strongest terms," Suga added.
U.S. President Donald Trump had been briefed on the launch. "The United States government is aware. The president has been briefed," an unidentified National Security Council official said, according to White House pool reports.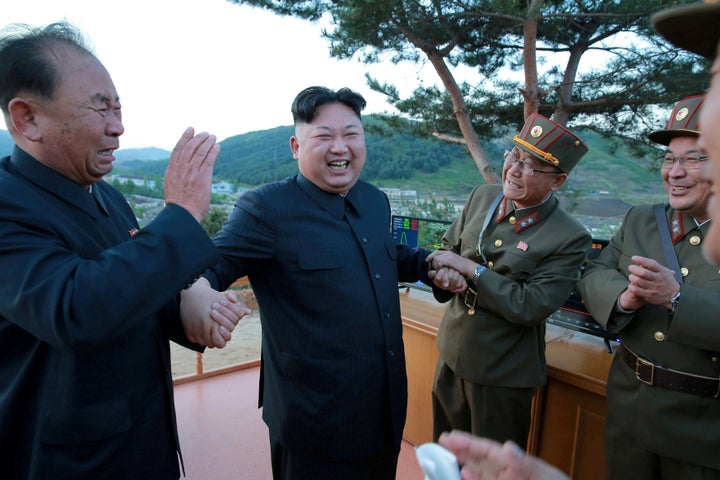 North Korea has spent years attempting to build an intercontinental ballistic missile that has the power to reach United States, but has so far failed to successfully test a weapon with that capability. The United States and its allies have been carefully watching North Korea's tests, as well as its military parades, to monitor the progress of country's secretive missile program. Experts project that Pyongyang is still several years away from possessing a functional ICBM, but the looming threat is a persistent policy problem for the U.S. with no consensus how to address.
Pyongyang dramatically increased the number of missile tests in recent years and even conducted two nuclear tests, as Kim accelerated the country's missile program in tandem with pursuing advancements in its nuclear capabilities. The U.S. responded under former President Barack Obama by ramping up a clandestine cyber war aimed at disrupting the missile program.
Although the American cyber operations are thought to be a major reason that so many of North Korea's recent tests have result in failure, Washington has been unable to fully stop advancements in the missile program.
Pyongyang stepped up the pace of its tests even further in recent months. Sunday's launch is the country's ninth missile test just this year, Yonhap reported, and comes just a week after Pyongyang tested a mid-range missile.
Just hours before Sunday's launch, North Korean state media KCNA reported that the country's leader, Kim Jong Un, had supervised the test of a new anti-aircraft weapon system, ordering its mass production. However, KCNA did not provide details about the type of weapon, nor when the test took place, Reuters notes.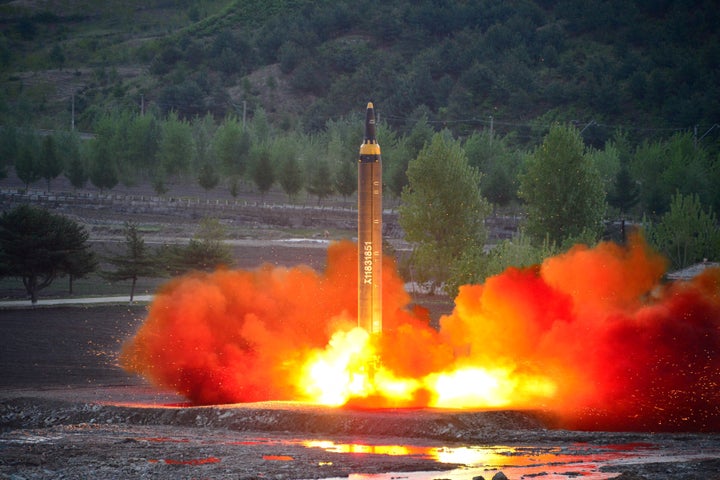 President Trump has used stern and hostile terms when speaking about North Korea's military moves. Previously leaked transcripts of a call from last month between the U.S. president and Philippines President Rodrigo Duterte showed Trump describe Kim as a "madman with nuclear weapons." Yet Trump has also publicly praised Kim as a "pretty smart cookie," and said he would be "honored" to meet him and conduct direct negotiations under the right circumstances.
Despite Trump's tough rhetoric, the U.S. and other international powers have no easy options to prevent Pyongyang from becoming a nuclear armed state with the range to target a large portion of the world.
Military intervention would likely spur a devastating reprisal attack that could hit South Korea, Japan and other allies and states in the region. Different attempts at negotiation have failed to compel Pyongyang to denuclearize, however, as have extensive sanctions targeting the Kim dynasty. Trump has said he believes China, North Korea's most powerful ally, could be a crucial ally in pressuring Kim to abandon his pursuit of intercontinental nuclear missiles.
Calling all HuffPost superfans!
Sign up for membership to become a founding member and help shape HuffPost's next chapter