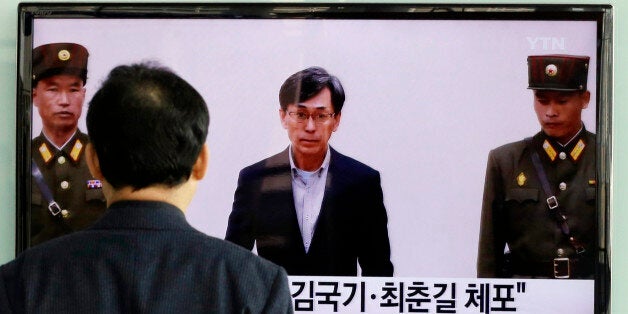 By James Pearson and Jack Kim
SEOUL, March 27 (Reuters) - South Korea demanded the immediate release on Friday of two of its citizens being held in North Korea on accusations spying.
Late on Thursday, the North's official KCNA news agency showed images of two middle-aged men it identified as Kim Kuk Gi and Choe Chun Gil speaking at a news conference in the North Korean capital, Pyongyang.
It said the two men were South Korean nationals working as spies for Seoul's National Intelligence Service from the Chinese border city of Dandong.
"They zealously took part in the anti-DPRK smear campaign of the U.S. imperialists and the puppet group of traitors to isolate and blockade the DPRK in (the) international arena," the agency said, using North Korea's official DPRK acronym for Democratic People's Republic of Korea.
South Korea's Unification Ministry, which handles ties with the North, confirmed the two men are citizens of the South but declined to comment on their backgrounds.
A ministry official told a media briefing on Friday their detention was "deeply regrettable" and demanded their immediate return to South Korea.
"Everything is groundless," an official with South Korea's National Intelligence Service told Reuters.
North Korean state media accused one of the men of running a China-based "underground church" and illegally spreading foreign information on USB sticks and SD memory cards in the country.
Dandong is home to many ethnic Korean Chinese traders who deal with both North and South Korean businessmen. It is also home to South Korean and Christian missionaries from the West trying to operate in North Korea.
The KCNA article did not say how or where the two men had been arrested.
Chinese Foreign Ministry spokeswoman Hua Chunying said she was aware of the reports of the arrests, but lacked details and would have to look into the matter.
North Korea has held South Korean missionary Kim Jeong-wook since October 2013 on allegations of espionage, despite pleas from Seoul to release him. He was given a life sentence of hard labor.
In February, a South Korean-born Canadian pastor went missing during a humanitarian mission in the North and his church said earlier this month he was being detained there.
Last year, a Canadian Christian couple who worked with North Korean refugees and ran a coffee shop in Dandong were accused of espionage by the Chinese government.
Korean-American missionary Kenneth Bae was released last year after being sentenced by the North Korean government on charges of trying to bring down the state. (Additional reporting by Ben Blanchard in BEIJING; Editing by Tony Munroe, Paul Tait and Simon Cameron-Moore)

Related
Popular in the Community