President /www.huffingtonpost.com/topic/donald-trump"}}" data-beacon-parsed="true">Donald Trump's strategy of threatening North Korea could set "the stage for successful diplomacy" to limit the hermit nation's nuclear program, William J. Perry, Bill Clinton's second secretary of defense, told The Huffington Post in an interview Friday.
Perry, who endorsed Hillary Clinton in the 2016 presidential race, has been advising presidents on nuclear activity since the Cuban missile crisis in 1962. A mathematician by trade, he has devoted much of his time since his government work to nuclear disarmament through the William J. Perry Project, a nonprofit he founded. The U.S. came close to nuclear confrontation with North Korea in 1994, during Perry's tenure as defense secretary. Diplomacy was the key in avoiding a crisis, he said. But the U.S. needs to be seen as a credible threat to North Korea for diplomacy to be an option, he argued.
By sending North Korea a message that a military strike is indeed on the table, Trump could create an environment where diplomacy might be possible — and limit the cooperation between the country and China, Perry argued.
"North Korea would do well not to test his resolve or the strength of the armed forces of the United States in this region," Pence said of Trump. 
Pyongyang tested a missile Sunday morning, but it failed almost immediately after launch. 
The first step to a successful North Korea strategy is leading the country to "believe that we're serious about military action," Perry said. "They did not believe that during the Obama or the Bush administrations. They believe it now."
Their objective was to sustain their regime and they have succeeded, and they think that their nuclear program has played a big role."

William J. Perry, former secretary of defense
Trump has appealed to China to play a greater role in containing North Korea, and met with Chinese President Xi Jinping at Mar-A-Lago last weekend to discuss cooperation. Trump made it clear that he would welcome Beijing's help, but has warned that he's prepared to act alone ― though he hasn't specified what action he's prepared to take. But his bluster seems to be working, Perry said. 
"We have never been able to get China to cooperate with us in the past, but China now is fully convinced that North Korea's action is posing dangers to their own security."
The facts on the ground have also changed. For many years, China didn't think Pyongyang was capable of building a sizable nuclear arsenal, Perry noted. "That was wrong," he said.
"In addition, North Korean aggression could propel South Korea and Japan to build their own nuclear weapons," he said, "which would be very undesirable to [China]."
China is responsible for so much of North Korea's economy ― it is North Korea's largest trade partner, and 90 percent of North Korean oil imports come from China ― that any Chinese pressure could bring results, Perry said. 
Bonnie Glaser, senior Asia adviser at the Center for Strategic & International Studies, a think tank, agrees that Trump's strategy could trigger increased Chinese pressure on North Korea.
"I hope it's a rare opportunity for some China-North Korea diplomacy," she said. The Chinese would have to roll back their relationship with Pyongyang, which would entail shutting down the banks and front companies in northeastern China that do business with North Korea, putting an end to Chinese oil imports to North Korea, preventing tourist activity and reducing trade.
North Korean leaders are rational enough to respond to Chinese pressure, Perry argued: They may be reckless, but they are shrewd. "They've taken a very weak hand and they've played it very shrewdly," he said. "Their objective was to sustain their regime and they have succeeded, and they think that their nuclear program has played a big role."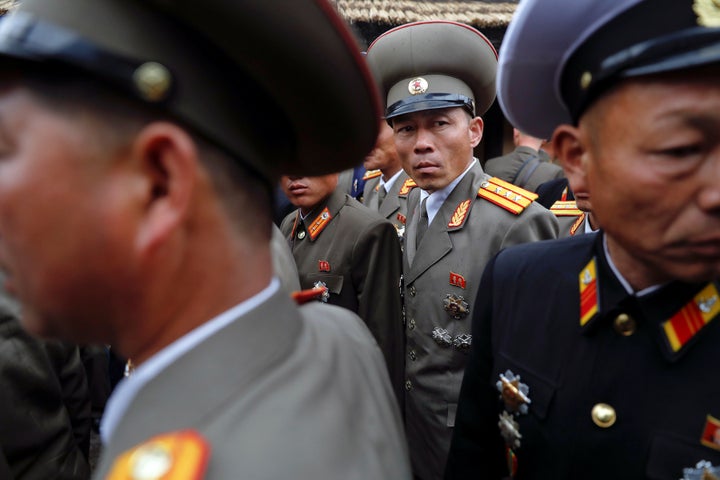 Glaser thinks the Chinese will end up doing more to pressure North Korea because of how important Beijing's relationship with Washington is. "The U.S. has made this a litmus test of the U.S.-China relationship," she said. "So the Chinese will assess what's the minimum they can do and they will probably do that for a short period of time."
Chinese help is "necessary but not sufficient" to restraining North Korea, Glaser added. "We obviously need to have our own strategy as well and eventually move towards diplomacy." And she is skeptical that China is genuinely prepared to roll back its relationship with North Korea. "Chinese interests don't change with changes in American presidential administrations," she said. "And U.S. and Chinese interests just do not coincide."
Sign up for the HuffPost Must Reads newsletter. Each Sunday, we will bring you the best original reporting, long form writing and breaking news from The Huffington Post and around the web, plus behind-the-scenes looks at how it's all made. Click here to sign up!
Calling all HuffPost superfans!
Sign up for membership to become a founding member and help shape HuffPost's next chapter
BEFORE YOU GO
PHOTO GALLERY
North Korea Ahead Of 105th Anniversary Of Kim Il Sung's Birth