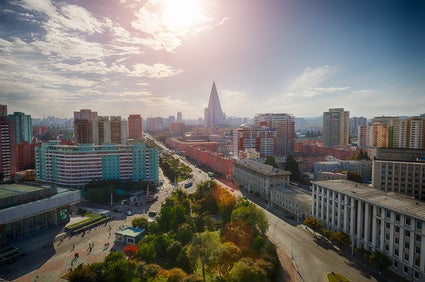 Recent events within North Korea have revived dormant memories of the Cold War. Not since I was in college, during the last years of the Soviet Union, have I followed with as much alarm the news about the possibility of a nuclear exchange.
The difference then was that the United States and Russia, through arms-control talks, seemed genuinely committed to limiting the likelihood of a nuclear exchange. Now, with North Korea's ongoing testing of nuclear materials and missiles, amid fragile hopes that diplomacy will prevail, the possibility of war suddenly seems real.
Notwithstanding my concern about these tensions, I see some opportunity, some teachable moments, for college students.
These days, even as I read about a fallout shelter, still stocked with water and wafers, being explored as a time capsule from 1962 under a school in Washington, and of former batteries meant to defend Hampton Roads from an attack by intercontinental ballistic missiles and fallout shelters designed to survive it, I hope we can discover useful knowledge that will benefit our students.
They have grown up under the shadow of incidents of terrorism, not global atomic war. But their world and ours is now even more complicated by multiple threats of nuclear, cyber and terroristic attacks. We should take time, even amid the urgency of guarding against such threats, to keep our students informed about what has prompted these developments.
The history of the two Koreas is long and complex — fertile ground for scholarly research and reflection, and diplomatic reaction, if not military intervention. The challenge of achieving a lasting peace on the Korean peninsula will test the best skills of veteran diplomats and officials from multiple nations. But I hope that a culture probably more familiar with TMZ celebrity news than the DMZ will benefit in some way from the current debate about containing a rogue and nuclear-armed nation.
The motivations of those nations directly affected by North Korea's build-up, as well as those nations' histories, offer instruction.
China, traditionally North Korea's most faithful patron, fears an influx of refugees if war comes, and looks with distrust at our military alliance with South Korea and Japan. The latter, committed to "defensive" weapons since its defeat in 1945 and the elimination of atomic warfare as the world's only victim of nuclear attacks, has historical, geographical and cultural reasons for fearing military uses of atomic power — not to mention concern about North Korean test missiles recently shooting over its territory.
Russia has historical distrust of China and Japan, and under Putin has revived its own nationalistic ambitions. As for America, much is written of our isolationism before World War II, the impact it had on events leading to that war and what many see as the hazards of "America-first" policies now. Meanwhile, North Korea's diplomats and state-controlled media delight in portraying President Donald Trump as the true warmonger.
In short, it's a frightening but exciting time to engage in a study of global affairs. Moreover, it's our duty as educators to do so.
We in the college and university community often speak of our commitment to globalization, study-away opportunities and international inclusiveness — and we do much to advance those goals. We can do more.
As we have promoted skills in writing and various technical areas across our curricula, we should do so with international affairs, with attention to history, geography, cultural studies and global relations to inform our students and further prepare them for world citizenship.
Furthermore, any study of U.S. governmental affairs will benefit from focusing on unilateral presidential authority to wage war and the compelling reasons to strive for peace — even if through back-channel methods, as was true during the Cuban Missile Crisis of 1962, and which may yet prevail today with North Korea. Authentic power and persuasion arise from knowledge and careful planning.
I look with hope toward resolution of our problems with North Korea. With not-so-distant memories of Hampton Roads' plans for nuclear attack, perhaps we can retrieve from this crisis something more lasting and meaningful for the coming generation than a legacy of anxiety and updated preparedness — not just what we should do, but an understanding of why we are doing it.
Dr. Scott D. Miller is President of Virginia Wesleyan University in Virginia Beach, Virginia. Previously, he served as President of Bethany College in West Virginia (2007-15), Wesley College in Delaware (1997-2007) and Lincoln Memorial University in Tennessee (1991-97).
He wrote this for the October 29 issue of The Virginian-Pilot (Norfolk, VA)
Related
Popular in the Community