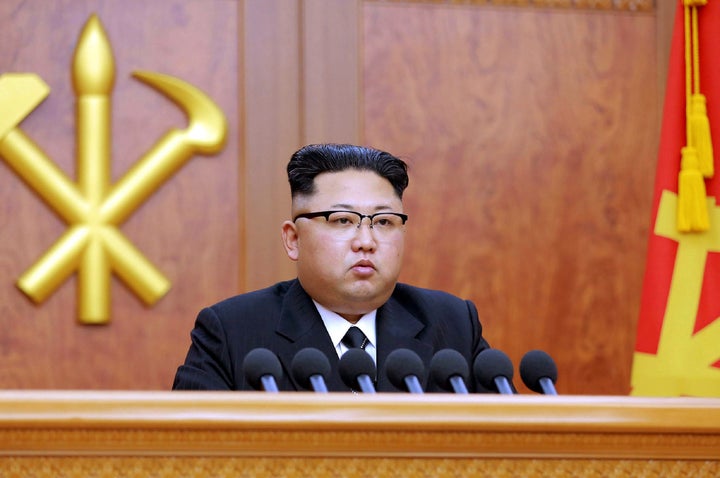 A North Korean defector is speaking out against the regime ― and this time, it's someone near and dear to the country's supreme leader.
In an interview with South Korean news agency Yonhap, Ri Kang said he and his wife, who is the sister of Kim Jong Un's mother, defected from North Korea and applied for asylum in the United States some 20 years ago for fear they'd be implicated in a power struggle when then-Supreme Leader Kim Jong Il died.
"I had felt the cruelty of power while spending almost 20 years near the North's former leader," Ri said.
Kim Jong Un has executed at least 70 senior officials since his accession to power in late 2011. In December 2013, North Korea claimed to have executed Jang Song Thaek, Kim Jong Un's uncle, who the regime claimed had involved himself in corruption, womanizing, gambling and drugs.
Ri said he now runs a successful laundry in the U.S., but didn't disclose the location.
Ri and his wife, Ko Yong Sook, left the hermit kingdom and applied for asylum in the U.S. in 1998, 13 years before Kim Jong Il's death. The couple's lawyer said Ri and Ko acted as Kim Jong Un's guardians when he studied in Bern, Switzerland. Kim is believed to have spent seven or eight years in Switzerland in the 1990s, according to a 2013 U.S. assessment. It is unclear how long the couple acted as Kim's guardians.
Ri said he had left a goodbye letter to Kim when the couple departed for the U.S. The status of Ri and Ko within the North Korean regime before they defected was unknown.
Ri said the couple decided on the U.S. to apply for asylum because Ko Yong Sook believed she could find a cure for her sister's ― Kim Jong Un's mother's ― breast cancer there. Kim's mother learned she had breast cancer in 1998 and failed to recover after treatments in Switzerland and France. She died in Paris in 2004.
Last week, Ri and Ko accused three North Korean defectors in Seoul of saying that Ko had called for Kim Jong Un's half-brother to be expelled from North Korea, and that she had undergone plastic surgery after her own defection. It's unclear whether the defectors' statements are true.
CORRECTION: A previous version of this story said Ri and Ko are believed to have acted as Kim's "wards." They are believed to have acted as his guardians. Language in this story was also updated to clarify that it is unclear how long Kim Jong Un spent in Switzerland and how long his relatives acted as his guardians.
PHOTO GALLERY
Kim Jong-Un: North Korea's Mysterious Master
Calling all HuffPost superfans!
Sign up for membership to become a founding member and help shape HuffPost's next chapter