Kim Jong Un's government has long said it aims to develop a nuclear warhead capable of reaching the United States. But until now, the isolated nation had demonstrated only limited success in launching a long-range ballistic missile capable of carrying a payload that far. This week, however, Pyongyang showcased what the Pentagon believes is a new type of weapon, one capable of reaching as far as Alaska.
Tuesday's announcement brings the number of different types of missiles the North Korean military is believed to be working on to 16, the Center for Strategic and International Studies, a national security think tank in Washington, D.C, says. While some of these missile are already operational, others are still in development. 
(See below for infographic explaining North Korea's capabilities)
According to the center, Pyongyang has seven operational missiles and nine in development. Only four of those models are ICBMs:
The most recent missile launched, believed to be the Hwasong-14, is the first ICBM North Korea says it successfully tested and has a range of 7,000 km to 8,000 km.
Among the models in development are the KN-14 and the KN-08, which are both in the same ICBM category as the Hwasong-14, and have a range of 10,000 km and 11,500 km respectively. 
While CSIS classifies the Taepodong-2 as an operational ICBM, the rocket's abilities as a missile capable of delivering a warhead have yet to be tested. In 2012 and 2016, North Korea used a Taepodong-2 to place satellites in orbit, but its military value beyond that is unproven. Once it is, it would likely become North Korea's furthest-reaching launch vehicle, capable of reaching centrally-located U.S. cities and potentially even some sections of the East Coast.
North Korea's short and medium-range missiles - there are around ten of them in various stages of development - are more reliable than its ICBMs. All of them are able to reach targets in South Korea and at least three of them could likely hit Japan. One of the missiles, the KN-11, is designed to be launched from a submarine, making it harder to track, although it's still in development.
Given its larger arsenal of shorter-range missiles, North Korea's capabilities currently pose a far greater threat to U.S. allies in the region than to the U.S. itself.
North Korea is also believed to have a nuclear arsenal of 20 or so warheads. While it has yet to shrink them to a size suitable for launching atop an ICBM, their presence still factors into the region's geopolitics. 
"Whether they can strike the U.S. or not, the nuclear capability is destabilizing to the region," Michael Elleman, a senior fellow for missile defense at The International Institute for Strategic Studies - Americas, told HuffPost.
So just how concerned should we be about the recent launching of the Hwasong-14? For the time being, the bigger issue is North Korea doubling down on its weapons development, said Elleman.
"A single test doesn't tell us much about a capability ― it's what it does over the course of several tests [that matters]," he said. "If you look at the pattern North Korea has demonstrated for the past three years, they are very actively trying to develop new strategic capabilities, or nuclear weapons. This itself is what is worrying."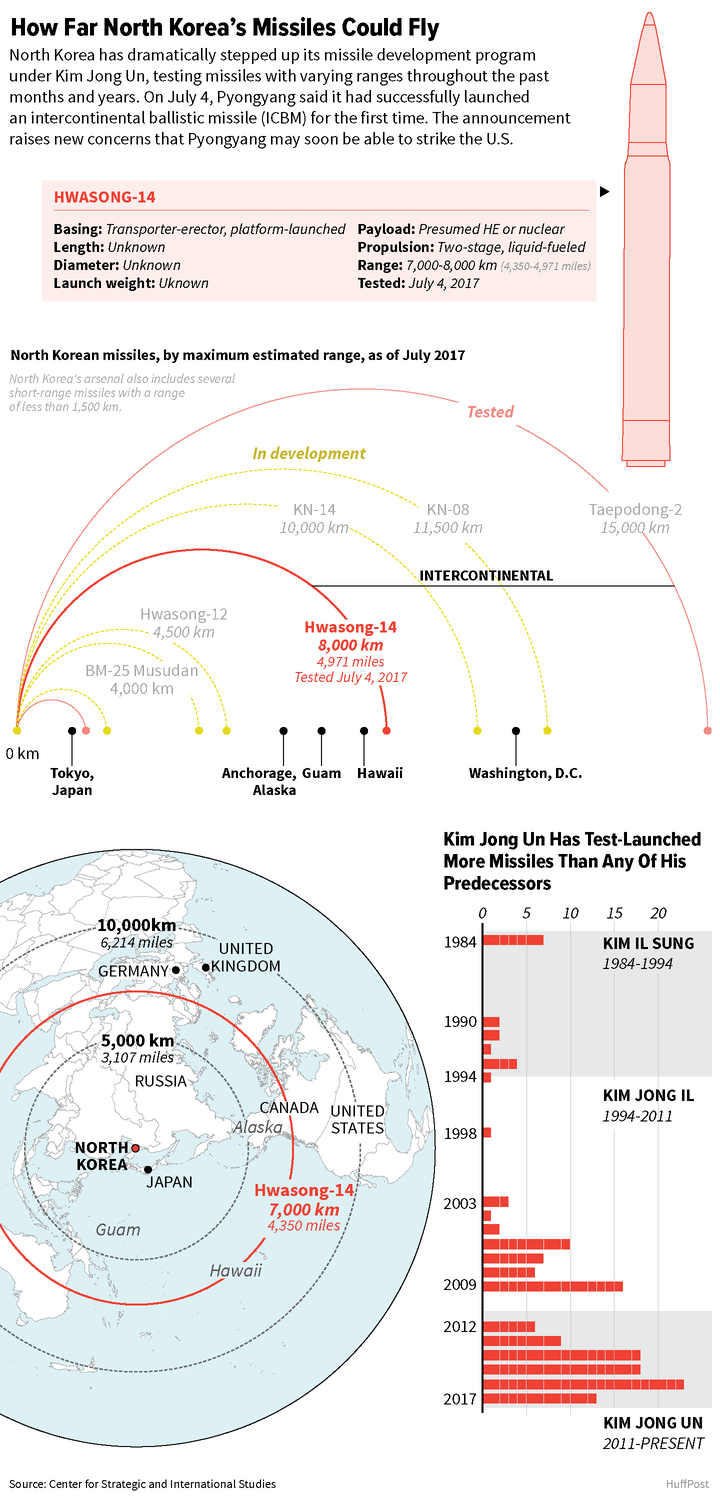 BEFORE YOU GO
PHOTO GALLERY
Stunning Portrait Series Shows The Faces of North Korea