"The situation is very bad …. It has gone into a new phase," Amano told the publication Monday. "All of the indications point to the fact that North Korea is making progress, as they declared."
And while Amano believes a diplomatic solution, like the one he helped broker between world powers and Iran in 2015, is "essential," he's skeptical such an agreement can be reached with North Korean leader Kim Jong Un and his government.
"We don't have the reason to be optimistic," he told the Journal.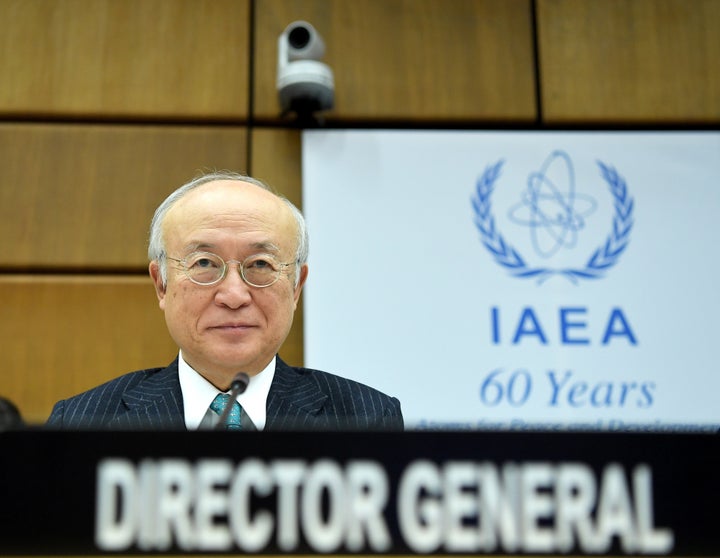 The situation surrounding North Korea has grown increasingly tense in recent weeks, with both Kim and his regime and the United States taking a more aggressive tone. North Korea has conducted five nuclear tests and numerous missile launches over the last year in defiance of United Nations sanctions, Reuters reports.
During his first trip to Asia as U.S. secretary of state, Rex Tillerson said that if North Korea elevated its nuclear threat, the U.S. would be forced to consider all options, including military action.
"Let me be very clear: The policy of strategic patience has ended," Tillerson said. "We are exploring a new range of security and diplomatic measures. All options are on the table."
President Donald Trump has also expressed outrage over the situation, saying in a Friday post to Twitter that "North Korea is behaving very badly."
At an event in Louisville, Kentucky, on Monday, Trump said that what's happening in North Korea is "disgraceful." He did not elaborate.
Earlier this month, shortly after its launch of ballistic missiles into the Sea of Japan, North Korea resorted to its typical belligerent language and warned it would "reduce the bases of aggression and provocation to ashes with its invincible Hwasong rockets tipped with nuclear warheads and reliably defend the security of the country and its people's happiness in case the U.S. and the South Korean puppet forces fire even a single bullet at the territory" of the Democratic People's Republic of Korea.
Related
Popular in the Community