An "openhearted" meeting between South Korean envoys and North Korean leader Kim Jong Un this week yielded an unexpected development in one of the world's most charged nuclear standoffs: After spending decades establishing a nuclear arsenal, Pyongyang is reportedly willing to negotiate its denuclearization with the United States.
"North Korea made clear its willingness to denuclearize the Korean Peninsula and the fact there is no reason for it to have a nuclear program if military threats against the North are resolved and its regime is secure," announced Chung Eui-yong, South Korea's national security chief.
"For the first time in many years, a serious effort is being made by all parties concerned," Trump tweeted hours later. "May be false hope, but the U.S. is ready to go hard in either direction!"
Kim's stunning change in posture ― which comes after months of escalating threats between Washington and Pyongyang, and just days after America's special representative for North Korean policy unexpectedly retired ― has fostered a mixture of hope and skepticism in the U.S. Experts believe it's a strategic, carefully timed move to ease international pressure on the regime.
Will North Korea really give up its nukes?
North Korea's nuclear ambitions date back to the fallout of World War II, after the U.S. detonated nuclear bombs over the Japanese cities of Hiroshima and Nagasaki. Supreme Leader Kim Il Sung, Kim Jong Un's grandfather, started considering his options to deter a U.S. attack at the outset of the Korean War. With encouragement from the Soviet Union, Pyongyang began its decadeslong pursuit of a nuclear weapons program.
The North has made remarkable improvements to its internationally-condemned nuclear program over the past year ― including conducting a purported hydrogen bomb test in September ― and Kim has fiercely reaffirmed his vows to strike the U.S. with a nuclear-tipped missile. So why would he be willing to back down now?
"I think that the North thinks it's negotiating from a position of strength."
Pundits suspect he may be capitalizing on thawing tensions on the Korean Peninsula since North Korea participated in the Winter Olympics in Pyeongchang, South Korea, last month.
"I think North Korea does want to reduce the sanctions that it's suffering under, and may be willing to make some modest compromises in order to achieve that goal," said Harvard University professor Matthew Bunn, a nuclear proliferation expert. "I think they have progressed far enough in their weapons effort that they want to take a little bit of a pause and see what they can get out of the South Koreans and out of the Trump administration and out of the Chinese."
The U.S. has placed tremendous pressure on South Korea and China to help rein in the North. Washington has also issued increasingly harsh sanctions against North Korea and its trading partners.
"I think that the North thinks it's negotiating from a position of strength," added Bunn, who doubts the current regime will surrender its nuclear arms.
"I think that they made a lot of progress on their missile program and the nuclear weapons program in 2017 ― much more than most people had expected, and they think they're now in a position where they can consolidate their gains and negotiate to see what they can get while holding off the pressure for the time being through this charm offensive."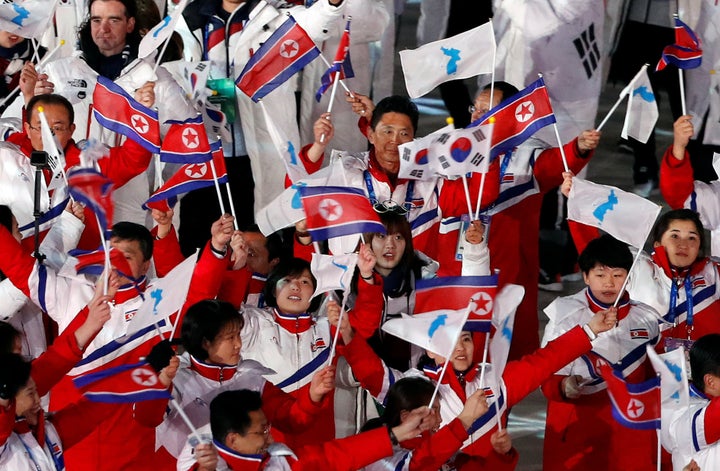 How should the U.S. and its allies respond?
William Tobey, a senior fellow at the Belfer Center for Science and International Affairs, believes the announcement from North Korea poses risk as well as opportunity. He, too, is unconvinced that Pyongyang will commit to denuclearization.
"I don't think this development will change at all North Korea's trajectory on its nuclear and ballistic missile programs," Tobey said.
Instead, Kim's apparent willingness to negotiate with the U.S. could push "a wedge into a crack that's already appeared between Washington and Seoul," he added. "I think that this is an attempt by the North to split the United States from its ally."
The U.S., which still lacks an ambassador in South Korea, is particularly alarmed by North Korea's numerous claims that it can target any American city with a nuclear intercontinental ballistic missile. This concern has been a prominent factor in shaping Washington's approach to denuclearizing North Korea, and prompted Trump's threats to unleash "fire and fury" and "totally destroy" the isolated nation.
"I think that this is an attempt by the North to split the United States from its ally."
Seoul, on the other hand, is mainly focused on diplomacy and avoiding any kind of military confrontation. Its priority is to continue minimizing tensions on the Korean Peninsula, which is technically still torn by an unresolved conflict (the Korean War led to a 1953 ceasefire, not a peace agreement).
South Korea's diplomatic efforts are "aimed at lowering that level of tension, but will likely do nothing about North Korea's nuclear ballistic missile capabilities," Tobey said. "I think there was urgency in Seoul to try to get diplomacy underway to head off any moves by the United States."
South Korean officials who attended the recent meeting with Kim relayed the North's agreement to halt its nuclear tests while proposed talks are underway, and said the two nations will hold their first summit in more than a decade in late April.
Despite Seoul and Washington's varying motives and stakes in the North Korean crisis, experts agree it is imperative for the allies to work together to achieve a lasting resolution.
"The last thing we should want to do is undermine the South Korea initiative. South Korea is the country on the front line; they are a very, very important ally for the United States in this situation. You really can't do anything about North Korea without South Korean support," said Bunn.
"I think for better or for worse, the Trump administration needs to work with the South Koreans on this diplomatic opening, and I think that the Trump administration needs to back off the insistence that we're not talking about anything short of denuclearization," he added.
"I think we need to be realistic about what's plausible with North Korea. We should maintain denuclearization as a long-term goal, but we shouldn't expect that's where we're getting to any time in the next few years."
Before You Go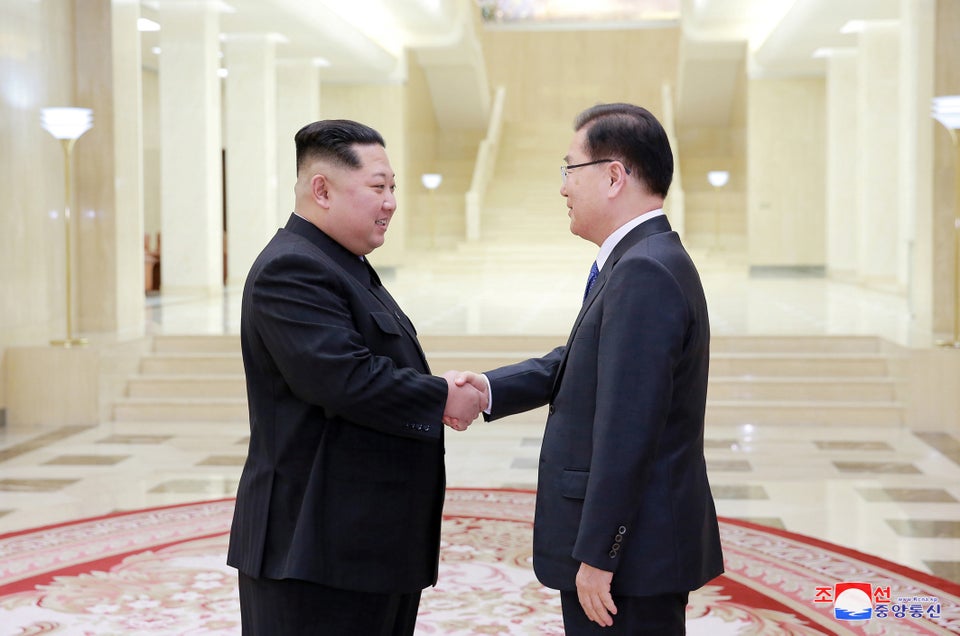 North Korea Meets With South Korea