WASHINGTON -- With an arsenal that could rain down hundreds of devastating nuclear warheads on North Korea, the United States can afford to react calmly to North Korea's testing of a nuclear device on Tuesday -- and perhaps even proceed with nuclear reductions talks, a top arms expert said.
President Obama, who has long favored deep cuts in nuclear weapons with the eventual goal of global nuclear disarmament, has new plans to push for an agreement with Russia on further cuts to strategic nuclear weapons stores. Obama is reportedly weighing the decision to announce this renewed effort during Tuesday evening's State of the Union, a decision complicated by the North Korean nuclear test.
The U.S. maintains an arsenal of 1,950 nuclear warheads for its intercontinental ballistic missiles, submarine-launched missiles and bombers; Russia maintains about 1,750. Under the current, so-called New START Treaty -- signed with Russia in 2010 -- those stockpiles are to be reduced to 1,550 on each side.
Under consideration by the Obama administration, however, are deeper cuts -- perhaps eventually to 1,000 on each side, officials have said, a number judged to be sufficient to maintain deterrence.
The North Korean nuclear test could explode that plan, however, with some in Congress already warning against any further nuclear cuts. In a statement Tuesday, Rep. Howard "Buck" McKeon (R-Calif.), chairman of the House Armed Services Committee, called it "unfortunate" that "on the same day the President of the United States plans to announce further reductions in U.S. nuclear weapons, we see another hostile regime unimpressed by his example."
And Rep. Ed Royce (R-Calif.), chairman of the House Foreign Affairs Committee, called for the White House to "replace its failed North Korea policy with one that is energetic, creative and focused on crippling the Kim regime's military capabilities through stringent sanctions that tackle its illicit activities and cuts off its flow of hard currency." Otherwise, Royce said in a statement Tuesday, "the grave North Korean threat to the region and the United States will only grow."
But others said this is precisely the moment to talk nuclear arms reductions. Steven Pifer, a former ambassador and senior arms control official, said that while rhetoric and sanctions would have limited effect on North Korea, a new U.S. arms reductions initiative would provide diplomatic cover for others -- specifically China -- to join new international pressure on Pyongyang.
Pifer, director of the arms control initiative at the Brookings Institution, acknowledged that North Korea's nuclear test, coupled with its successful test-launch of a long-range ballistic missile last December, will drive calls for strengthening the U.S. nuclear deterrent force, not reducing it.
But he noted that, "if we cut our nuclear arsenal in half," the U.S. would still have roughly 300 times as many weapons as North Korea.
A new U.S. arms reductions initiative, Pifer told The Huffington Post, "wouldn't have that much impact directly on North Korea -- but it would make it easier for third countries to pressure North Korea, easier for them to argue that North Korea is going in the wrong direction." He said U.S. steps toward arms reductions, including the 2010 New START agreement with Russia, had been instrumental in persuading Europeans and others to join sanctions against Iran's nuclear weapons program.
In the long and so far unsuccessful international effort to stop North Korea's nuclear weapons program, China has been reluctant to approve sanctions or take other harsh measures against its client state. North Korea, whose economy has been shrinking steadily for decades, is desperately dependent on China for essentials such as food and fuel.
But there are signs that even the Chinese are fed up with the North Korean regime. In a sharply worded statement Tuesday, China said it was "strongly dissatisfied and resolutely opposed" to Pyongyang's behavior, reminded North Korea of its legal obligation "to abide by its non-nuclear commitment," and warned it against "taking any further actions that would worsen the situation."
The U.N. Security Council meets Tuesday to consider what action to take in response to the nuclear test, including possible new economic sanctions. But it was not clear what additional sanctions or other steps the Security Council could agree on that haven't already been taken, with little apparent effect -- without the energetic cooperation of China.
Under the New START Treaty signed with Russia in April, 2010, the two sides agreed to reduce their deployed nuclear weapons, which make up about 30 percent of each side's stockpile. Tactical warheads and those held in reserve storage are not included. In 2018, when the treaty is scheduled to be fully implemented, each side will still retain about 5,000 total warheads.
It is that residual stockpile that the Obama administration is seeking to reduce, in agreement with Russia.
Clarification: This article has been updated to correct a misstatement on the part of Steven Pifer; he says that if the U.S. cut its nuclear arsenal in half, it would still have some 300 times as many weapons as North Korea.
Before You Go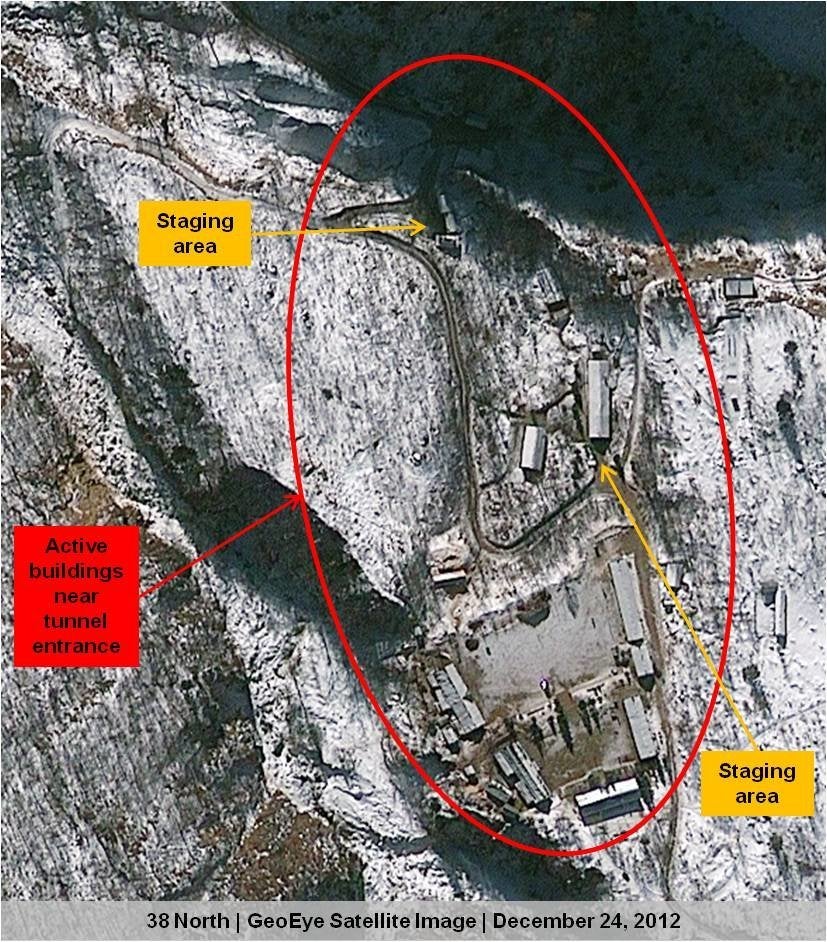 North Korea Nuclear Test Site
Popular in the Community