Most athletes' road to the Olympics isn't subject to a diplomatic chess game over an international nuclear crisis. But North Korean figure skaters Ryom Tae Ok and Kim Ju Sik will compete in the 2018 games despite a year of escalating tensions.
Kim, 25, and Ryom, 18, are currently North Korea's only athletes to qualify for this year's Winter Olympics in PyeongChang, South Korea. In a rare thaw in relations between the two countries, North Korea agreed Tuesday to send athletes and high-level emissaries to the games, after conducting its first formal diplomatic talks with Seoul in more than two years.
North Korea's participation in the Olympics is a relief for South Korean officials, who worried Pyongyang could pose a threat to the games if it wasn't involved. Leaders were concerned the northern country would potentially conduct missile or nuclear tests during the events.
It's also the result of years of training and competition for Ryom and Kim, who will both attend the games for the first time in their careers.
The two North Korean athletes compete in pairs figure skating, where they have skated to a cover version of the Beatles' song "A Day in the Life" and Quebecois singer Ginette Reno's "Je Ne Suis Qu'une Chanson." The Quebecois connection comes from the two months Ryom and Kim spent in the summer of 2017 training in Montreal with world-class coach Bruno Marcotte.
Marcotte, who also coaches a team from South Korea, first spoke with Ryom and Kim early last year at the Asian Winter Games in Japan, congratulating them on their performance and improvement. At the World Figure Skating Championship in Helsinki, Finland, a month later, the pair approached Marcotte to officially ask to train with him.
In June, Ryom and Kim arrived in Montreal along with their North Korean coach and a member of the North Korean Skating Federation, who also acted as a translator. Marcotte coached them for two months in Sainte-Julie, a small town outside Montreal, while his sister Julie designed their choreography.
"They were such nice people and brought a positive energy every day. Their thirst to learn is so big," Marcotte told HuffPost. "They just want to improve, and every criticism I gave them, they took it with open arms. For a coach, they were dream students."
In addition to coaching the skaters, Marcotte spent time with them off the ice, running skating-related errands in Montreal and watching Canada Day celebrations. Meagan Duhamel, a world-champion skater married to Marcotte, also brought Ryom and Kim to yoga classes and sometimes trained alongside them.
Very little is publicly known about Kim and Ryom's background or their lives in North Korea. Marcotte never got into discussing North Korea's totalitarian politics with the pair, and a language barrier prevented him from learning too much about their personal lives.
"I didn't know what to expect to tell you the truth, but the boy and the girl have such a great friendship and partnership," Marcotte said. "They were very affectionate, which I didn't expect. They weren't frigid at all, they weren't afraid to show their expression and how they really feel."
Ryom and Kim have little hope of winning a medal at the Olympics. The pair placed 15th overall last year in the World Figure Skating Championship. But their presence at the games is a positive development after a year of escalating tensions, as Pyongyang has rapidly expanded its nuclear and missile capabilities.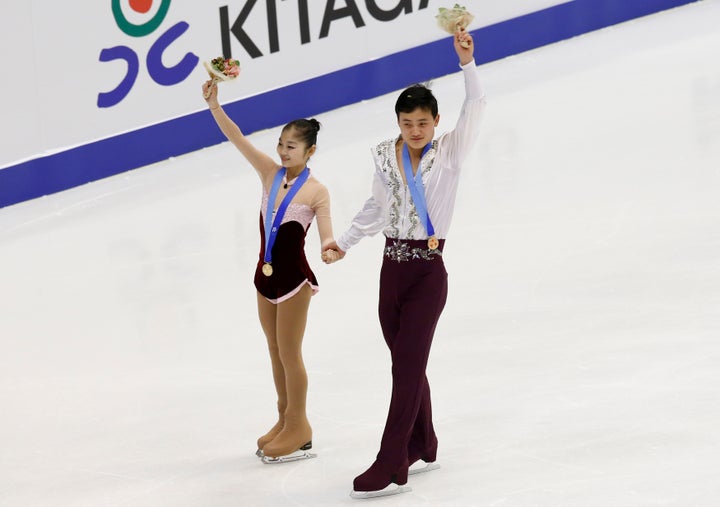 While President Donald Trump has traded insults with North Korean leader Kim Jong Un and threatened military action over the year, South Korea's president, Moon Jae In, has attempted diplomatic outreach to the north.
During the lead-up to the Olympics, Moon successfully lobbied Washington to postpone the U.S. and South Korea's annual joint military drills that routinely outrage North Korea. The International Olympic Committee and South Korea also courted North Korea to commit to the games, extending registration deadlines and offering to pay for accommodations.
Whether the diplomatic overtures helped or not, Ryom and Kim will now be present in PyeongChang to represent their country. It's a marked difference from when South Korea last hosted the Olympics in 1988. That year, North Korea issued a boycott and killed 115 people when it blew up a South Korean passenger plane in the lead-up to the games.
Calling all HuffPost superfans!
Sign up for membership to become a founding member and help shape HuffPost's next chapter