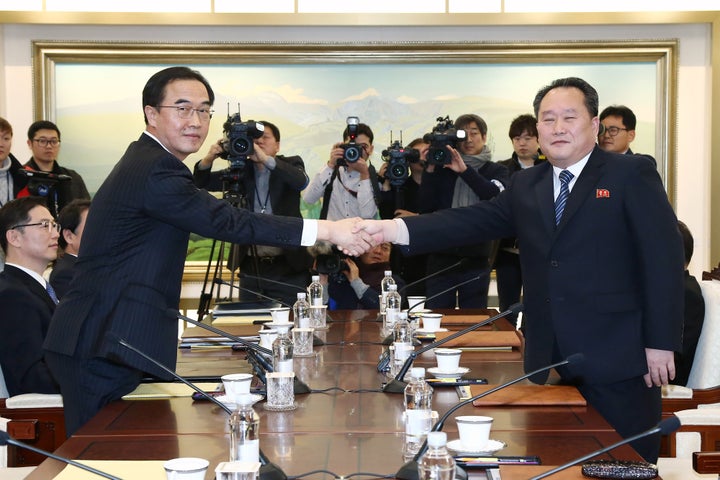 North Korea will send a delegation of athletes and high-level emissaries to the 2018 Winter Olympics in South Korea next month, the two countries said Tuesday during their first formal diplomatic talks in more than two years.
"The North side proposed dispatching a high-level delegation, National Olympic Committee delegation, athletes, supporters, art performers, observers, a taekwondo demonstration team and journalists," Chun Hae-Sung, South Korea's vice unification minister, told journalists after the meeting, according to Agence France-Presse.
Tuesday's talks, held in the village of Panmunjom near the Joint Security Area of the Demilitarized Zone, continued through the day following the announcement. South Korea asked its neighbor to halt acts that stoke tension on the peninsula in return for guaranteed peace in the region, the South's unification ministry said. The North also reportedly finished restoring a military hotline with South Korea, Seoul said, after communications were cut in 2016.
South Korea has long sought to improve relations between the two countries, and seized on a New Year's Day proclamation made by North Korean leader Kim Jong Un, who said he intended to work with the South to send a delegation of athletes to the Olympics in Pyeongchang.
The North's participation in next month's games will be its first winter showing in eight years. The country has sent athletes to every Summer Olympics since 1972, aside from two boycotts in 1984 and 1988. 
The New York Times notes the only athletes to qualify so far are a pairs figure skating team, but said the International Olympic Committee has been supportive of the North's participation and volunteered to cover North Korean athletes' expenses.
South Korea has also proposed military talks to help prevent accidental conflicts, and the country has proposed a reunion for families separated during the Korean War that would take place next month around the Lunar New Year.
Calling all HuffPost superfans!
Sign up for membership to become a founding member and help shape HuffPost's next chapter