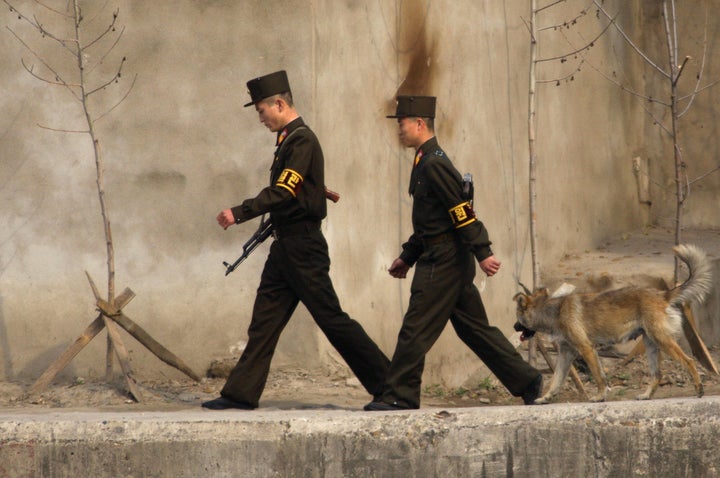 LONDON (Reuters) – North Korea is holding around 200,000 people in huge political prison camps where inmates are forced to work in conditions approaching slavery and are often tortured, Amnesty International said on Tuesday.
The rights group published recent satellite images showing four of the six camps located in vast wilderness sites in South Pyongan, South Hamkyung and North Hamkyung provinces.
A comparison with satellite pictures from 2001 indicated a significant increase in the scale of the camps, which are believed to have been operating since the 1950s, it said.
Amnesty International spoke to a number of people, including former inmates from the political prison camp at Yodok, as well as guards in other camps, revealing what it said were horrific conditions.
The former detainees at Yodok said prisoners were forced to work in conditions close to slavery and were frequently subjected to torture and other cruel, inhumane, and degrading treatment, Amnesty International said. All the detainees at Yodok had witnessed public executions, it said.
Food is scarce in the camps. Amnesty International said it had been told of several accounts of people eating rats or picking corn kernels out of animal waste to survive.
Amnesty called on North Korea, one of the world's most secretive states, to close all political prison camps and to release all prisoners of conscience.
"North Korea can no longer deny the undeniable. For decades the authorities have refused to admit to the existence of mass political prison camps," Sam Zarifi, Amnesty International's Asia Pacific director, said in a statement.
"As North Korea seems to be moving toward a new leader in Kim Jong-un and a period of political instability, the big worry is that the prison camps appear to be growing in size," he said, referring to the son and presumed successor of Kim Jong-il.
Thousands of people are believed to be held as "guilty-by-association" or sent to the camps simply because one of their relatives has been detained, Amnesty said.
According to one former detainee at Yodok, an estimated 40 percent of inmates died from malnutrition between 1999 and 2001.
Jeong Kyoungil, who was detained in Yodok from 2000 to 2003, said prisoners worked from 4 a.m. to 8 p.m. with two breaks for meals of corn gruel. "From 9 p.m. to 11 p.m., it's time for ideology education. If we don't memorize the 10 codes of ethics we would not be allowed to sleep," he said.
"Disruptive" inmates are put for at least a week in a cube "torture cell," where it is impossible to either stand or lie down, Amnesty International said.
(Reporting by Adrian Croft; Editing by Diana Abdallah)
Related
Popular in the Community