A new report by the Committee for Human Rights in North Korea and DigitalGlobe indicates that North Korea has been expanding at least one of its brutal prison camps under the leadership of Kim Jong Un.
The report, which is based on the analysis of 11 satellite images taken since 2003, appears to show the steady growth of prison camp No. 25 in the country's northeast. Estimates say the camp houses around 5,000 inmates.
The research and imagery analysis confirmed that agricultural development, maintenance and construction activities have continued at Camp 25. Between 2009 and 2010, the camp perimeter increased from approximately 3,710 meters to about 5,100 meters, a 37 percent expansion. During the same period, the camp size increased from approximately 580 square meters to about 1,000 square meters, a 72 percent increase. While many of the original 20 guard posts detected in 2003 remain standing and operational until the present day, two were added in 2007, four in 2009, and 17 in 2010. In 2010, a new main gate was erected, and two previously separate agriculture fields in the northwest area of the camp were combined and the road between them blocked off, thus enhancing access control and ensuring that ordinary citizens have little or no opportunity to interact with the prison population or use the road adjacent to the camp.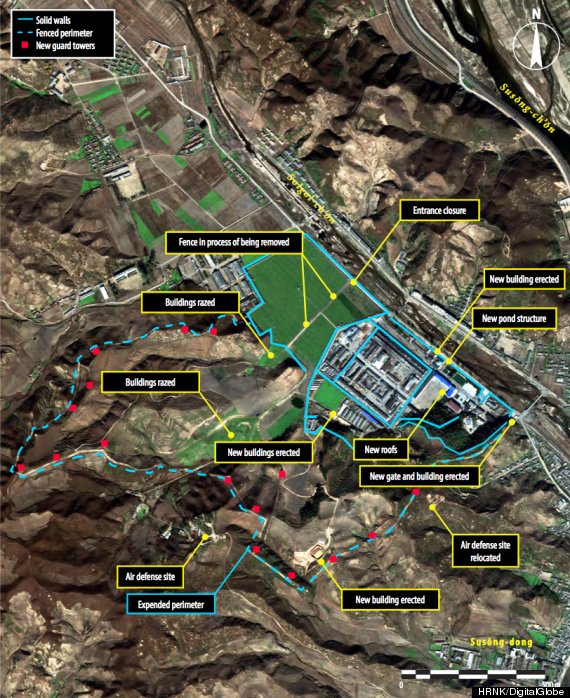 The reasons for the camp's growth, however, remain mere speculation. The report suggests a growing crackdown on defections, a purge of dissidents under Kim Jong Un after the death of his father or a consolidation of the political prison camp system could all be behind the recent developments.
As Philip Bump notes for the Atlantic Wire: "HRNK's analysis, while thorough, still has an air of inexactitude. It's guesswork — easier than trying to determine an imminent nuke test, but still an approximation."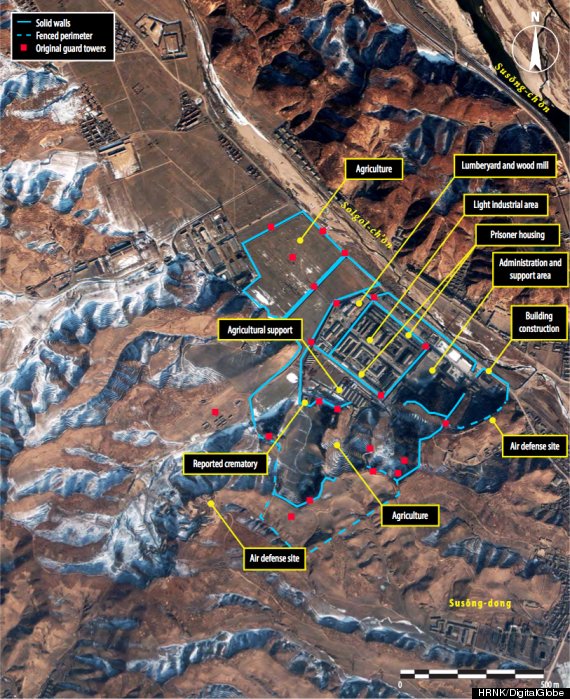 Testimonies by defectors as well as reports by international human rights organizations indicate harsh conditions in the detention facilities.
Jeong Kyoungil, who was detained in the Yodok camp from 2000 to 2003, told Amnesty International about a typical day in detention.
A room around 50m² in size, is where the 30 or 40 political prisoners sleep in. We sleep on some sort of bed made out of a wooden board with a blanket to cover. A day starts at 4am with an early shift, also called the 'pre-meal shift', until 7am. Then breakfast from 7am to 8am but the meal is only 200g of poorly prepared corn gruel for each meal. Then there is a morning shift from 8am to 12pm and a lunch until 1pm. Then work again from 1pm to 8pm and dinner from 8pm to 9pm. From 9pm to 11pm, it's time for ideology education. If we don't memorize the ten codes of ethics we would not be allowed to sleep. This is the daily schedule.
Kyoungil added that deaths occur daily. "Frankly, unlike in a normal society, we would like it rather than feel sad because if you bring a dead body and bury it, you would be given another bowl of food. I used to take charge of burying dead people's bodies," he said.
According to U.S. special envoy for Human Rights in North Korea, Robert King, the country's "brutal" prison camps are worse than in the Soviet Union's gulag during the Cold War.
In an interview with AFP, two other survivors, Shin Dong-hyuk and Chol-Hwan Kang, likened the inhuman treatment to conditions found during the Holocaust. "People think the Holocaust is in the past, but it is still very much a reality. It is still going on in North Korea," Shin Dong-hyuk told AFP. "Fundamentally, it is the same as Hitler's Auschwitz," Chol-Hwan Kang said. "The methods may be different, but the effect is the same... It's outrageous!" he added.
DigitalGlobe is a Colorado-based commercial satellite analysis firm.
According to Reuters, satellite image analysis has become one of the main sources to study North Korea's secretive prison system. "It opens up areas of North Korea that no foreigners are allowed to see at all," Curtis Melvin, of the blog North Korean Economy Watch, told the news service.
Calling all HuffPost superfans!
Sign up for membership to become a founding member and help shape HuffPost's next chapter
BEFORE YOU GO
PHOTO GALLERY
North Korea Prison Camps