 BEIJING, March 20 (Reuters) - North Koreans appear to be having little trouble taking home the latest cameras, flat-screen TVs and other items from China despite U.N. sanctions that are supposed to make it harder for the country's elite to enjoy the good things in life.
Shops selling anything from electronics to perfume near Pyongyang's embassy in Beijing are doing a brisk trade while North Koreans waiting to board flights to their capital can be seen checking in items from refrigerators to washing machines.
To be sure, the new sanctions don't specifically prohibit such items being imported to North Korea as part of a ban on luxury goods. But the extent of the shopping in Beijing suggests the North Korean elite are not being squeezed by the measures.
"The customer can pick big kitchen appliances up here, or we can ship them directly to North Korea," said a store owner surnamed Cao at a shop behind the North Korean embassy. "It's no problem at all."
New sanctions imposed early this month in response to North Korea's Feb. 12 nuclear test included tougher financial restrictions to try to curb Pyongyang's nuclear programme.
The March 7 resolution also gave examples of luxury items North Korea could not import, such as yachts, racing cars, luxury automobiles and several types of gems and jewellery. It said luxury goods were not limited to those items.
Resolutions aimed at crimping the lifestyle of the elite were first imposed in 2006 but had never given examples of such goods, leaving it up to individual countries to decide what constituted a luxury product.
Many states, including China, have not made their definitions of a luxury good public.
Plenty of expensive items popular with the North Korean elite are not on the new list.
"It's very difficult to enforce the sanction when there's no agreement on products you're willing to restrict," said George Lopez, an American professor and former U.N. monitor on North Korea.
One U.N. Security Council diplomat told Reuters ahead of the announcement of the new sanctions that they were targeting the North's elite "who are living these rather lavish lifestyles while the rest of their country is impoverished".
Shop owner Cao said her business had not been affected.
In another shop, a middle-aged North Korean man punched numbers into a calculator as he haggled with a Chinese shopkeeper over a pocket-sized Sony Cyber-shot camera.
The strip of stores that serve mainly North Korean visitors were filled with Japanese- and Korean-branded DVD players, karaoke machines, as well as face creams and perfumes.
A U.N. panel of experts on North Korea that monitors compliance with sanctions has said items considered luxury goods by many countries were sometimes not considered luxury items by China, Pyongyang's traditional ally and major trade partner.
According to Chinese customs data, China exported USD$77.5 million worth of pearls, precious stones, precious metals and coins to North Korea last year. It also exported $266.9 million worth of sound and television equipment in 2012, more than triple the amount it sent there in 2007.
China's customs headquarters did not respond to a faxed request for comment. China has said it wants the latest sanctions implemented.

On a recent Saturday at Beijing airport, North Koreans stood in line at the counter of flag carrier Air Koryo, pushing carts with new refrigerators, washer-dryers and large televisions.
"When North Koreans travel by airline, there are always lots and lots of consumer goods going back and forth with them," said Andray Abrahamian, executive director of the NGO Choson Exchange and a frequent traveller between Beijing and Pyongyang. "You always see lots of flat-screen TVs."
Travellers to Pyongyang said luxury goods were easy to come by in the capital for those who had the money.
"Of course there are plenty of BMWs and Mercedes on the roads of Pyongyang," said Stewart Lone, an associate professor of history in Australia who travels to the city regularly to teach English to students. The most common luxury good he had seen was alcohol, especially Chivas Regal.
Sources who cross the border to North Korea by train from the northeast Chinese city of Dandong said they had not seen or heard of tighter measures since the sanctions were announced.
"I'm not sure how they would check for luxury goods," said Dandong-based tour guide Brooklyn Zhang.
Another factor that points to the North Korean elite freely spending money abroad is the country's balance of payments.
The Washington-based Peterson Institute for International Economics said that largely because of growing trade with China, North Korea ran a current account surplus in 2011 following what it said were probably deficits for all its history. Its preliminary calculations suggest North Korea probably ran a surplus last year also, suggesting it is exporting capital.
"Consumption at home is being needlessly compressed and instead, money is flowing abroad, presumably to finance the future consumption of the elite," Marcus Noland, an expert on North Korea at the institute, wrote in a blog on Monday.

TRADERS UNCERTAIN ON SANCTIONS' IMPACT
Commodities traders and shipping sources meanwhile said the impact of the new sanctions on trade was hard to pinpoint.
Several oil traders said China's Ministry of Commerce had held internal meetings to determine how the new sanctions would affect China's oil aid to North Korea.
"Oil has not been stopped, but it looks like there might be some kind of curbs," said one senior oil trader. "It's hard to clearly interpret what will be the government's move yet."
China supplies just over half a million tonnes of crude oil every year to North Korea in the form of aid.
A Chinese commodities trader who does business with North Korea said Chinese traders were now hesitant to put in spot orders for iron ore and coking coal, two significant imports, because of uncertainty about the sanctions.
A shipping firm said its Dalian unit had seen shipments from North Korea fall 40 percent in recent weeks and deliveries turn sporadic. However, a Chinese steel mill that buys iron ore said sanctions have had no impact. (Additional reporting by Ben Blanchard, Chen Aizhu and Michael Martina, and Ruby Lian in SHANGHAI; Editing by Dean Yates)

Related
Before You Go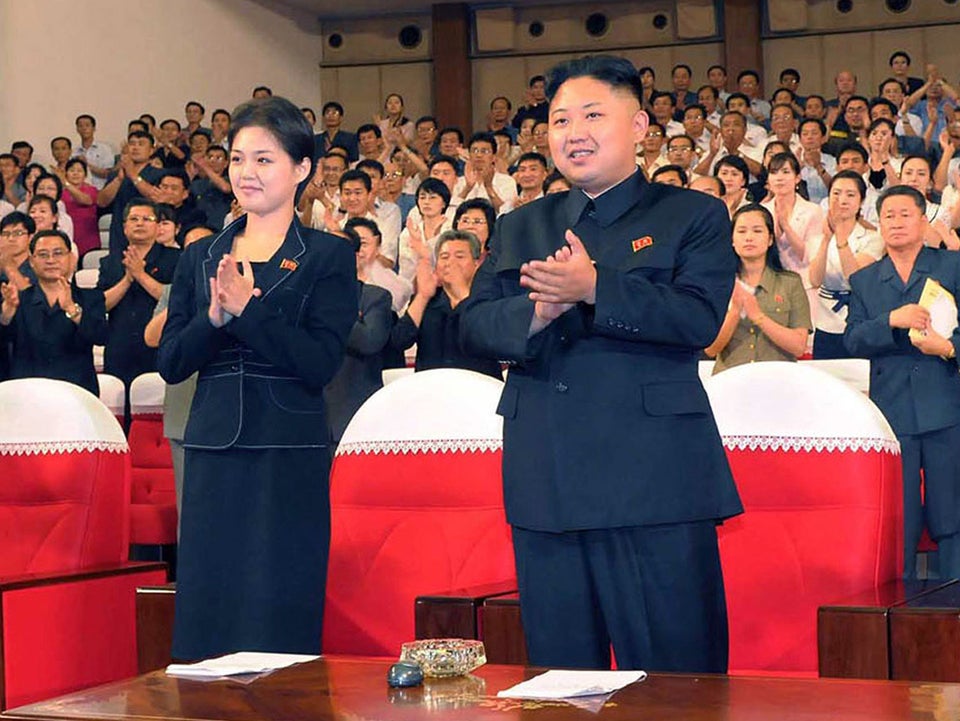 Meet Kim Jong Un's Wife
Popular in the Community