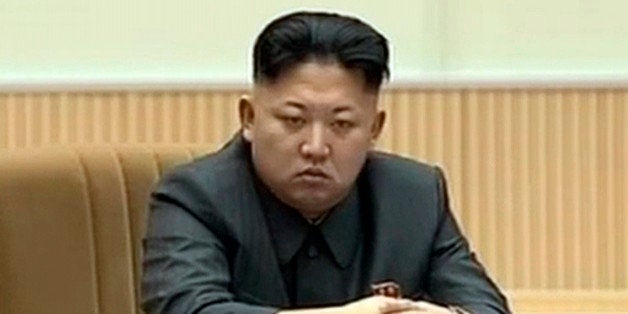 NEW YORK -- Fresh U.S. sanctions imposed Friday on North Korea in response to the recent cyberattack on Sony Pictures Entertainment will sting most if they aggressively target financial institutions doing business with the isolated country, experts say.
In an executive order, President Barack Obama blacklisted 10 North Korean officials and broadened sanctions on three state-run entities -- including the Korea Mining Development Trading Corp., its premier arms dealer -- doing business in countries such as Iran, Syria, China, Russia and Namibia.
Unlike the restrictions imposed on Iran and Russia, whose economies are large and diverse enough to feel the pinch of U.S. sanctions, such penalties have scarcely hurt North Korea because its economy is small and relies heavily on elaborate smuggling networks used to sell arms and narcotics and to distribute counterfeit dollars.
The secretive regime launders money earned abroad through legitimate businesses in other countries.
"People who are engaging in weapons sales, which are illegal under the U.N. Security Council resolutions, may also be involved in the restaurant business in Cambodia, the coal industry in China or in selling manganese to the Malaysians," said Joshua Stanton, a lawyer and blogger at FreeKorea.us who has helped advise the House Foreign Affairs committee on sanctions legislation.
It is almost impossible to estimate exactly how much of Pyongyang's revenues come from the illegal sale of weapons and drugs overseas. A 115-page report published last year by the Washington-based Committee for Human Rights in North Korea estimated that illicit activities account for up to 30 percent of the country's trade.
It's difficult to sever North Korea's trade networks. Under a United Nations resolution enacted to pressure the country to abandon its nuclear weapons program, countries are given broad authority to search ships for North Korean cargo.
"Not all countries have the capacity to exercise that ability," said Kelsey Davenport, director for non-proliferation policy at the nonprofit Arms Control Association. "Countries don't always quickly report back if there are concerns, and we don't hear about issues until months later."
However, sanctions have been most effective against North Korea when imposed on financial institutions that manage the country's treasure.
In 2005, the Treasury Department began investigating Banco Delta Asia, a small family-owned bank in the Chinese gambling enclave of Macau. Under Section 311 of the Patriot Act, the department was granted a mandate with a broad set of tools to pursue any money laundering connected to terrorist groups. Wielding its newfound financial weapon, the Treasury warned that the bank would be barred from any dealings in the U.S. financial system, causing a run on the bank. Cut off from about $24 million, North Korea became a financial pariah as banks and other institutions began to back away, fearing similar actions by the U.S.
"Despite the fact that the U.S. has no trade with North Korea, there were no bank accounts in the U.S. frozen, and this was not the subject of some U.N. measure, the North Koreans found themselves isolated in a way they never felt in recent memory," Juan Zarate, author of a book on Section 311 called Treasury's War, said in a 2013 Q&A with The Wall Street Journal. "It was the first time the North Koreans called the White House to initiate talks. They began and ended every conversation saying they wanted their money back."
The sanctions were eventually lifted under the George W. Bush administration after Pyongyang began testing nuclear weapons in 2006. But the sanctions announced on Friday could be aimed at cultivating a similar fear among financial institutions and within the current North Korean regime.
"They have the effect of instilling some psychological doubt in Kim Jong Un," said Sung-Yoon Lee, an assistant professor of Korean studies at Tufts University's Fletcher School. "Is that going to change Kim Jong Un's behavior overnight? No. But the longer the duration and greater enforcement of sanctions, the strong the U.S. will be when negotiating later on."
To effectively punish North Korea for its diplomatic belligerence and alleged role in breaching Sony's servers, the U.S. must make it difficult for regime leaders to access their money, Davenport said.
"The Kim regime's primary concern is regime survival, not the well-being of the North Korean people," she said in an interview on Friday. "Pressures on the economy alone will not drive the Kim regime to make decisions in the same manner that other countries would."
Support HuffPost
The Stakes Have Never Been Higher
Related
Popular in the Community