Julie Nelson was something of a pioneer in the Democratic People's Republic of Korea.
The 27-year-old American citizen was one of the first people to ever surf in North Korean waters. She led North Korea's first-ever surf camp, which entailed showing North Koreans what a surfboard looks like and what surf wax is used for, and even teaching some locals how to swim for the first time.
Nelson said a section of the beach was renamed after her visit there. It is now known to the locals as "Pioneers" -- North Korea's very first surf spot.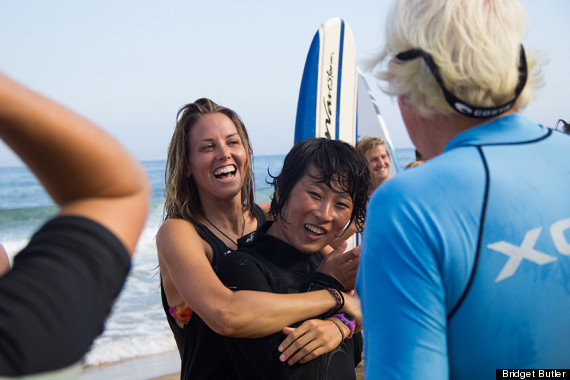 Julie Nelson hugs one of her students, a tour guide with the Korean International Travel Company.
Nelson's 10-day trip, which began on July 19, was the first of its kind and came on the heels of North Korea's attempt to market the isolated country as the world's newest surfing destination. The Korean International Travel Company (KITC) and Love North Korea Ministries, a Christian-based humanitarian organization that works in the country, invited Nelson and 20 other members of the American nonprofit group Surfing the Nations (STN) to teach surfing along the country's eastern coastline.
Story continues below...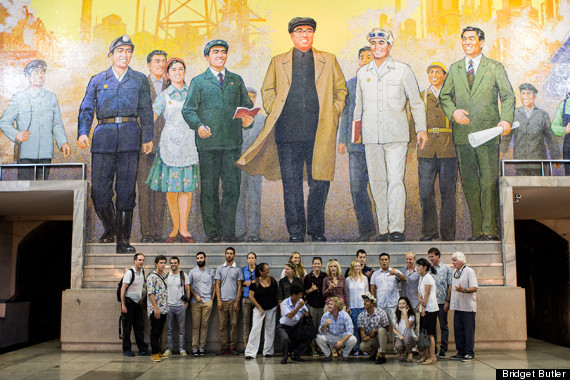 The Surfing The Nations group.
Unsurprisingly, Nelson's trip was extremely guided. The 21 people in their group always had between three to 11 tour guides nearby. Half of their trip was spent touring through Pyongyang, the country's capital, and the other half was spent at two different beaches Shijung and Majon Beach, where the group gave surf lessons to a select few of their North Korean tour guides.
"The trip itself was unreal," Nelson told HuffPost. She compared the landscape to the jungles of Sri Lanka and the green coastline of Ireland, both places she has visited to teach surfing for STN. "When you're in the country, you're in awe of the beauty, the vastness, the untouched coastlines."
But, she did notice the tour guides' control.
"We all know there's a lot more of North Korea that we're not allowed to see," she said. "We were never off by ourselves or allowed to wander and meander down random streets. They do a really good job of keeping your eyes set on what is beautiful. And it is beautiful."
She compared it to someone giving a tour of their house and showing the best of everything they own, but skipping out on a few major parts. "It's like, I'm pretty sure you have a backyard, right?" she joked.
Foreign tours and interactions within the country are extremely controlled and monitored. But unlike other North Korean tours, Nelson's specialized surfing tour appeared to be much more intimate.
Story continues below...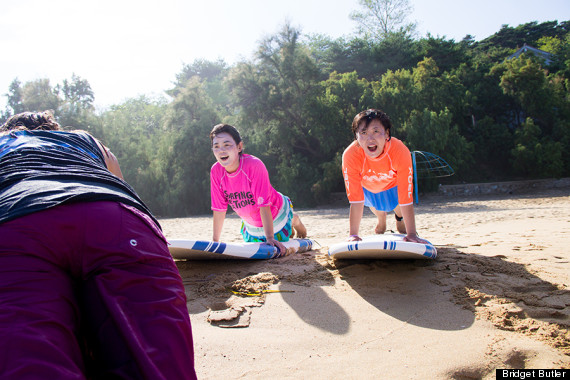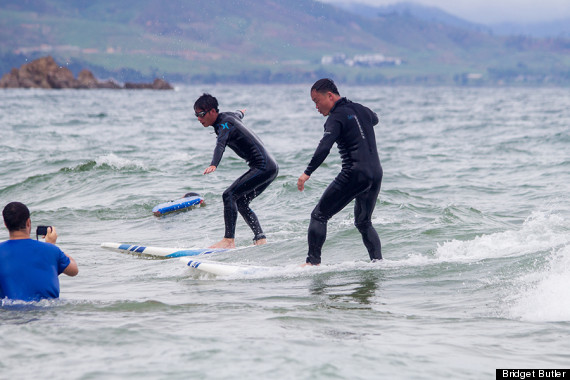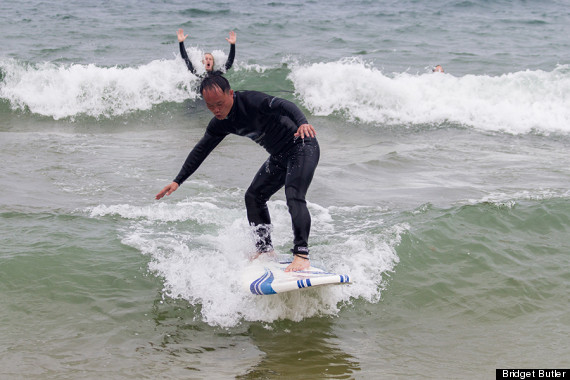 The parts of Nelson's trip that she felt were most genuine were teaching the surf lessons and the friendships created between the participants -- all of whom were official KITC tour guides -- and the American surfers. Most of the North Koreans did not have much experience in the water, so Nelson and the rest of her group had to teach them surfing from the ground up -- from how to swim to how to catch their first wave.
Although the beach was being monitored by a line of uniformed officials with whistles -- "their equivalent to a lifeguard," Nelson said -- the time in the water felt the most free. "We got to share life with them and share the sport of surfing with a country that had no idea what a surfboard was," she said, "let alone the feeling that surfing can give you."
Bridget Butler, Surfing the Nation's official trip photographer, had a similar feeling. "We come from two different parts of the world, but we were able to connect using the surfboard as a bridge through the cultural and political barriers," she said. "There was so much joy."
There were also small moments of spontaneity, rare for North Korea's infamously strict guided tours. Butler and Nelson both talked about a curious young boy who happened to be at the beach with his family one day. The American surf instructors let him join in on the lessons and pushed him around the water on a surfboard. "He was smiling from ear to ear," said Nelson. "We couldn't understand what he was saying, but you can feel his emotions." Eventually, she said, his family joined in.
"The friendships we created with the participants were amazing," she added. "That was due to the fact that we were sharing with them something that they never knew before. When you're learning to surf, you put your life in your instructor's hands. Because of that vulnerability and trust that we established with them, we got to have a unique relationship with them."
Story continues below...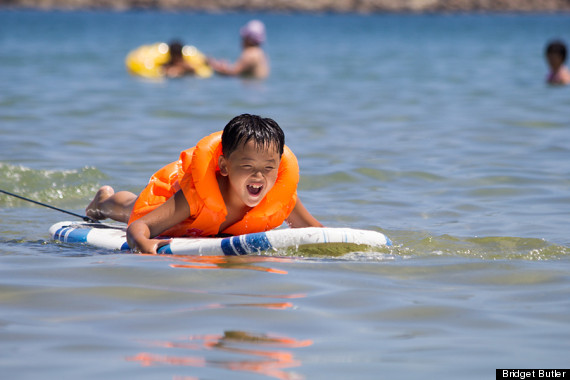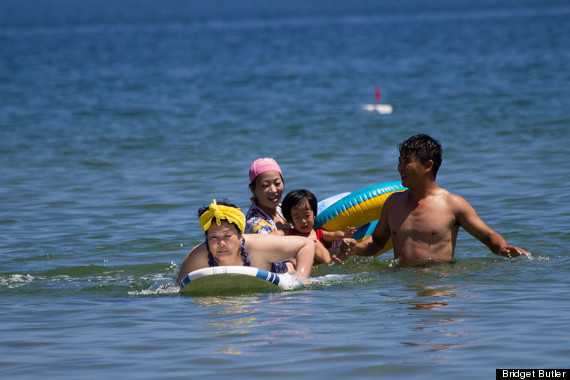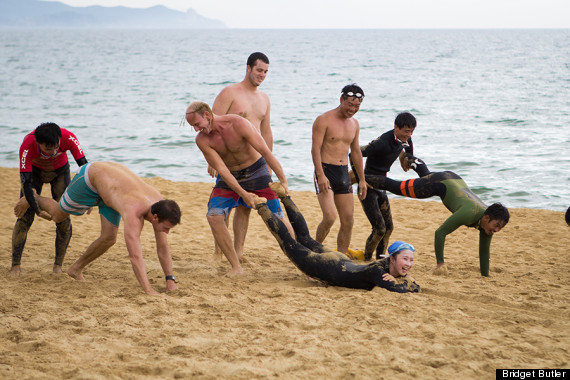 The tour group's evenings included a lot of free time. They spent it talking with the tour guides, playing cards, playing ping pong ("North Koreans are very good at ping pong," Nelson recalled), and singing Karaoke. "They love karaoke," Butler emphasized.
Nelson's favorite moment of the trip was having an intimate discussion with a newly pregnant tour guide. Nelson said they talked about what married life was like for the mother-to-be and how she hoped her son or daughter would be one of the country's first little surfers.
Another night, Adelle Merrill of STN taught the tour guides traditional hula. There, near a beach on North Korea's eastern coast, hula was danced for the first time in the country's history.
Story continues below...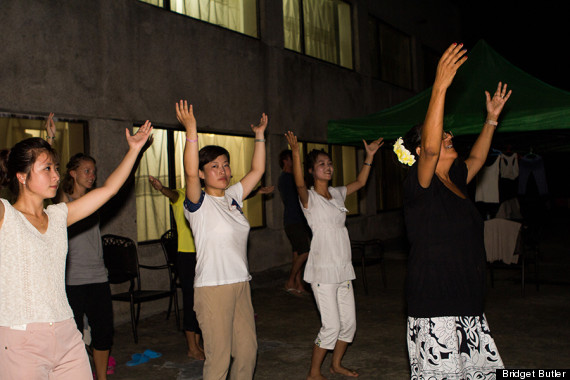 For Nelson, the trip was a strange combination of everything she expected from the isolated country, and not at all what she expected. "Our tour guides fully believed in their eternal leader and the dictatorship, or they led you to believe that," she said. "I never felt like they were withholding any information ... But the purpose of our trip was to share the sport of surfing and to help them fall in love with a sport that so many of us [in STN] already love."
While STN and the rest of the world may never truly understand what the KITC's intentions are for establishing this relationship with surfers, Nelson said she believes the emotions that were exchanged during the surf camps were genuine.
"No matter where you are in the world, people need to be and want to be loved," Nelson said. "That point continues to prove itself in every country I've ever been in."
View more photos and a video of Surfing the Nation's North Korea surf trip below.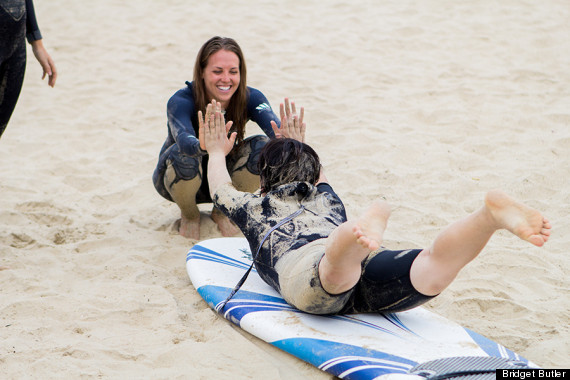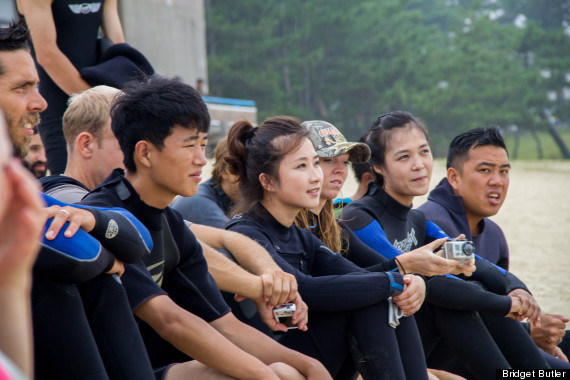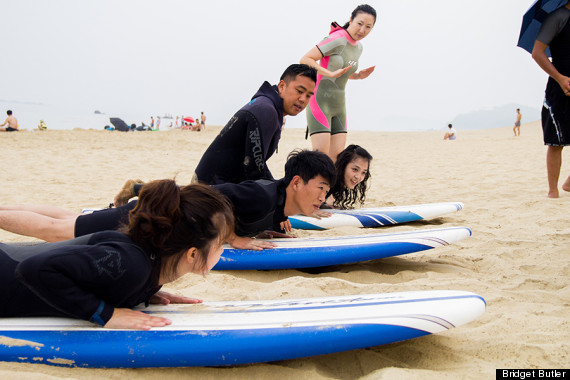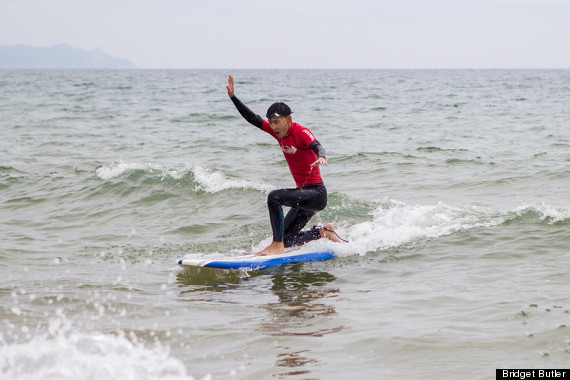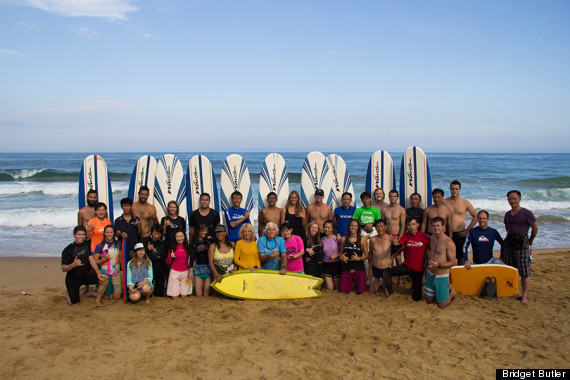 REAL LIFE. REAL NEWS. REAL VOICES.
Help us tell more of the stories that matter from voices that too often remain unheard.
BEFORE YOU GO
PHOTO GALLERY
North Korea Prison Camps