UPDATE: NoKo Jeans were pulled from Sweden's shelves. Read about it here.
Three Swedish advertising executives are attempting international diplomacy...through denim. Their company, NoKo Jeans, has produced 1,100 pairs of jeans in the so-called Hermit Kingdom that will go on sale December 4th at Stockholm's PUB department store. Each pair will cost 1,500 Swedish kronor (about $220).
Founder Jakob Ohlsson told the BBC that the jeans will only be available in black denim because North Koreans "usually associate blue jeans with America. That's why it's a little taboo".
Ohlsson, fellow founder Jacob Astrom, and a third partner--all in their 20s--contacted North Korea via e-mail in 2007 and didn't expect a response. However, after a year, they were allowed into the country as official visitors and the jeans were produced over the summer.
Check out the jeans here, in a photo by NoKo Jeans: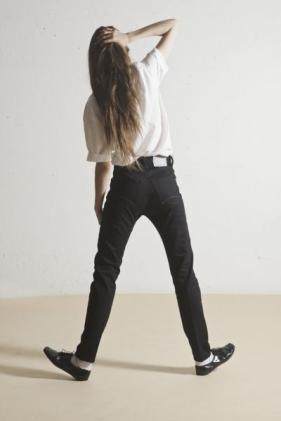 NoKo posted this video describing their journey:
Ohlsson told the BBC: "It's a country that sometimes treats its citizens terribly, but we think our project is a way... to influence things."
At one point they were asked to bring a zinc smelting oven into the country, and a trade representative once asked them to help him find a pirated version of the computer program Adobe Acrobat so he could read files they were sending him.

"Everyone is a manager. Even our chauffeur was some sort of manager," said founder Jakob Ohlsson, adding that North Korean titles were often confusing.
An excerpt from their production trip in the summer of 2009:
The jeans cannot be worn in North Korea, which follows a strict Socialist dress code.