The move ― whenever and wherever it takes place ― would be an unexpected moment in history between two leaders who have taken political posturing to new heights through a string of bombastic statements and missile launches. It would also be the first meeting ever between a sitting U.S. president and the Kim regime.
As the news broke on Thursday evening, some foreign policy experts reacted with stunned missives posted to social media and immediately began contemplating just what the North Koreans hoped to gain from the meeting, and why now.
"Honestly, it was stunning. I don't think you'd be able to find anyone who follows this issue closely that would've predicted that announcement tonight," said Alexandra Bell, the senior policy director at The Center for Arms Control and Non-Proliferation. "I would say that my feelings on the issues are guarded optimism."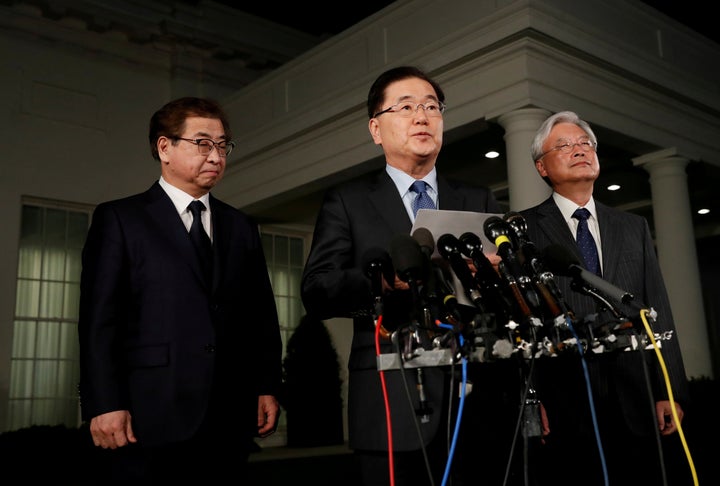 But Thursday's announcement holds no such prerequisites. Kim recently told envoys from South Korea of his "willingness to denuclearize" but has made no promises to do so just yet. Chung Eui-Yong, South Korea's national security adviser, told reporters gathered outside the White House on Thursday that he gave Kim's message to Trump along with an invitation for the two leaders to meet face-to-face and that the U.S. president accepted.
"It's a big deal, but it's also a little bit of a strange deal," Melissa Hanham, an analyst at the James Martin Center for Nonproliferation Studies, said. "It's a break from the U.S.′ traditional process of trying to extract some kind of an agreement from the North Koreans before meeting, and in some ways the Trump administration is putting the cart before the horse."
She also noted that it was "really weird" that Thursday's announcement was made by South Korean officials outside the White House with no American counterparts present.
The White House said that, even though Trump had accepted Kim's invitation, "in the meantime, all sanctions and maximum pressure must remain."
Some analysts say the meeting plays directly into something the Kim family has wanted for decades: legitimacy on the world stage.
"North Korea has been seeking a summit with an American president for more than twenty years," Jeffrey Lewis, the director of the East Asia nonproliferation program at the Middlebury Institute, said on Twitter. "To be clear ― we need to talk to North Korea. But Kim is not inviting Trump so that he can surrender North Korea's weapons. Kim is inviting Trump to demonstrate that his investment in nuclear and missile capabilities has forced the United States to treat him as an equal."
"They should have an ambassador in Seoul yesterday. There's really no excuse for not having one already."
Bell noted that, whatever happens between the U.S. and North Korea, the Trump administration would be well advised to staff up its diplomatic corps. The U.S. is still without an ambassador in South Korea, more than a year into Trump's presidency.
"It's going to be a complex and difficult and frustrating road ahead," Bell noted. "The nature of these negotiations ... there's probably going to be a lot more bad days than there are good. They should have an ambassador in Seoul yesterday. There's really no excuse for not having one already."
For now, experts say time will tell just how well the White House is able to navigate the complicated waters surrounding diplomacy with the North, something that has flustered administrations for decades.
"The problem is that South Korea is doing all the talking this week. After Monday's readout of their visit to Pyongyang, the North was completely silent. And today, Chung delivered the remarks from the curb with no U.S. official present. Why?" Vipin Narang, a professor of international relations at MIT, told HuffPost in an email.
"My head is literally spinning... I don't know what to make of it."