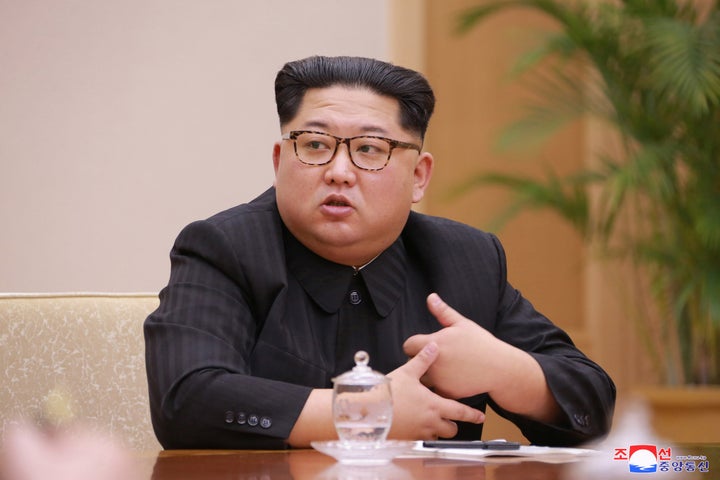 North Korea has escalated its war of words with the U.S., repeating a threat on Thursday to call off the planned June 12 summit with President Donald Trump and warning that a "nuclear showdown" could instead be on the table.
In a statement published by North Korea's official Korean Central News Agency, the North's vice minister of foreign affairs, Choe Son Hui, blamed "reckless" remarks made by top U.S. officials as the reason behind Pyongyang's second thoughts.
Choe took aim at Vice President Mike Pence in particular, calling him a "political dummy" who'd offended North Korea with his "unbridled and impudent" comments. Pence had warned in a Fox News interview on Monday that Pyongyang could follow the "Libya model" if leader Kim Jong Un "doesn't make a deal" ― a reference to Libyan leader Muammar Gaddafi, who met a brutal end following his decision to denuclearize after negotiations with the U.S.
North Korea has long expressed distaste at comparisons with Libya. Pyongyang has said that its nuclear capabilities are far more advanced than Libya's ever were ― and has stressed its expectation that it be treated as a nuclear state on equal footing with the U.S. and other nuclear powers.
Choe echoed this scorn in her statement Thursday, saying North Korea has no interest in meeting the same "tragic fate" as the northern African nation.
"In case the U.S. offends against our goodwill and clings to unlawful and outrageous acts, I will put forward a suggestion to our supreme leadership for reconsidering the [Kim-Trump] summit," Choe added, saying that it was up to the U.S. to decide whether it wanted to negotiate in a "meeting room or encounter us [in a] nuclear-to-nuclear showdown."
Still, North Korea on Thursday invited journalists to witness what appeared to be the demolition of its main nuclear test site. The Associated Press and South Korean media reported several explosions at the secluded Punggye-ri location.
This is the second time in about a week that North Korea has threatened to withdraw from the U.S. summit — deviating starkly from a monthslong trend of warming relations.
Kim Kye Gwan, another top North Korean official, said in a statement last Wednesday that Pyongyang would be forced to "reconsider" the Trump meeting if the U.S. insisted on "unilateral nuclear abandonment."
"If the United States is trying to drive us into a corner to force our unilateral nuclear abandonment, we will no longer be interested in such dialogue and cannot but reconsider our proceeding to the North Korea-U.S. summit," Kim said.
Trump suggested Tuesday that he'd be open to a phased dismantling of North Korea's nuclear program ― a departure from his earlier demand for total and immediate denuclearization, reported The New York Times.
"We're moving along. We'll see what happens. There are certain conditions we want to happen. I think we'll get those conditions. And if we don't, we won't have the meeting," Trump told reporters, without specifying what those "conditions" would be.
On Wednesday, Trump told Fox News there was a "good chance" that the summit would take place.
North Korea experts said they still expect the summit to happen, though the journey to get there may be rocky.
"In effect, President Trump is getting a mini-lesson in talking to the North Koreans even before he talks to the North Koreans," Jung Pak, a Brookings Institution fellow and former CIA analyst, told the Times this week.
Mintaro Oba, a former state department expert on the Koreas, suggested last week that Trump "keep calm and carry on," and that the North's threat to cancel is "par for the course."
"The question is whether they're willing to go so far as to go through with it, or whether they're mainly trying to gain some leverage [or] test how much we want the summit," he wrote on Twitter.
This has been updated to include reports of North Korea's nuclear test site demolition.
Calling all HuffPost superfans!
Sign up for membership to become a founding member and help shape HuffPost's next chapter
BEFORE YOU GO
PHOTO GALLERY
North Korea Meets With South Korea