On Monday morning, North Koreans woke up to the news that Kim had arrived in Singapore for the "historic" tête-à-tête.
Korea Central Television aired a 7-minute bulletin about the supreme leader's arrival in the Southeast Asian city-state; the front page of the Rodong Sinmun newspaper was devoted to news about the summit; and the Korean Central News Agency listed Pyongyang's talking points for the dialogue, saying the meeting would be taking place in a "changed era" and "under the great attention and expectation of the whole world."
The reports come after months of silence about the summit in North Korea, where official news outlets have revealed little about the impending meeting — even as the rest of the world has buzzed incessantly with anticipation for it. Before Monday, North Korea's state media had reported only that Kim and Trump would be meeting at some stage, but had not provided any further details, reported the AP.
On June 9, the day before Kim embarked on the 3,000-mile journey to Singapore from Pyongyang — the farthest he's traveled since taking the helm as leader of North Korea — state media published reports about Kim's visit to a newly opened seafood restaurant.
It's not unusual for North Korean state media to belatedly publish news about major events. "[North Korea's] media is old school," explained North Korea expert and journalist Jean Lee in a tweet. "News outlets disseminate propaganda, not speculation." 
The fact that state media outlets published reports about Kim's trip so quickly after his arrival in Singapore suggests Pyongyang may be feeling optimistic about Tuesday's meeting with Trump, AP noted.
Describing the summit as a "historic" occasion, KCNA reported Monday that Kim would be exchanging "wide-ranging and profound views" during the meeting on issues including "building a permanent and durable peace-keeping mechanism on the Korean peninsula" and "realizing the denuclearization of the Korean peninsula."
A White House official told ABC News that "given the history of the way KCNA has reported" in the past, the language used in its latest report was a "sign for optimism." 
"The North Koreans are definitely playing it up, which suggests that they are planning for [the summit] to be successful," Dennis Wilder, an Asia expert and former National Security Council official, told the Financial Times of the North Korean coverage. "They wouldn't do that unless they thought they were going to have a good experience."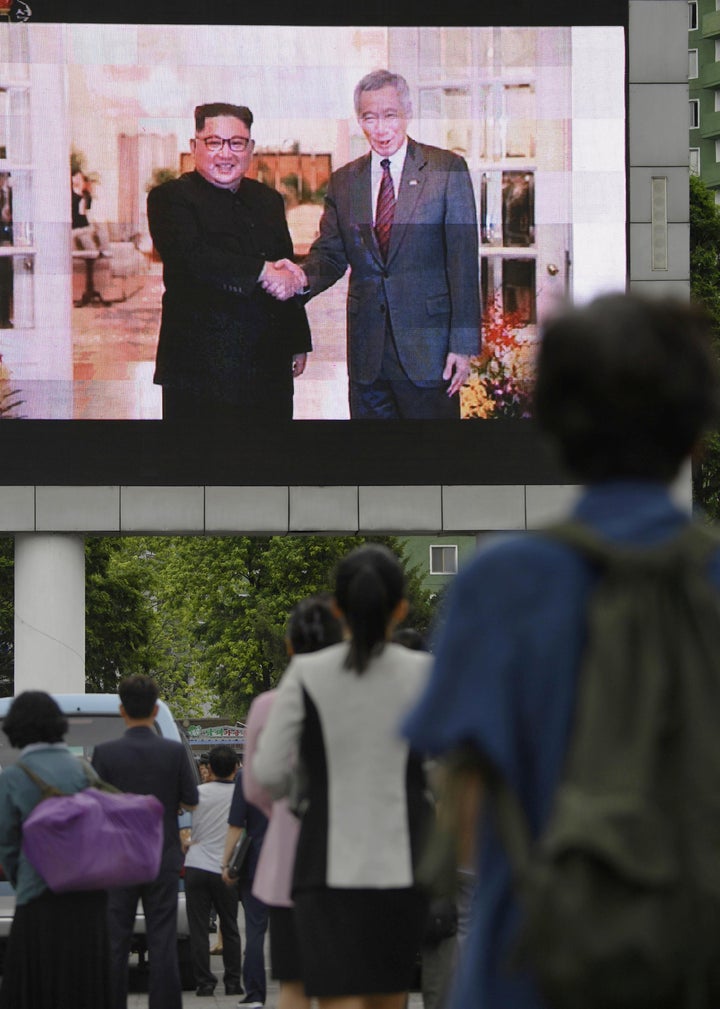 The paper also published more than a dozen photographs of Kim, including ones of him shaking hands with North Korean and Singapore officials and posing by the Air China jet that he traveled in. 
North Korean state journalists have also traveled to Singapore this week to capture their leader's meetings and movements. Two of them, wearing identical black suits and lapel pins featuring portraits of former North Korean leaders, were spotted outside St. Regis Hotel on Sunday afternoon ― poised to capture Kim and his entourage arriving at the property.
The state media workers caused quite a splash themselves. Videos showed them being swarmed by other journalists outside the hotel.
The North Koreans did not seem keen to be interviewed or photographed, however. A Reuters reporter said she had tried to photograph a North Korean cameraman, but "this guy came right up to me as I was trying to take a picture and said one word: 'No,'" Grace Lee wrote on Twitter of the exchange.
Calling all HuffPost superfans!
Sign up for membership to become a founding member and help shape HuffPost's next chapter
BEFORE YOU GO