North Miami Senior High valedictorian Daniela Pelaez has been granted a two-year reprieve in her fight against deportation, her attorney said Tuesday.
"It's a huge relief that I get to stay for graduation," Pelaez told WSVN, adding that the experience has been "a roller coaster of emotions."
Nearly all of Pelaez's 2,600 classmates staged a massive walk-out last week in protest of a judge's ruling that the 18-year-old return to Colombia, where she has not lived since she was four and which would have crushed her dreams at finishing high school and attending an Ivy League university.
Pelaez, who maintains a 6.7 GPA in North Miami's international baccalaureate program, was denied a green card despite her brother obtaining citizenship and her father, with whom she lives, obtaining legal residency. The family overstayed a 1998 tourist visa, and previously applied for residency for Pelaez in 2010 according to NBCMiami. It, too, was denied.
The two-year-deferment will come as welcome news to Miami-Dade Superintendant of Schools Alberto Carvalho, who promised Pelaez would be sent back to Colombia "over my dead body." It will also allow her attorney time to appeal the judge's ruling.
According to WSVN, Immigration and Customs Enforcement officials released a statement that read, "ICE is focused on smart, effective, immigration enforcement that prioritizes the removal of criminal aliens, recent boarder crossers, egregious immigration law violators."
"I've been asked the question before: 'Do I feel American?' or 'Do I believe I am?'" she told NBCMiami last week. "And I don't think it's a question. I'm American. I know the national anthem. I know the laws. I know what it is to be an American."
View images of last Friday morning's protest: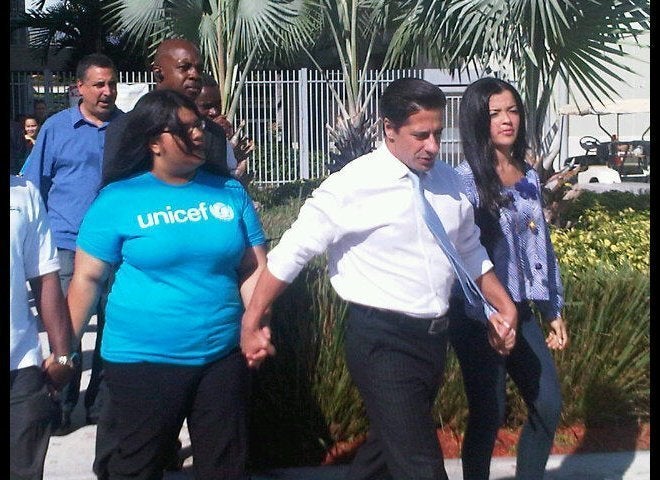 Daniela Pelaez Deportation Protest
Support HuffPost
The Stakes Have Never Been Higher
Related
Popular in the Community