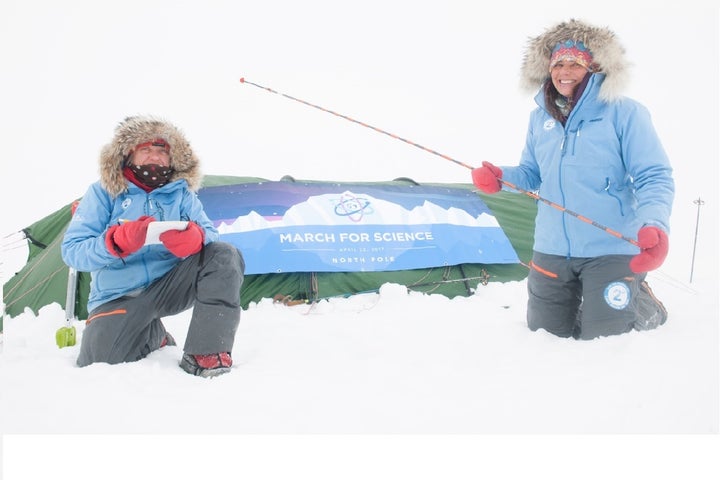 You trek 140 miles over wind-whipped polar snow and ice, with temperatures falling well below freezing and the ground literally shifting beneath your feet as you shuffle along on skis, dragging a sled laden with the gear you need to survive a grueling three-week slog to the North Pole.
So that's the march, which a trio of explorers finished just ahead of today's March for Science, slated for the relatively hospitable streets of more than 600 cities around the globe, with a Week of Action to follow.
Now here's the science: Every mile or so, expedition leader Bernice Notenboom, along with fellow polar trekkers Ann Daniels and photographer Martin Hartley, had to stop and jab the ground with an avalanche pole — think fishing rod meets ruler — to measure what a NASA satellite cannot: How much snow shrouds the frozen crust of ice over the ocean?
While an orbiting satellite can measure the area and depth of the Arctic ice cover, it can't "see" the snow-to-ice ratio, a critical data point.
"Snow creates an insulation and doesn't allow the ice to grow thicker underneath," Notenboom said by phone during a layover the other day in Longyearbyen, on the isle of Svalbard, Norway. "Snow doesn't have a favorable impact on the health of the ice, and that's why we were out there."
Along with Hartley, 49, and Daniels, 52, both from Great Britain, Notenboom kept an eye on her Iridium RockSTAR, a variety of GPS specially designed to function at the top of the world, to chart a course from 88 to 90 degrees latitude along the same eastern longitudinal route that a NASA aircraft followed — the first time the American space agency has flown over the Eastern Arctic, Notenboom points out (and it's a geo-politically sensitive region to boot).
This people-to-plane coordination will help when NASA's new ICESat-2 goes into orbit next year to monitor the same terrain. Notenboom's team's snow-depth tallies, about 150 in all, ranging from no snow cover to more than a meter of depth, will become part of the calculus for gauging changes in the polar ice cap and the effects of increasing melts of the Arctic's ice, which is like a key component of the planet's air conditioning — an analogy that might resonate on steamy days in Palm Beach, or Washington, D.C., for that matter.
The sea ice cover of the Arctic Ocean and surrounding waters help regulate the earth's temperature, influences the circulation of the atmosphere and ocean, and also affects Arctic communities and ecosystems.
So Notenboom is not alone in her concern that Trump's proposed slashing of many national science budgets would only make America blind again — especially when it comes to understanding what's happening with the Earth's climate.
It's only since 1979 that satellites began monitoring sea ice — the bat of a frosty eyelid in terms of meteorological records. And since then, researchers have already observed a steep and steady decline in Arctic sea ice; indications are that this summer will see the least sea ice on record, after 2015 and 2016.
By the month of March, the Arctic sea ice pack is supposed to reach its greatest coverage, but this year it's far below average, off by an area about the size of Texas and New Mexico combined, according to scientists at NASA's Goddard Space Flight Center in Greenbelt, Maryland.
And there's a global ripple effect to all this, since waves and currents can break up thinner ice more easily, and with a reduction in ice cover, sea ice is able to move more freely around the pole, like ice swirling in a glass. But much about how the polar pieces fit together is still as mysterious as the 45th U.S. president's frosted apricot mane.
That's why Notenboom was eager to line up sponsors and arrange to coordinate with NASA for her latest trek to the North Pole -- "just to understand the Arctic climate science better," she says. "It's still unknown territory, really, and this is the center of climate change. This is the enigma. We really have to come here to get clues as to what we can expect in lower latitudes."
The unexpected is par for the polar course, as Notenboom was again reminded on her just-concluded expedition. Her team's plan was to remain at the North Pole through April 22, Earth Day, and the date of the March for Science, but she and the others had to pick up the pace due to cracking in the temporary runway that's etched each year into the frozen Arctic Ocean at the Barneo Ice Camp, a seasonal Russian-run science base that serves as the jumping off point for Pole-goers who make the two-and-a-half-hour flight by Antonov 74 airplanes from Svalbard Airport directly to the south.
At about two o'clock in the morning on April 21, Notenboom and her well-chilled team boarded the last flight out of Barneo as the hamlet of a dozen temporary barracks was being hastily dismantled. The encampment is usually up and running for the entire month of April, Notenboom says, but could stay only half as long this year because of the rapid ice melt — another dubious sign of change, and for Notenboom another reason that "we need to spend more money on scientific research, not less."
Indeed, for the price of a Trump family weekend at Mar-a-Lago, the president might consider tagging along to the North Pole, where reminders of the need for good science come with every step of the march.
Related
Popular in the Community