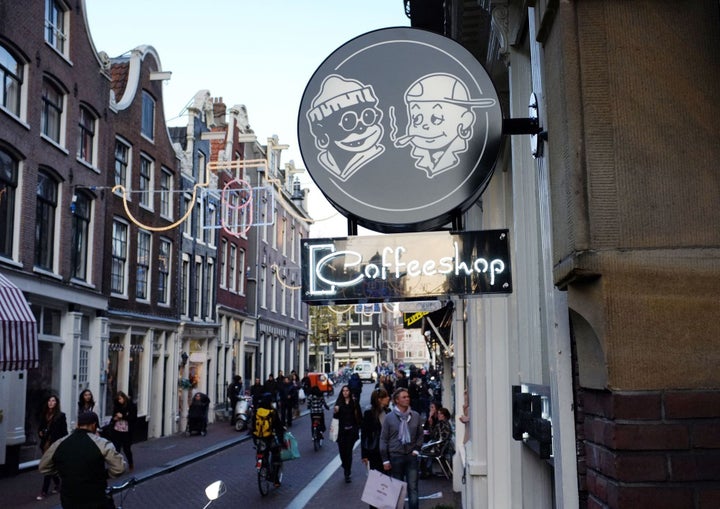 I found myself in Rotterdam this summer covering the North Sea Jazz Festival, one of the largest of its kind that takes place each year in the seaside Dutch town just outside of the more famous "dam." For those like Benjamin Schwarz who proclaimed jazz was dead in a recent article, North Sea stands defiantly vibrant. Stretching over a long weekend in July, a wide range of bands representing jazz past, present and future fill 11 stages for an exceptionally immersive experience.
I was surprised at first that this event is held almost entirely indoors (in an oversized convention hall-like space) but soon realized that it allowed for easier maneuvering between stages. Instead of having to walk across a mud soaked field, the next concert was just down a short hallway or up an escalator. It's a crazy maze, to be sure, but one that is a delight to snake through.
As with most festivals, conflicts are inevitable and I ended up missing some great musicians -- like McCoy Tyner playing with Ravi Coltrane and guitar duo Rodrigo Y Gabriela -- but what I did see more than made up for it.
I kicked things off with Van Morrison, one of a handful of pop offerings. I was expecting, perhaps unrealistically so, the Van of Astral Weeks to spring back to throaty life -- and he did play "Ballerina" to be fair -- but the energy was smoothed out and he sounded more like a lounge singer than a folk-pop legend. He seemed to spring back to life when he closed the set out with the anthemic "Gloria."
The evening only got better from there as John Scofield brought out his ethereal blend of post-bop while Trombone Shorty and Orleans Avenue seemed to step into the bodies of both Miles Davis and James Brown for a thrilling set of hook-driven fusion that combines elements of funk, soul, rock and a heavy jazz sensibility. The New Orleans musician's passion came through in spades as he flailed about onstage for 75-thrilling minutes.
I closed the night out with a beguiling set from Spectrum Road, a newly formed collective that includes John Medeski, Jack Bruce, Vernon Reid and Cindy Blackman Santana. They played tribute to drummer Tony Williams' compositions in an expansive set that often tested the patience of the audience as much as it rewarded it. Many people left throughout but many more still crowded in to fill the vacated seats. The 20-plus-minute jams filled time and space so fully that it was easy to loose sense of your bearings. I can't say I enjoyed every minute, but months later, it's one of my more vivid memories of the festival.
The others included Tony Bennett, whose phrasing is still impeccable, crooning a set of standards, before catching Brad Mehldau with his always excellent trio. Mehldau has the crispest bebop sound of any contemporary piano player, but he constantly uses his chops to expand on the genre. He was one of the first to realize the standard potential of artists like Radiohead and his version of "Paranoid Android" shows how jazz, like no other genre, has the ability to open up a song you've heard a hundred times and show you something new.
Rotterdam itself is full of hidden charms. From small canals that flow through residential streets to quirky architecture like Cube House on Overblaak Street where people live in gravity defying structures that literally question what's up and what's down. I stayed on a former cruise ship, SS Rotterdam, which has been impeccably preserved and restored to its grandeur during the '50s and '60s. I couldn't help but feel a little like Don Draper in my wood-paneled room that was accented sparely with bright colors.
After the festival, I decided to take the short train ride (about 40 minutes) to Amsterdam where I stayed on a canal near Centraal Station at the impeccable De L'Europe. Some five-star hotels have a tendency to overwhelm with their service, so the hotel's understated elegance was a welcome change, as were the iPads furnished with each room. The hotel, around since the late 1800s, preserves the elegance of its history while creating a modern wing that rivals any design hotel. The thing I'll most remember is the simple pleasure of stepping out onto my balcony and looking over the expanse of canals that flow through the city.
Since high school, Amsterdam has loomed large on my ever-expanding list of places to visit, and it didn't disappoint for obvious reasons and some less so. The coffee shops are amazing. Cheap with friendly service and cozy wifi-equipped spaces to smoke quite possibly the best and strongest weed on earth. Another obvious pleasure was the red light district, which sits in a beautifully historic neighborhood. Walking by the windows of smiling fresh-faced girls is undeniably fun, and the area has an overall welcoming feel. I've never been a fan of strip clubs in the states, but the Banana Bar is in a class by itself. The second floor abounds with strippers who look like runway models with the first floor reserved for more participatory fun involving the eponymous fruit.
What people don't generally say often enough about Amsterdam is how physically beautiful and well laid out the city is. Picture Park Slope and Boerum Hill with idyllic canals flowing through and hundreds more years of history. The food is excellent and very reasonable by European standards. The most memorable meal I had was at De Kas, a locavore restaurant that sits in a greenhouse in a residential area just a short tram ride from the city's center. There's no menu and each day's feast is made from the harvest of the restaurant's own farm and greenhouse, which diners are welcome to tour. Dinner include three appetizers such as sweetbreads and marinated green beans plucked that day, a main course and dessert. The food is simply constructed but superbly executed, allowing the ingredients themselves to be the true stars. As an added touch, a bowl of heirloom tomatoes is given at the start of the meal. Eating them just feet from where they were grown closes the gap in production and consumption in a way that's hard to articulate.
From Amsterdam I boarded a train to meet friends in Spain. It involved a couple transfers and I was unclear when I was first planning which train would get me to San Sebastian, but Rail Europe thankfully arranged all the details. I should say that I love train travel, so the 17-hour trip was less daunting than thrilling. The first leg aboard the Thalys from Amsterdam to Paris went smoothly. Navigating the Paris metro was a little trickier but soon I was on the Renfe overnighter. For a while I stood near a window by my sleeper car and watched the scenery go by. Night quickly fell, and I retreated to my surprisingly comfy bed. When I awoke, it was morning, and we were just minutes from Irun, where I would catch a cab to San Sebastian. I watched the Spanish countryside go by as the sun rose and couldn't believe how quickly time had passed.
Calling all HuffPost superfans!
Sign up for membership to become a founding member and help shape HuffPost's next chapter