The good news is the uninsured rate in the U.S. has fallen to a record low. The bad news is the benefits of health care reform aren't reaching a large swath of the country.
Over the last year, the uninsured rate in the U.S. fell 3.5 percentage points, from 17.3 percent in 2013 to 13.8 percent in 2014, according to the latest data from Gallup. That's the lowest yearly rate that's been recorded by Gallup's Well-Being Index.
According to Gallup, much of the decline can be linked to President Obama's health care reform law, which implemented a number of new policies to help Americans afford health insurance. But some states' refusal to adapt Obamacare's key provisions are causing a startling gap in uninsured rates across the country.
The states with the highest uninsured rates in 2014 are pretty much all found in the South, the Gallup poll found.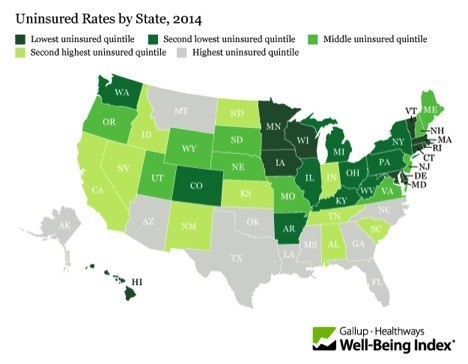 Not coincidentally, all 10 of the states with the highest uninsured rates have refused to carry out two key parts of Obamacare.
"States that have implemented two of the law's core mechanisms -- Medicaid expansion and state health exchanges -- are seeing a substantially larger drop in the uninsured rate than states that did not take both of these actions," Gallup announced. "Consequently, the gap in uninsured rates that existed between these two groups in 2013 nearly doubled in 2014."
That said, two southern states -- Arkansas and Kentucky -- saw the sharpest declines in their uninsured rates, which fell by 11.1 and 10.6 percentage points, respectively. Both states expanded Medicaid and had implemented state exchanges. (Arkansas had a state-federal partnership in 2014 and is transitioning to a state-run exchange.)
Ten out of the 11 states that saw their uninsured rates fall the most had expanded Medicaid and offered either a state-run exchange or a state-federal partnership.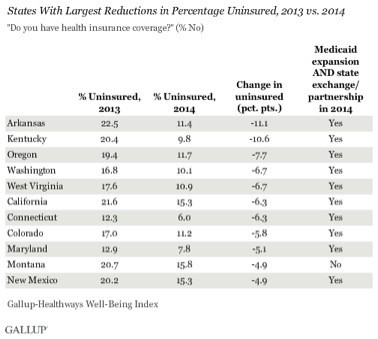 Related
Popular in the Community