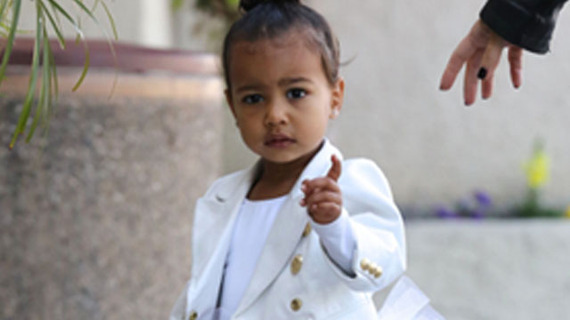 No child should ever have to ask strangers to stop taking their picture -- even if that child is North West, Kim Kardashian and Kanye West's 2-year-old daughter.
Paparazzi cameras caught the Kardashian mini-me walking into dance class on Wednesday, Oct. 28 with a nanny. Being that both North and her cousin Penelope, Kourtney Kardashian and ex-partner Scott Disick's 3-year-old daughter, are students enrolled in Miss Melodee Studio's dance program in Calabasas, Cal., the arrival of the second generation of Kardashian members is expected every week, and ultimately waited for by none other than 10-20 paparazzi photographers.
What changed in this encounter however, was North West's decision to tell the cameras, who although were a reasonable distance from her, to stop taking pictures. While the paparazzi was clearly able to hear her, being that they grinned and chuckled in aww, the camera flashes continued, even at a few feet in front of the dance studios' door where video (which has now circulated online) shows one paparazzi clearly putting a camera at her face before she went inside closed doors.
Although North West is not the only celebrity child in the media spotlight, and is nabbing headlines (including this one)for her "cheeky", "sassy", and "adorable" moment, it brings to light a more deeper and serious realization -- celebrity children laws need reevaluation.
Back in 2013 actresses Halle Berry and Jennifer Garner helped testify in support of now California Senate Bill 606, which makes photographing or videotaping a celebrity child in a harassing manor a misdemeanor offense.
The bill states: "Under existing law, any person who intentionally harasses the child or ward of any other person because of that person's employment is guilty of a misdemeanor, punishable by imprisonment in a county jail not exceeding 6 months, or by a fine not exceeding $1,000, or both. Under existing law, that crime is punishable by mandatory imprisonment in a county jail for not less than 5 days for a 2nd conviction, and by mandatory imprisonment in a county jail for not less than 30 days for a 3rd or subsequent conviction."
As broad as the bill texts' may be, it was a small victory for celebrity parents, but ultimately fails to stop moments like North West's arrival at her dance studio from happening.
Harassment could be interpreted in many ways, especially because these our children, and North West saying "No pictures please" can be seen as just another "cute" moment.
But as a 2-year-old, is this something that she should have to worry about every single day? Where were you at the age of 2? Let me answer that questions for you -- being a kid.
Celebrities have the right to be normal [- especially their kids. The California Newspaper Publishers Association argued back during the development of S.B. 606 that stricter laws against celebrity children could make it hard to cover the news.
But my question is [- do you really have harass a child to cover the news?
Viewers of the video may interpret harassment as physical abuse and can witness that none occurred. The thing is though, when someone says no, it means no - especially if that is coming from a child.
Now a days paparazzi may come in the form of normal civilians with a camera and an iPhone. But as the video can show, people now when to keep their boundaries -- paparazzi don't.
The difference may be that it is a job for them, as we all know by now. Years and years of celebrity confrontations have made for pop culture moments in all areas of the entertainment industry. But children aren't meant to be seen as entertainers, even if there parents are.
There just children with parents who just happen to be famous. While many may emerge into Hollywood as actors or musicians in their near or far future, their early years, or even months of existence, should be respected as that of any other toddler would be.
Calling all HuffPost superfans!
Sign up for membership to become a founding member and help shape HuffPost's next chapter