* Some New Jersey-New York commuter service to resume
* Organizers collect donations in Veterans Day parade
By Jeanine Prezioso and Jonathan Allen
NEW YORK, Nov 11 (Reuters) - New Yorkers took to the streets on Sunday to reinforce recovery from Superstorm Sandy, volunteering to help clean up devastated neighborhoods and using an annual Veterans Day parade to collect donations for victims still struggling without homes or electricity.
Police raised the storm-related fatality toll in New York City to 43, adding the death of a 77-year-old retired custodian who was found paralyzed last week at the bottom of the steps of his apartment building in Rockaway, Queens, with head injuries. He died at a hospital on Saturday, they said.
At least 121 people have perished in the storm, which caused an estimated $50 billion in property damage and economic losses and ranks as one of the most destructive natural disasters to hit the U.S. Northeast.
The Rockaways peninsula of the city's Queens borough was especially hard hit when Sandy barreled into the East Coast on Oct. 29, unleashing a record storm surge that flooded low-lying areas and fierce winds that toppled trees and power lines.
Many residents said they felt exhausted.
Priscilla Perez, 30, was climbing up 11 flights of stairs in the dark, carrying clothes, jugs of water supplies and her 1-year-old daughter to an apartment at the Bay Towers in Rockaway Park. Helping carry the load was her 10-year-old son, Elijah, who she said is struggling with the impact of the storm.
"He doesn't want to eat. He's never been through anything like this," she said. "I tell him when we go to get food, 'Take a peanut butter and jelly sandwich, take a hot dog,' but he says no."
Recovery workers, from volunteers to firefighters, National Park Service workers and thousands of National Guard members, helped clean up in Queens and the city's Staten Island borough, also badly damaged, clearing mounds of garbage, sand and debris.
Medical teams went door to door to check on residents in high-rise buildings without power.
U.S. Homeland Security Secretary Janet Napolitano paid a visit on Sunday to hundreds of federal recovery workers crammed into the mess hall aboard the T.S. Kennedy, a merchant marine training ship docked on Staten Island to serve as a floating hotel for government employees taking part in the effort.
"Thank you, and thank you, and thank you," she told the workers, adding, "I hope you take some pride in what you're doing."
Throughout the Eastern seaboard, thousands of homes were destroyed or badly damaged, millions were left without power, and commerce was brought to a virtual standstill in the immediate aftermath of the storm.
The misery was compounded by an unseasonably early winter storm, or "Nor'easter" that lashed the region on Wednesday with more heavy winds, along with rain, sleet and snow. As many as 8.6 million utility customers lost electricity at some point in the midst of the back-to-back storms.
On Sunday, nearly two weeks after Hurricane Sandy first struck, thousands were still in temporary shelters, while the tally of power outages had dwindled to about 167,000, according to the U.S. Energy Department. New York accounted for most of the remaining outages, the bulk of them on Long Island.
In what was likely to be a great relief to hundreds of thousands of commuters struggling to get to jobs without mass transit, New York Governor Andrew Cuomo and New Jersey Governor Chris Christie announced that some PATH trains that connect New York and New Jersey would resume service on Monday morning.
However, service at the Hoboken, Exchange Place and World Trade Center stations was still suspended due to severe flooding and will likely remain so for several weeks, they said.
Officials also announced the limited reopening of the Governor Hugh L. Carey Tunnel, formerly known as the Brooklyn-Battery Tunnel, for rush-hour bus service Monday morning.
The tunnel, which connects Brooklyn with downtown Manhattan, flooded with an estimated 43 million gallons (162.8 million liters) of water that damaged electrical, lighting, communications, surveillance and ventilation systems, authorities said.
In addition, Amtrak planned to reopen the so-called North Turbe rail tunnel under the Hudson for Amtrak passenger train and New Jersey Transit commuter service on Monday, according to a statement from U.S. Senator Frank Lautenberg of New Jersey.
He said the tunnel, which was shut down immediately following Sandy, was expected to operate at 63 percent of normal capacity as further work continued.

COLLECTING COATS FOR THE DISPLACED
Organizers of the Veterans Day parade, New York City's first major post-Sandy event since its annual marathon race was canceled last weekend, asked spectators lining the parade route to bring winter coats to be donated to storm victims.
The group New York Cares was hoping to collect 50,000 coats by week's end, part of an annual drive that began two weeks early to help Sandy victims.
"What's wonderful is that veterans came to us and felt in the spirit of service, that is so prevalent among folks in the armed forces, they wanted to make sure the veterans were not only being honored today but also doing their bit to help," said Gary Bagley, the group's executive director.
Lingering power outages tested the patience of many residents who had been living without lights, heat or water for extended periods. Sharp criticism was leveled in particular at the Long Island Power Authority, or LIPA, which was still trying to restore service to some 62,000 customers.
Speaking on CNN, U.S. Representative Peter King, who represents the area, called the situation "a disgrace."
"The LIPA has failed miserably. They are not doing a good job," he said. "It really has reached crisis proportions."
Sunday also marked the third day of gas rationing in New York City, under a system in which cars with odd- and even-numbered license plates can fill up only on alternate days.
President Barack Obama is to visit hard-hit areas of New York City on Thursday.
Mayor Michael Bloomberg said in a radio address that the city has distributed almost 2 million meals, 500,000 liters of water and more than 100,000 blankets as well as space heaters, baby supplies and flashlight batteries. The city also was distributing underwear, winter hats, toilet paper, bleach, soap, toothbrushes, toothpaste and towels.
Bloomberg said the city was sending in teams of contractors and inspectors to help hasten the process of restoring power to thousands of utility customers in Brooklyn, Queens and Staten Island who cannot get electricity back until equipment is repaired and tested.
In Staten Island, a fear of crime in the darkened neighborhoods was evident in signs hanging on many houses that read "Beware of Dog" or "This home is Remington protected."
In Queens, small cranes scooped up mounds of sand washed ashore by the storm, and firefighters used hoses to power-wash streets.
"We're taking it one day at a time," said Jim Long, a firefighter whose home suffered water damage. "The water table is pretty high. You clean out some water and come back the next day and there's more water."

Related
Before You Go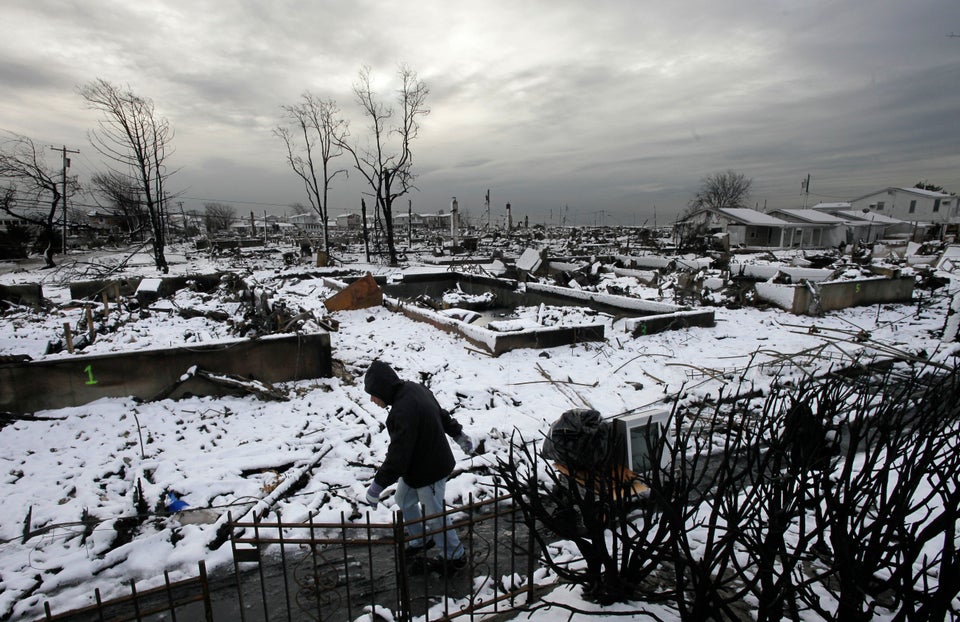 Nor'Easter Post Hurricane Sandy
Popular in the Community