The front page of Kansas City's Northeast News was left blank earlier this week in an effort to show readers what it would be like if the publication ceased to exist — and, as it turns out, the strategy proved quite effective.
On Wednesday, the editors of the paper that serves Northeast Kansas City made a bold decision to get readers' attention in an effort to garner more support.
"Initially, there was some confusion straight up front and we had some of our readers call us up and say, 'Hey, I don't know what happened to your front page, but it's blank. I hope you know this,'" said publisher and co-owner Michael Bushnell in a phone call with HuffPost on Friday.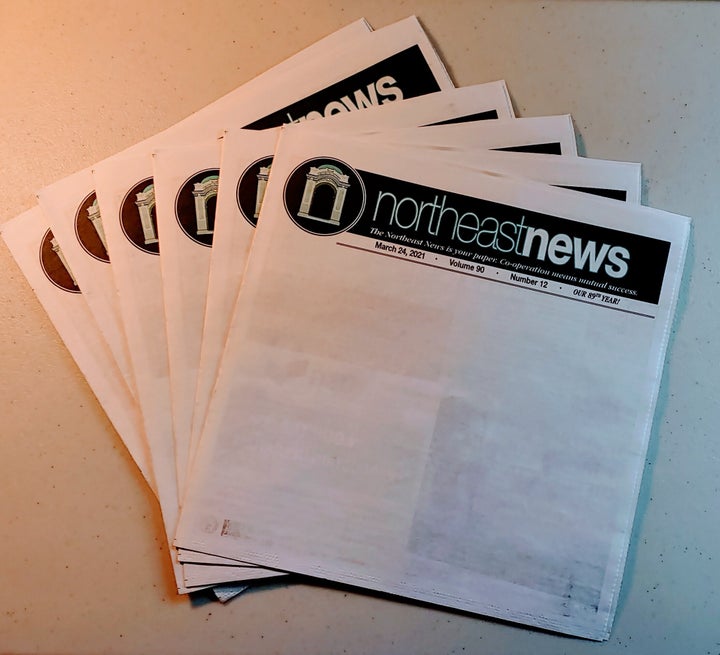 Bushnell said he and his six-person team decided to go "radio silent" for 24 hours. On their website and social channels, they pushed out only the few articles in the front-page-less issue that addressed the paper's history, finances and role within the community.
"We need to send that message of what it's going to be like if you don't have a community newspaper, if your community doesn't have a voice," he explained.
One of those pieces was written by managing editor Abby Hoover, titled "You decide: The Future of Northeast News." It explained that while the outlet is "proud to remain a free service to the community for nearly 90 years," "we do rely on this community for support."
"Journalism is a public service playing by the rules of private enterprise, and it's not profitable," Hoover wrote, echoing a sad fact many in media know. She added that the paper relies "largely on advertisers to keep the lights on and the presses running."
"When the coronavirus had many small businesses scrambling to make ends meet, ads were the first thing to go, and paper's ad revenue dropped," she wrote, before saying a hard truth: "We have a 60 day lifespan if something doesn't change."
Bushnell told The Washington Post earlier this week that part of the ad revenue the Northeast News previously had came from two laundromats, a charter school and a grocery store, all of which pulled their ads in 2020, prompting a "monthly loss of about $2,700." He also noted that the paper did not quality for the second round of funds under the federal Paycheck Protection Program.
As of February 2021, the COVID-19 pandemic is responsible for the shuttering of more than 60 local newsrooms across America. Even prior to the pandemic, journalism was a fraught industry: As of 2019, more than one in five local or small newspapers had shut down across the country over the last 15 years.
"We wanted to send a very strong message of the importance of community journalism to a community like this," Bushnell told us, adding that the last two days have been "dizzying," but that he thinks the message resonated.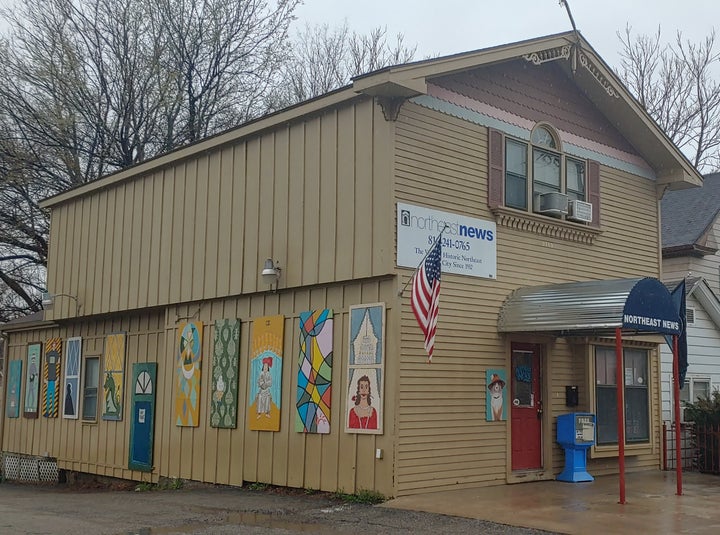 He said the response to the blank front page and accompanying articles within Wednesday's issue has been "overwhelming" and "humbling." A fundraiser on the paper's site has raised more than $1,000, and he's "received calls from businesses ― small businesses no bigger than us in the community ― [asking], 'What can we do to help? We can't lose you.'"
While the donations have been helpful, Bushnell suggested that the publication is not out of the woods just yet, because losing the revenue last year was a "gut punch."
"We've got roughly 60 days to turn this ship around and that's with me moving around some personal monies to make that happen," he said, before going on to say: "As an owner, I can't come in and go, 'We're closing.' What kind of shithead would do that?"
Bushnell emphasized that he "can't" and "won't" do that to his team.
"I'm cautiously optimistic and I am hopeful," he said of the paper's future.
When asked what he'd like to say to news consumers, he implored them to "support local advertisers" and also offered a note to reporters at other local newsrooms around the country: "Keep after it."
"If there's a message to the community's publishers ... what you do matters," he said. "The voice you give your community matters, a lot."
Related
Popular in the Community