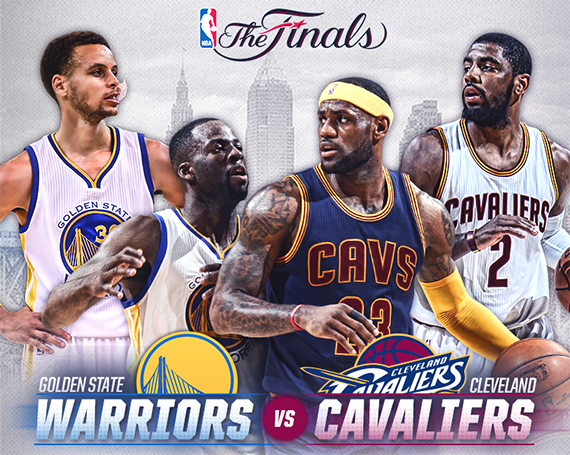 As my Cleveland Cavaliers engage in an exciting championship series with the Golden State Warriors, sports commentators will no doubt spend lots of time comparing LeBron James and Steph Curry as well as their teams. While this is certainly a topic that has all Clevelanders' attention, what I think is also interesting, and perhaps surprising to many people, is how much these two regions have in common and how they have inspired each other over the course of the last century.
Both Have Been to the Top of the Mountain
For starters, both regions have experienced life as a global hotbed of innovation and a professional sports powerhouse -- albeit many decades apart.
At the dawn of the 20th century, Cleveland was at the business end of an industrial boom so big it created a literal "millionaire's row" down Euclid Avenue. Decades later in post-WWII America, we were still flush with oil, steel and rubber. Meanwhile the Indians were about to win the World Series and our newly-formed Browns were practically inventing the modern game of football.
At about the same time, new firms located in a rural valley in California were partnering with Stanford University and the U.S. government, to lay down the business, academic and social foundation for what would become the single largest concentration of entrepreneurial talent and investment capital on the planet. Decades later, that fully formed ecosystem became the envy of the world, while the Bay Area's baseball, football and now basketball teams came to dominate their respective sports.
Beer, Basketball and Economic Inclusion
Today, much of the Bay Area is enjoying a golden era while Northeast Ohio rebuilds. Unsurprisingly, we've taken more than a few cues from our western neighbors.
Obvious cultural examples include Ohio's growing craft beer industry (San Francisco's Anchor Brewing Company created the blueprint), or the Bay's long reign as a top food destination, which has informed our own culinary boom in Cleveland.
And when it comes to entrepreneurship, it's no secret we've looked to Silicon Valley to build (or perhaps rebuild) our own business, academic and social entrepreneurial ecosystem. But we've made a few discoveries of our own along the way that now are helping to reshape the work of entrepreneurs in Silicon Valley.
As LeBron is fond of saying, nothing comes easy here. In Northeast Ohio, we need all hands on deck to accomplish our goals, entrepreneurial or otherwise. Understanding this reality, we've put diversity and inclusion at the heart of our entrepreneurial ecosystem - not for public relations or political correctness, but because we believe it gives us a competitive advantage.
At JumpStart, the Cleveland-based venture development organization where I serve as CEO, more than 30-percent of the early-stage companies we advise or invest in are minority/women owned-or-led. We commit ourselves to inclusive hiring practices, and we work hard to develop ideas that focus on reaching disconnected parts of the community -- ideas like Growth Opportunity Partners, a community lending initiative that helps entrepreneurs get the capital they need to create meaningful wage jobs in our low-income urban neighborhoods. Advancing all Northeast Ohioans future -- regardless of their social or racial background -- is a top priority for JumpStart and our partners in Cleveland and Northeast Ohio.
As a result of this work, and the efforts of our many collaborators, Northeast Ohio's investment climate for diverse entrepreneurs tends to stand out. This is especially true when you consider that the venture capital industry as a whole is nearly 90 percent white and male, as are many of the entrepreneurs receiving that capital.
As it turns out, many traditional VC firms are great at investing money, but many struggle to connect with diverse talent, despite the fact that the Bay Area is truly one of the most diverse places in the U.S. In their defense, most venture capitalists recognize this diversity problem and want to change things.
"If our industry hopes to stay relevant, we must find a way to involve more people who have not been well-connected traditionally to what we do and how we work with companies," says Kate Mitchell, co-founder of Scale Venture Partners and Co-Chair of the National Venture Capital Association (NVCA) Diversity Task Force. "Northeast Ohio's network of entrepreneurial support organizations are far ahead of the curve when it comes to connecting with diverse entrepreneurs and connecting them into the venture capital ecosystem. That's one of the main reasons we asked Ray Leach and JumpStart to play a leadership role in the NVCA's diversity task force."
Collaborators and Competitors
So, while Northeast Ohio can learn a lot from the Bay Area about building a world-class entrepreneurial ecosystem; we might also be able to help our friends on the West coast think about ways to connect with the diverse talent pool already living in their backyard. And while the activities of companies like Google, Apple and Intel have been in the local and national headlines for their efforts focused on diversity -- and they serve as great role models -- this work in Silicon Valley is really just beginning.
So, while there is certainly "friendly competition" between our two regions on a wide range of dimensions, I see it as healthy and it elevates everyone's game. But Cleveland "competing" against Silicon Valley and the San Francisco Bay area when it comes to "entrepreneurial environments" today is almost like the fruit orchards of Palo Alto competing with John D. Rockefeller in 1900. Let's just say these two regions have found themselves on the opposite end of many challenges over the years.
Now we get a chance to see teams from these two regions on the same court, playing the same game at the same time. The Cleveland Cavaliers are a hard-scrabble group who know their only chance for victory is to leverage every ounce of talent they can get their hands on, no matter where they find it. They are led by an all-time-great, but the team unquestionably resembles the underdog region they call home.
Of course these comparisons between cities and sports teams are never perfect. Our entrepreneurial ecosystem probably does not have an equivalent for LeBron (although LeBron is quite an entrepreneur). And unlike Silicon Valley, which has dominated the world as the center for technology entrepreneurship for decades, the Warriors are still untested on basketball's biggest stage.
Whether it is on the basketball court or in the venture capital industry's efforts to advance the progress and impact of tech-based entrepreneurs, leaders from Silicon Valley and Cleveland have much to learn from each other and are committed to benefiting a great number of diverse entrepreneurs along the way.