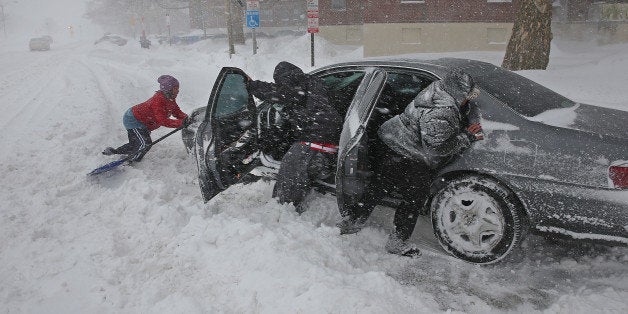 By Ellen Wulfhorst and Elizabeth Barber
NEW YORK/BOSTON, Feb 2 (Reuters) - A deadly winter snowstorm was forecast to lift on Monday night after walloping the Northeastern United States, forcing the delay of Boston's Super Bowl victory parade and snarling air traffic at several major airports.
The second major storm in less than a week pummeled residents from New York City to Boston with snow, freezing rain and gusty winds. Weather conditions were a factor in at least 10 deaths, including some in the Midwest where the storm hit heavily on Sunday into Monday.
Boston, already blanketed by 2 feet (60 cm) of snow from a blizzard last week and predicted to get a further foot, set a record for the snowiest seven-day period in the city's history. The 34.2 inches (87 cm) measured by 1 p.m. on Monday surpassed the 31.2 inches (79 cm) set in January 1996.
Deep snow prompted Mayor Marty Walsh to postpone by one day until Wednesday the parade to celebrate the New England Patriots' 28-24 win over the Seattle Seahawks in Sunday's Super Bowl. Jury selection for the federal trial of accused Boston Marathon bomber Dzhokhar Tsarnaev was also delayed until Wednesday.
Hundreds of flights were canceled at Boston's Logan International Airport, Newark Liberty International Airport in New Jersey, New York's LaGuardia airport and Chicago's O'Hare International Airport, according to Flightaware.com.
The National Weather Service (NWS) forecast the storm would lift on Monday night and that it would be sunny in Boston on Tuesday.
Weather conditions contributed to at least 10 deaths, including a woman struck and killed by a snowplow in a Boston suburb and the death of an overnight university dining hall worker in Connecticut. Four people were killed in highway crashes in New York and Indiana, there was a snowmobile fatality in Michigan, and three died while clearing snow in Wisconsin, according to officials and local media reports.
Ice caused a crowded subway train to stall on an elevated stretch of track in New York City and service was suspended or delayed on some Boston trains because of icy power lines.
So many workers - 36 percent of staff - failed to make it to the Cook County Jail in Chicago that it was put on lockdown, limiting visitation for the 9,000 inmates typically housed there, Sheriff Tom Dart said.

NO HELP FROM THE GROUNDHOG
Snow-weary residents could take little comfort from groundhog Punxsutawney Phil, who emerged from his burrow on Monday morning in western Pennsylvania and saw his shadow. According to legend, seeing his shadow means six more weeks of winter.
Plowing crews in Maine, where nearly 3 feet (90 cm) of snow fell last week, struggled to cope with the accumulation.
The NWS warned of dangerous wind chills through the coming days. "Bitterly cold weather will settle in behind this system from the Upper Midwest to New England," it said.
The storm, which dropped more than 19 inches (48 cm) of snow at O'Hare airport, the fifth biggest snow event recorded in Chicago, prompted some city residents to use the traditional "dibs" system to reserve dug-out parking spaces with lawn chairs, laundry baskets or other household items.
"You have to. You put time in, and time is money," said plumber Keith Glover, 32.
If someone were to move his markers and take his spot, he said, "I'd bury the car in snow. Then they can dig it out." (Additional reporting by Jonathan Allen and Barbara Goldberg in New York, Richard Weizel in Connecticut, Mary Wisniewski, Fiona Ortiz and Christine Stebbins in Chicago, Elizabeth Daley in Punxsutawney, Pa., Dave Sherwood in Bowdoinham, Maine, and Tim McLaughlin in Boston; Editing by Will Dunham, Grant McCool and Peter Cooney)

Before You Go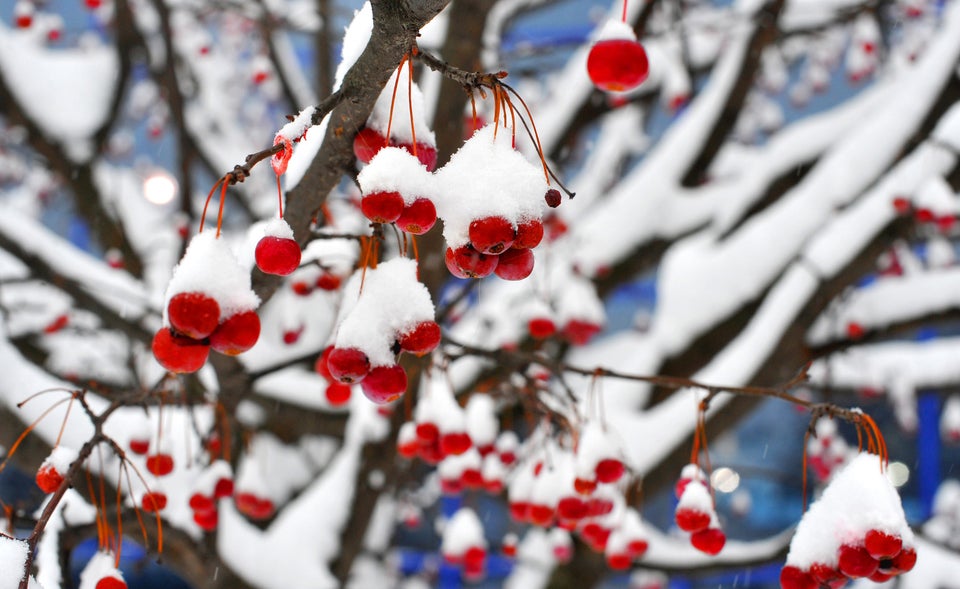 Winter Weather
Popular in the Community