New York City residents woke up Tuesday morning expecting to see what Mayor Bill de Blasio (D) had warned would be a "potentially historic" winter storm with the potential to dump up to three feet of snow on the five boroughs.
While the storm was expected to dump record snowfall on the New York City region and New England, it failed to live up to forecasts in a number of areas.
"The storm was less destructive than predicted," New York Gov. Andrew Cuomo (D) said at a Tuesday morning press conference. Cuomo defended his state's decision to shutter roads, buses and subways, citing a recent snow storm that dumped around seven feet of snow on Buffalo.
Despite initial forecasts of two feet of snow or more in New York City, snowfall only totaled 11 inches at LaGuardia airport by Tuesday morning, according to The Weather Channel. Central Park saw 7.8 inches, while six inches had fallen in Newark, New Jersey. Only three to five inches fell in southern New Jersey and Pennsylvania, The Associated Press reported.
"'Snowpocalyse the Sequel' is a bit of a fizzle," said Alice Hadler, associate dean for international student affairs at Wesleyan and a resident of New Haven, Connecticut.
One New Jersey meteorologist tweeted his "deepest apologies" for the overhyped forecast.
Parts of eastern Long Island did see greater snowfall totals, however. Nearly 15 inches had fallen in Islip by Tuesday and snow reached nearly 25 inches elsewhere in eastern Long Island, which was more consistent with forecasts.
Similarly, certain areas of Massachusetts came closer to projected amounts. The National Weather Service said some towns in the state reported 30 inches of snow.
More than 30,000 Massachusetts homes and businesses were without power as of 4:15 p.m., according to the state utilities NStar and National Grid. In the town of Nantucket, over 87 percent of National Grid's roughly 12,800 customers had no power, down from 99 percent earlier Tuesday afternoon. Seventy-eight percent of the nearly 5,700 homes and businesses in Provincetown, on the tip of Cape Cod, were without power as of 4:15 p.m. -- less than two hours earlier, some 97 percent had lacked power.
Wind gusts as high as 78 mph rocked Massachusetts' eastern shore, and winds above 70 mph were reported in towns from Plymouth to the islands of Nantucket and Martha's Vineyard, the National Weather Service said.
The town of Nantucket said it expected what it described as "moderate" coastal flooding.
Boston effectively shut down on Tuesday as over 20 inches of snow and the promise of more led to closed schools and businesses, cancelled public transportation and few attempts by residents to go outdoors. Still, some Bostonians went sledding in the streets, alongside parked cars blanketed with snow:
Winds in Boston approached 30 mph on Tuesday.
Pine Street Inn, which says it is New England's largest homeless shelter system, sent vans across Boston to pick up homeless people who were at risk of suffering from extreme cold, according to spokeswoman Barbara Trevisan. More than 100 extra guests crowded into Pine Street's three Boston-area locations, she said. This exceeded the shelter's 670-bed capacity, Trevisan noted, but guests slept on cots and mats that had been placed in common areas.
Officials said Boston schools would be closed Wednesday.
In New York City, De Blasio imposed a travel ban on non-emergency vehicles starting at 11 p.m. Monday. The ban was lifted at 7:30 a.m. Tuesday.
And subway service -- which Cuomo suspended on Monday night -- "will begin coming online" at 9 a.m. Tuesday, the governor said. Sunday service, not peak workday service, was expected by noon.
As the storm blew into the city Monday night, a transit source told The Brooklyn Paper that Cuomo's decision to shut down the city's subway system was misguided, since empty trains would still have to run beneath the city in order to keep the tracks clear.
"I think it's horrible, purely political decision, not based on anything that's needed," the source, who wished to remain anonymous, told the paper. "It seemed like cutting out a necessary lifeline unnecessarily."
The city's students, meanwhile, are still enjoying a rare snow day, with today's scheduled Regent exams postponed to later this week.
Connecticut Gov. Dan Malloy (D) announced Tuesday morning that only travel bans in Fairfield and Litchfield county were lifted. Malloy said only one minor injury was reported on roads in his state last night. A statewide travel ban in New Jersey was fully lifted.
Dan Drew, the mayor of Middletown, Connecticut, posted to Facebook that the city was "fortunate that the snow is dry and light" but cautioned that cleanup was still ongoing. He told The Huffington Post that the city's emergency operations center remains in high gear, and has been responding to "a steady stream of medical calls."
Local fire departments have maintained fully staffed stations, as "conditions could make it nearly impossible to receive any response" from private ambulance companies, Middletown Fire Department Deputy Chief Steven LaRosa told HuffPost.
The storm did have a major impact on air travel, with more than 7,700 flights in and out of the Northeast canceled, according to the AP.
The storm was also expected to be difficult for New York City's homeless population and to pose challenges for the city's Department of Homeless Services. "Our outreach efforts are in full force," DHS Commissioner Gilbert Taylor said at a press conference Monday. "We have doubled efforts to bring people into shelter."
An updated snowfall range forecast as of Tuesday morning:
Eliza Sankar-Gorton contributed reporting.
CORRECTION: In a previous version of this article, a comment from LaRosa was mistakenly attributed to Drew.
Related
Before You Go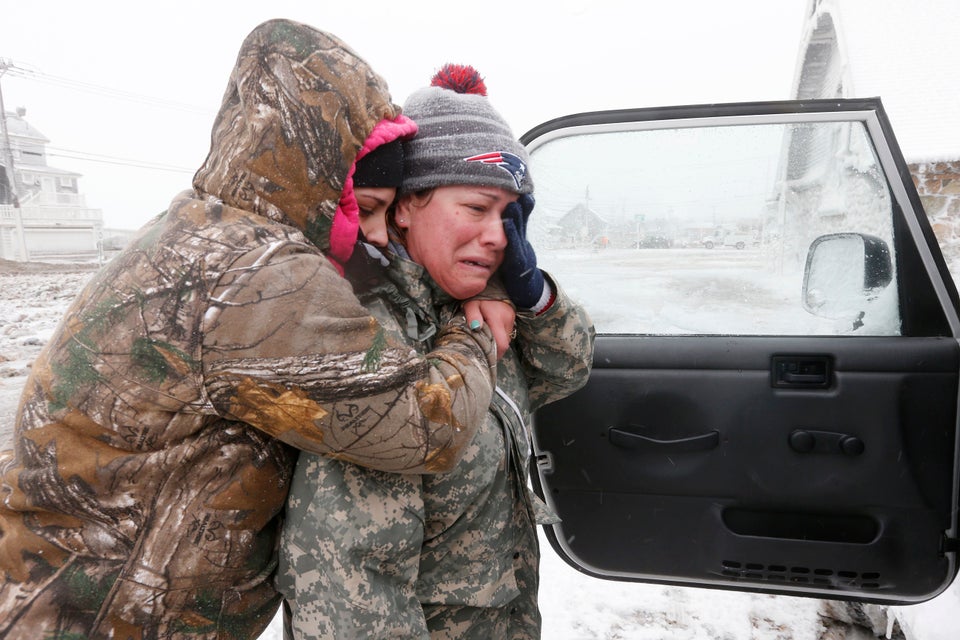 January 2015 East Coast Snow
Popular in the Community