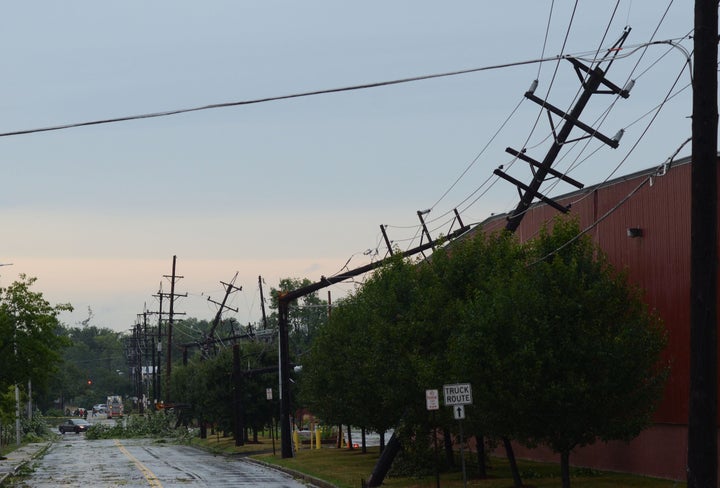 (Updates with power outage details)
July 26 (Reuters) - Severe thunderstorms unleashed heavy rain and strong winds across parts of the Midwest and Northeast on Thursday, grounding hundreds of flights and leaving tens of thousands of people without power.
The storms spawned a tornado that touched down in Elmira, New York, damaging a mall and a local country club, the National Weather Service said.
There were no immediate reports of injuries. Meteorologists said 70 mile-an-hour winds were reported in parts of Ohio, Kentucky, Pennsylvania and Oklahoma.
As the storms sent black, menacing clouds rolling across some cities, hail ranging from the size of a dime to a quarter fell in some areas of Pennsylvania, AccuWeather.com said.
More than 51,000 customers were without power in Ohio, said American Electric Power of Ohio. New York Governor Andrew Cuomo said in a statement that the storms knocked out power for nearly 93,700 utility customers across the state.
In New Jersey, more than 10,000 customers suffered power outages.
The storms formed along a cold front stretching from the Northeast into the Ohio Valley, threatening damaging winds, hail and tornadoes, according to the Weather Channel.
The storm activity forced the cancellation of over 900 flights on Thursday, according to FlightAware, a Texas-based company that tracks the status of flights. The highest number of cancellations was at LaGuardia Airport in New York.
Flight delays were also reported at airports in Baltimore, Boston, Chicago, New York City, Philadelphia and Washington D.C., the Federal Aviation Administration said on its website.
A severe thunderstorm watch was issued for portions of Indiana, Kentucky, Maryland, New York, Ohio, Pennsylvania and West Virginia.
The National Weather Service's Storm Prediction Center said that "hail (up) to 2 inches in diameter, thunderstorm wind gusts to 80 miles per hour and dangerous lightning are possible in these areas."
Thunderstorms that swept through Westchester County, north of New York City, toppled trees and caused power outages.
Trees fell across the tracks of the Metro North commuter rail system's Harlem Line and brought train traffic to a halt on the line north of Chappaqua, the town that is home to former U.S. President Bill Clinton and U.S. Secretary of State Hillary Clinton. (Reporting by Kevin Gray, Dan Burns and Alex Dobuzinskis; Editing by Stacey Joyce and Anthony Boadle)
REAL LIFE. REAL NEWS. REAL VOICES.
Help us tell more of the stories that matter from voices that too often remain unheard.
BEFORE YOU GO