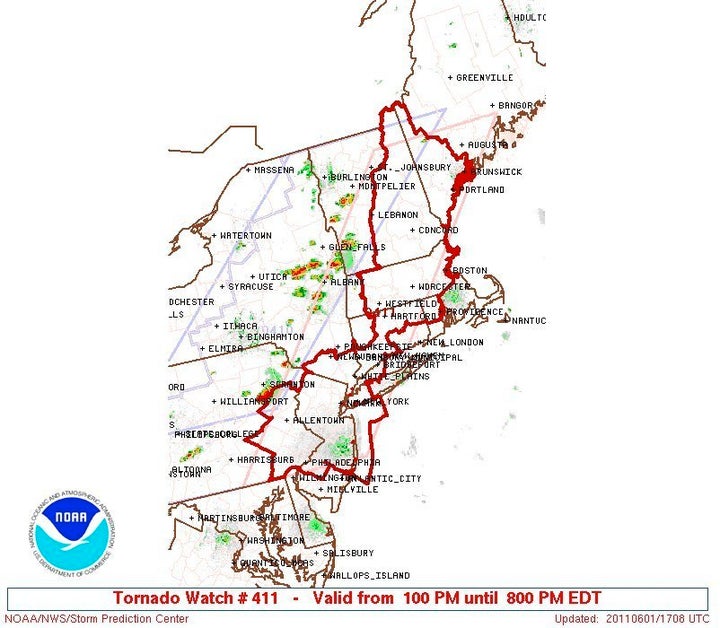 A system of strong storms is headed straight for the northeastern United States, prompting a National Weather Service alert for a tornado watch for a wide area until 8 p.m. Eastern Time tonight.
The tornado watch extends from New Jersey to Maine, and it includes the cities of New York, Philadelphia, Boston, as well as Newark, Hartford and Providence.
THE NWS STORM PREDICTION CENTER HAS ISSUED A
TORNADO WATCH FOR PORTIONS OF

CONNECTICUT
MASSACHUSETTS
WESTERN MAINE
NEW HAMPSHIRE
NEW JERSEY
SOUTHEAST NEW YORK
SOUTHEAST PENNSYLVANIA
RHODE ISLAND
COASTAL WATERS

EFFECTIVE THIS WEDNESDAY AFTERNOON AND EVENING FROM 100 PM UNTIL
800 PM EDT.

TORNADOES...HAIL TO 2 INCHES IN DIAMETER...THUNDERSTORM WIND
GUSTS TO 70 MPH...AND DANGEROUS LIGHTNING ARE POSSIBLE IN THESE
AREAS.
More on the unusual weather this year:
Popular in the Community