A shooter opened fire early Friday at Northern Arizona University's Flagstaff campus, killing one person and injuring three others, the school and police said.
Police identified the shooter as 18-year old freshman Steven Jones. The school's police chief, Greg Fowler, said that Jones shot four male students around 1:20 a.m. after an altercation in a parking lot near the Mountain View Hall, a building that houses most of the university's 23 fraternities and sororities. The Delta Chi fraternity confirmed that some of its members were involved in the attack.
The deceased student, whom the university identified as Colin Brough, was also a freshman, Fowler said. The wounded -- Nicholas Prato, Kyle Zientek and Nicholas Piring -- are being treated at Flagstaff Medical Center, the university said.
"We are shocked and deeply saddened by this incident. Our thoughts are with the victims and their families, and our entire Lumberjack family," said NAU President Rita Cheng in a statement.
Jones was in custody early Friday, the university said. Police said he didn't try to flee the scene.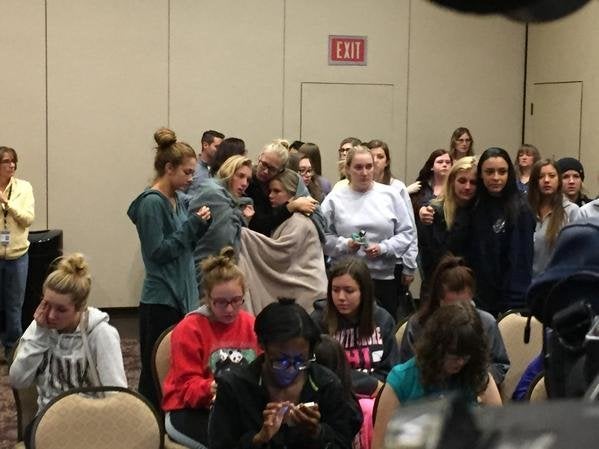 Students gathered at a press conference on campus hours after the shooting. Many appeared visibly upset, crying and hugging each other.
Rachel Brown, a sophomore, said the campus was "on edge."
"I think everyone will just be on edge today and pretty shaken up," she told The Huffington Post in a tweet. "I still feel very safe in Flagstaff and I imagine everyone else does too."
"My thoughts are prayers are with the families," he said.
As of fall 2014, over 27,000 people were enrolled in Northern Arizona University. Flagstaff is the school's largest campus, with more than 20,000 students. The school was founded in 1899.
The university's weapons policy bans students from openly carrying firearms without explicit permission from the school.
Related
Popular in the Community