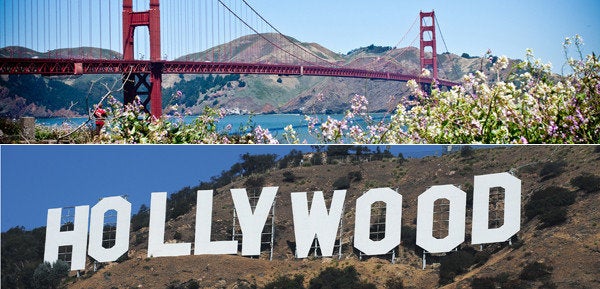 LOS ANGELES -- California's fierce North versus South rivalry may soon be giving way to a battle between West and East -- at least according to a panel of Golden State experts at a Monday evening discussion entitled, "L.A. vs. San Francisco: Who Runs California?"
The split between San Francisco and Los Angeles is less stark that it was historically, says Roderick, and it's because the two have got more in common with each other than their adjacent inland counterparts. His evidence: a cooling rivalry between the Los Angeles Dodgers and the San Francisco Giants, comparable wine country culture in both regions and thriving tech hubs near both metropolises.
Bay Area native Dr. Brechin agreed that animosity was waning. He admitted, "We were brought up to hate Los Angeles -- never knowing that Angelenos couldn't care less!"
For a panel that was ostensibly set up to be a referendum on the pros and cons of San Francisco and Los Angeles, the participants quickly settled on the cities' similarities and circled around the growing yet still politically-silent population east of the I-5.
"You have this rapidly growing hispanic community, particularly in the Central Valley, which has yet to flex its muscles," Mayer observed. The burgeoning population is a "real wild card" that, in the next ten years, could tilt the balance of power inland, he noted.
"There's going to be some issue that's going to tie together the inland parts of California, in some unified way, in opposition to the coast," forecasted Roderick. Whether it's over a social issue like Prop 8, a public utilities issue or perhaps even in support of an emerging leader. "It's a very interesting split in the state to watch," he said.
So should Angelenos and San Franciscans kiss and make up while directing their scorn eastward? Not so fast. Despite the measured historical perspective and insightful demographic predictions, the panel couldn't help but compare and contrast the two major metropolises -- and this listener couldn't help but keep score. Here's how the North and South stacked up:
Most Statewide Political Influence:
San Francisco. Many of the major statewide officers -- Gov. Jerry Brown, Attorney General Kamala Harris, and Lt. Gov. Gavin Newsom -- are from around San Francisco. California's national representatives, Sen. Barbara Boxer and Sen. Dianne Feinstein, are also both from the North. But, says Roderick, this doesn't mean there is a permanent imbalance.
Most Cultural Influence:
Los Angeles. The "entertainment complex" defines popular culture both nationally and globally, according to Mayer. Its significance can't be underestimated, despite the fact that Hollywood's profits are dwarfed by both Silicon Valley and the East Coast financial industry. "LA has such a gravitational pull to it," Brechin added.
Niche Industry Most Likely To Have An Impact On National Politics:
It's a tie!
Silicon Valley. Put simply, the valley is an "arsenal," because of its hyper-concentration of money and technology, says Brechin. And O'Mara notes that despite how the tech city likes to depict itself -- entrepreneurial, innovative and self-sustaining -- both its founding and its future depend on federal investment and special treatment from Washington, D.C. One of O'Mara's examples: the H1B immigrant visa policy. Silicon Valley companies have taken up a special interest in the issue in order to hire more high-skilled workers from overseas.
Hollywood: The industry's heavy-hitters both bristle and take pride in the fact that they're known for being Washington's ATM machines, says Mayer, despite the fact that there's "no comparison" to Silicon Valley in terms of how much they can bring to the table. Beside that, Hollywood has been lobbying Congress for much longer, giving them a huge head start. Mayer added, "We can't forget that one of the big defining moments of the '08 presidential campaign was when David Geffen decided that Hilary couldn't win, and Obama could."
Smartest University Students (Yes, really!):
San Francisco. Well, UC Berkeley, to be exact, as compared to the University of Southern California. "The smartest kids at SC are as smart as the smartest kids at Cal," said Nolan, paraphrasing a friend who teaches at both campuses. "There are more smart kids at Cal, but [USC] has really upped the game."
Toward the end of the event, the panelists began coalescing around a shared identity as Californians on a national and global stage. Mayer, who hails from New York, praised the state's "spiritual welcome" toward entrepreneurs trying to start new businesses. O'Mara also noted California's high tolerance for failure, saying the state was a magnet for "iconoclasts" and "riff-raff" with great ideas and a new perspective.
"To the rest of the world," notes Roderick, "there is no North-South split. It's just California."
Calling all HuffPost superfans!
Sign up for membership to become a founding member and help shape HuffPost's next chapter