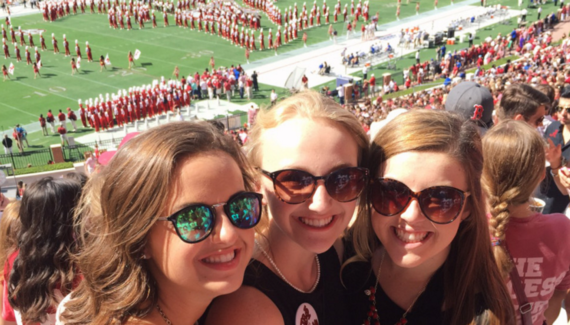 Leaving Colorado to go to college in another state was the easiest decision of my life. I went through high school with a bitter attitude, resenting my classmates for their priorities and praying for a quick route to graduation and for the ability to start the rest of my life. When graduation day finally did come, I can honestly say that I had never been so excited or relieved. I had just committed to the University of Alabama (Roll Tide), had finally reached a point of peace in my life, and was fulfilling my passion for adventure and travel. With leaving came intense emotions as I had a long term boyfriend, an amazing relationship with my best friend, and a family I cherish more than life itself. Still, I decided to take the plunge and move 1,314 miles away. I have not regretted this once and now believe that every student, or individual, should be given the opportunity to leave home, because it is influential in shaping the rest of your life. I could list an endless amount of positive outcomes that came from my decision, but have narrowed it down to the five best things that happened after going to college in another state.
1. A Clean Slate

Personally, college meant starting over. It meant meeting new people, reinventing yourself, and shaping who you wanted to be. This once in a lifetime opportunity only comes by moving away and completely immersing yourself into an entirely different group of people. College meant experimenting socially, academically, and mentally. Not only do you finally have the opportunity to experience independence, you are encouraged to focus on yourself, your needs, and you passions. At no other point in your life will you be given the extraordinary opportunity to recreate yourself and start over. From college on, everything seems strategic and career-motivated. Take this time to find out more about who you are and who you want to be.
2. Culture Shock

Coming from Colorado, Alabama was definitely an adjustment. Leaving my home state allowed me to experience new types of people, differences in opinions and beliefs, and an entirely different culture. Most people are not given the opportunity to diverse at such an early point in their life. Not only will you be more tolerant and accepting, you will easily identify with your preferences. I loved Colorado because of its activity, energy, and diversity. However, I have learned to love the slow-paced, friendly, and hospitable lifestyle of Alabama. Leaving home and attending college in the South has given me an entire new perspective on where I hope to end up in the future.
3. Indpendence

Everyone talks about how college is the perfect time to grow on your own, but it honestly couldn't be truer. I don't mean independence in the aspect of staying out late or partying, I am talking about the independence you gain when you run out of data and get lost in another city. Or the independence you gain from finally budgeting your money, or even from having to take care of yourself when you're sick. Independence may bring late nights, but you'll never feel more independent than when you finally make an important decision regarding your future on your own. Or when you finally cook an appetizing meal. These simple pleasures truly take any student from being a dependent to an individual.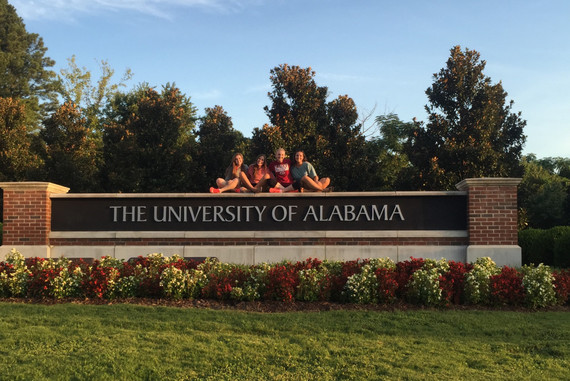 4. Social Skills

Once again, speaking from experience, my entire high school career was spent planning for the future and doing whatever it took to get into schools and earn a scholarship. While this work did eventually pay off, I went into college feeling that I had missed out on so much fun. As simple as that concept is, college was an adjustment because of my desire to "catch up". While everyone back home was still hanging out with their high school friends, I was forced to insert myself into a brand new environment. My intense involvement in clubs, a sorority, and departmental branches offered me instant connections with people from all over looking for the same things I was, people who enjoyed spending their time in similar ways. It may seem that most freshman are caught up in their new-found freedom, but once this calms down many people are simply looking for someone to pass the time with. My people skills grew immensely in ways I didn't even know they existed. I truly believe I experienced every aspect of the social scenes college offers and am now comfortable saying I have found my niche. Going out of state for college helped me grow beyond the comfort of the small friend group I knew in high school and gave me the opportunity to branch out.
5. Appreciation

Perhaps the most important point of my list, the best thing about leaving home for college was the appreciation and love that grew I learned to have for both of my lives. I wanted to get out of Colorado so badly, but moving away only made me realize how much I love it. I now appreciate its beauty, the safe feeling I have while being home, and the amazing relationships I have there that I know will last forever. I will forever appreciate home cooked meals, a hug from my sister, hiking 14ers, and the feeling of bliss a white Christmas gives me. However, college gave me a new-found appreciation for my life because of the opportunities The gift of going to school in a different state has given me a different perspective on life. It changed my lack of admiration for my life back home while simultaneously increasing my love for another part of the country. College has given me two places I hold close to my heart and has given me a new definition of home.
So, when choosing a college, maybe consider going a little farther than anticipated and don't be afraid of what distance will bring to your life.
REAL LIFE. REAL NEWS. REAL VOICES.
Help us tell more of the stories that matter from voices that too often remain unheard.