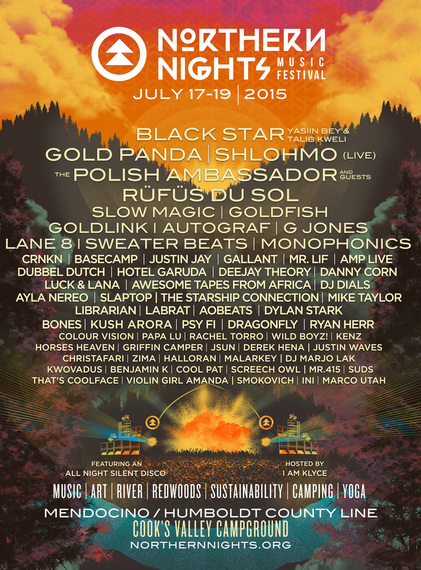 More than just a concert, music festivals have created a world of new experiences where human bonds are strengthened and memories are forged. They encourage and inspire us to nurture the temples which are our bodies, care for each other, care for all creatures and care for the planet that we live upon. Appreciation, celebration and creation are the treatises of the award-winning Northern Nights Music Festival located on the border of Humboldt and Mendocino Counties. Though Northern Nights facilitates the magic by setting up the infrastructure of the festival, it is truly up to the attendees to curate the experience with their own hope, love and respect.
Santa Cruz native LabRat who is playing Northern Nights and also recently performed at Serenity Gathering, releases his new upbeat mix of all original electronic music exclusively here on Huffington Post. With no shortage of slapping bass and throbbing beats, LabRat provides a preview of what's to come at NNMF. Listen and like his deliciously funky mix here: Northern Nights Mix by LabRat
Taking place on the weekend of July 17th-19th, 2015, its third year in existence promises to be its most extraordinary thus far. Three things that make year three unique are: A recent curfew extension that boasts later music at the main stage, even more live art and art installations that will highlight the natural surroundings, and a new VIP Craftique experience with greater amenities. Located at Cook's Valley Campground in an enchanting redwood grove on the South Fork Eel River, the sacred offerings of Mother Nature serves as the foundation of the magic of Northern Nights. The magnetic energy of the towering redwood trees, shimmering emerald pools, and the kinetic energy of a flowing river, invigorate the soul, body and mind and serve as a reminder of how blessed we are to tread upon this planet.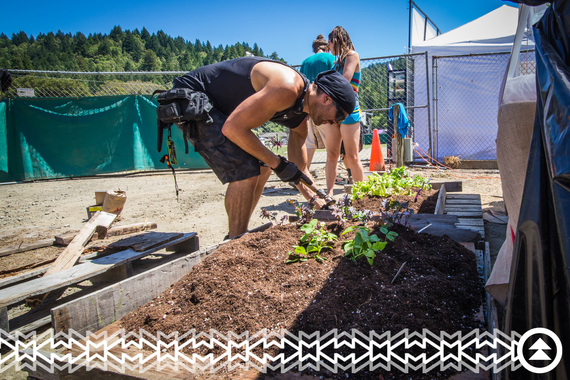 In addition to the safety of its festival-goers, respecting the pristine Eel River and the hallowed forest floor is the number one priority of this festival. In 2014, NNMF received the highly commended A Greener Festival award from the UK-based non-profit organization of the same name. A Greener Festival is committed to aiding music and arts festivals worldwide in adopting environmentally efficient practices as well as teaching these practices to the festival's patrons. Northern Nights Music Festival was one of four US festivals to be awarded this honor along with Lightning in a Bottle, Beloved and Bonnaroo.
A true-to-form, leave-no-trace festival, NNMF also implements a series of guidelines that further promote this manifesto. Common to most transformational festivals, the rules of packing waste in and out, using biodegradable products and treading lightly are enforced, however there are a few additional rules added to their checklist. "TAC," "Pee Free," and "Don't Leak" are three details that really show the care and thoroughness of this event. Though it may sound ridiculous, TAC is an acronym for Traceless Ass Campaign. To avoid river contamination, TAC implies that proper "wipeage" makes a difference for reasons other than just hygiene.
The "Pee Free" initiative is to ensure that festival goers to not urinate in the river. The website states, "The fish do it, but we're people, not fish. Respect the natural ecosystem balance and do not pee in the river." Lastly, "Don't Leak" makes sure that any vehicles do not leak fluids that will be absorbed into the terrain. Car owners must check for leaks prior to arrival and if a leak is discovered, the staff must be notified upon entrance and something must be placed beneath the car to collect the fluids for the duration of the festival.
In 2014, Northern Nights replaced four diesel powered light towers with solar light towers which provided 160 hours of lighting, reduced consumption of diesel fuel by 80 gallons, and prevented an estimated 1,784 lbs. of carbon from entering our atmosphere. Northern Nights gives staff and attendees a large role in keeping this festival green by rewarding them for demonstrating sustainable actions. For example, if you collect enough cigarette butts to fill an entire zip top plastic bag, a limited-edition surprise is awarded. It is this mindfulness that is shifting the paradigm of the way we live in this world. We must change from simply coexisting to living symbiotically.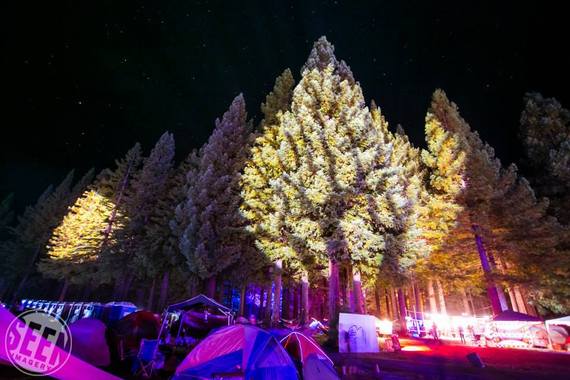 With a lineup that makes you want to dance simply by reading the flyer, music lovers from all over the country are securing their tickets to this event. Black Star, Gold Panda, Shlohmo, The Polish Ambassador, Ayla Nereo, Rüfüs Du Sol, Slow Magic, Autograf, G Jones, and Sweater Beats, just to name a few, will be heading up this festival with a wide range of genres, bloops, bleeps, beats and bass. In addition to this exciting lineup, there will be a plethora of activities available outside of the music such as yoga, Late Night Grove/Unplugged, comedy, a non-profit carnival, art galleries and installations, workshops, vendors, and the Fun Field. While music plays an integral role in this event, there are many avenues available for us to stimulate our minds that will broaden perspectives, fuel bodies, and awaken the spirit.
Northern Nights Music Festival practices and integrates one of the most important qualities all humans should possess: mindfulness. Mindfulness is a mental state in which we unify and align the awareness of our bodies, spirits and minds with the world around us. Remaining in the present while planning for the future, we must raise our daily consciousness from being aware to being mindful. We must act instead of just speak, we must be grateful instead of complacent, we must be respectful instead of careless, we must teach, we must learn, we must create, we must give. Attending music festivals is a blessing and a privilege that we should utilize to our full potential. By being amongst the few who are able to experience these transformational events, we must share with the many who cannot. Northern Nights Music Festival endeavors to go above and beyond the typical camping festival.
Calling all HuffPost superfans!
Sign up for membership to become a founding member and help shape HuffPost's next chapter