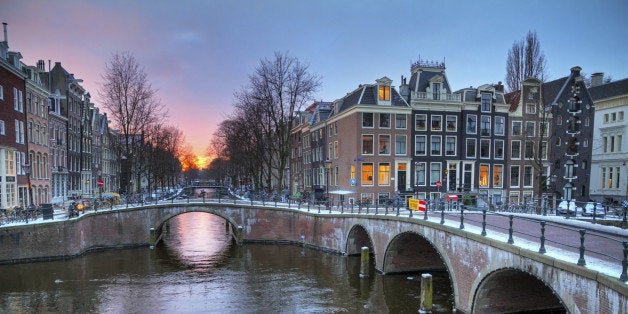 Does Northern Europe exist in snow? The travel industry says no. Ski areas aside, most tours and cruises adventure to Scandinavia, Germany and the Netherlands in June and July, when the days are stretched out and soft, like fondue that's been melted in a pot.
Like you, I enjoy a midnight sun. But I'd always wondered what went on up here in the quiet of winter. What secret stuff did locals do -- and eat -- for fun? Were there seasonal bargains in normally pricey neighborhoods in the big cities? And how could I, as a tourist, make the most of the least touristy time of year?
To find out I bought myself a 10-day Eurail Pass a few years back, and sketched out a January train route between Amsterdam, Copenhagen and Stockholm. Round-trip flights to Amsterdam were unusually cheap and when I checked a seating chart online I found I had acres of aisle and window seats to choose from. So far, so good.
Winter in the Netherlands' biggest city is supposed to deliver rain and sleet. But the day I check into my hotel in Amsterdam I get a room-service dusting of snow. Still, there are swans paddling around on fog-shrouded canals. White on white.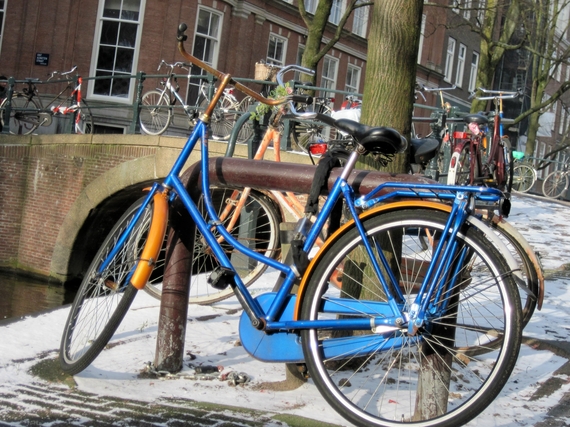 A local I talk to, Nicolette Corputty, urges me to rent a bicycle to get around. Hundreds of city bikes are rocketing past on the sidewalk at this very moment. Most look like the model used by the Wicked Witch of the West. And the Dutch ride angry, ringing and ringing their bells.
"I don't want one," I say.
"Yes," she insists. "You just put on leggings, your scarf. You are fine."
I didn't pack any leggings. So I decide to walk instead. I weave in and out of rows of gabled houses and end up at the ice skating rink near the Rijksmuseum where I drink a thick hot chocolate and try some bits of a puffy pancake called a Poffertje to keep out the cold.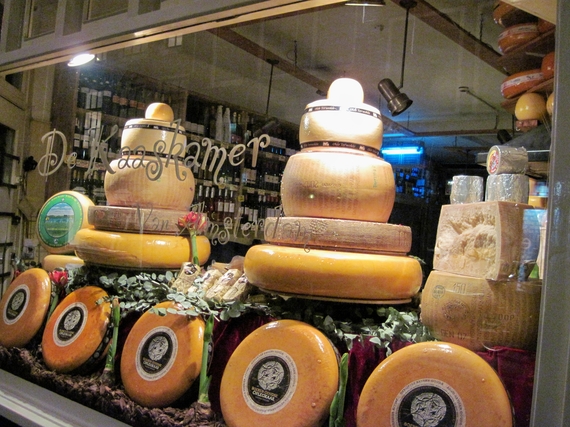 The halls of the world-famous Rijksmuseum are all but deserted, except for knots of art students furtively sketching. I take my time, imagining that it is my personal gallery and that I have plans to sell off some of the darker Dutch Masters and rearrange the paintings on a massive scale. The footsteps of a guard snap me out of my reverie. By late afternoon, I am back outside.
Everywhere there are pinpoints of brightness that set off the gray of street and snow. A window glints with its stacks of yellow cheese wheels. Shutters I pass are painted a surprising blue. For a long time, I get lost in side streets. But as flakes of snow float past I realize I do not care. I have a long brick sidewalk and arched iron bridges all to myself. And not even a stray bicycle in view.
On the train to Denmark I am handed a voucher which entitles me to free "coffee, tea or water" the entire way. My compartment is empty -- that is, except for me. I spread out, crank up the heat, and kick off my shoes.
Nearly as far north as Moscow, Copenhagen depends on ocean winds to mellow out and melt its snow. When a day is icy, like the one on which I arrive, the Danish idea of coziness -- or hygge -- comes into play. "Hot Tea and Hygge!" shouts a sign in front of a café. Inside, candles are lit, there is a scent of soup, and out come platefuls of Smørrebrød -- open sandwiches of ham and egg and salmon: anything that can sit on bread.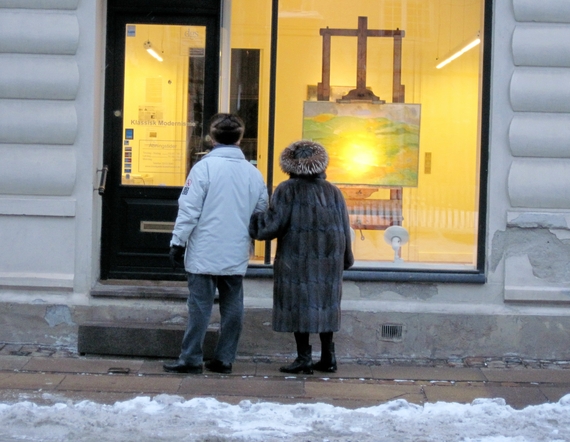 After lunch, I visit the Copenhagen Amber Museum on Kongens Nytorv. It is a very hygge museum. Quiet and warm. "Amber is actually fossils," explains Biyun Chen as I am asking about ships and clocks made of the stuff. "Fossils of pine resin from the forests of very long ago."
I end up buying a souvenir of Denmark's ancient forests. When I ask Chen how I can be sure the amber is real, he laughs. "Burn it!" he says. "It will smell like pine trees."
Before leaving, I walk to see the statue of the Little Mermaid. She isn't dressed for January and looks hunched and cold. But the orange and rust-red facades that line the famous port of Nyhavn reflect a secret sun. As if this were an afternoon in August they radiate and glow.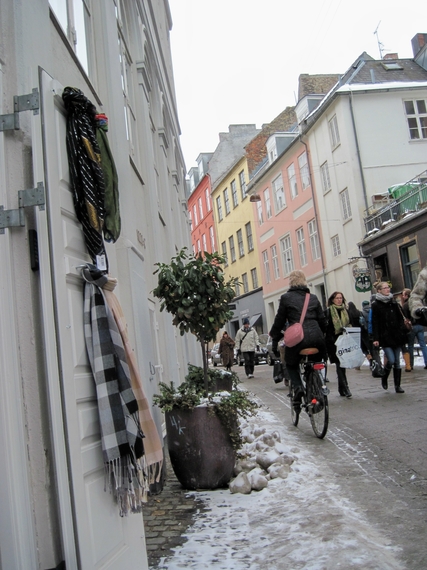 Reaching Stockholm means catching a train that will carry me 325 miles farther north, and the farms and houses that fly past look as rich as pastries with their frosted tops.
The Stockholm air is sharp in my nostrils but no one here notices the cold. Commuters wear boots with their suits and children in their Day-Glo snowpants slide around like jelly beans in an icy jar.
At the top of my list here is seeing the salvaged wreck of the Vasa, the world's only preserved 17th century ship. As I find out, "wreck" is the wrong word. This 1628 Swedish warship is immense. And it is almost entirely intact--as if hammered together here in the cavernous museum.
Like seeing a blue whale, or bones of a brontosaurus, you want to walk around the display again and again. The museum's chilly balconies let you peer at the Vasa from every imaginable angle, short of standing on its deck. To try and absorb it, I get a cup of the strongest and hottest coffee that the cafeteria can provide.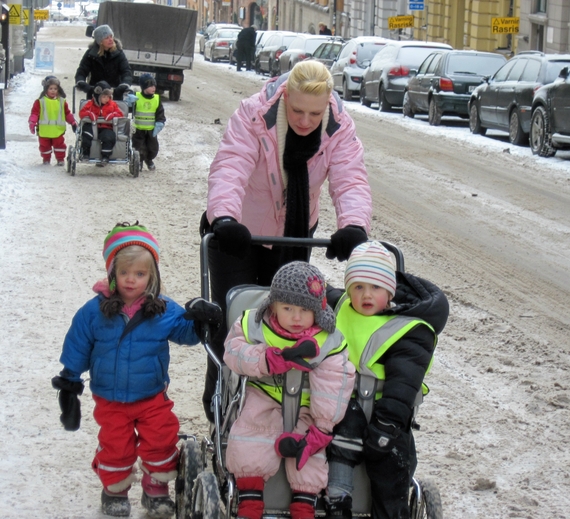 "You look as if you need it," says the woman pouring. I smile and swallow slowly. The sugary liquid is like a taste of summer. I can feel my fingers. Inside gloves, I wiggle them around.
The dark strength of the drink, and of the ship, have done their work. As if fired from a Vasa cannon, I skid around Stockholm's Old Town--busy with shoppers--and cross a bridge that leads me to an avenue in a neighborhood called Östermalm. Elegant apartments light my way up a slippery hill.
When I get to the top, something catches my eye. It is a golden ornament. A statue of a stork standing guard over its corner store. "Storken Apothecary," says its sign. "Oldest in Sweden."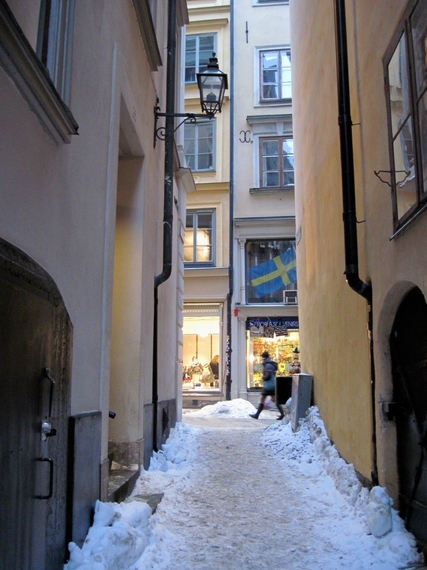 It's a fierce-looking bird. But because of the weather he's got a little hat of snow. There is something about him that says "Sweden." That says: We survive.
Just like the Danes and the Dutch. Like the pine-resin amber. Like the Vasa.
Related