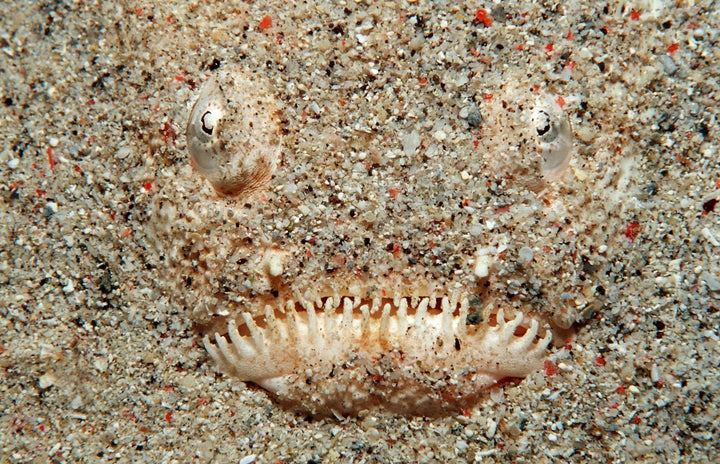 It has the potential to give you the scare of your life during an otherwise idyllic summer day at the beach ― and it's not even a shark. It's a strange and comically ugly fish called a stargazer.
Although the stargazer is normally found in deeper waters, a family encountered one on a beach in Virginia earlier this month. 
One minute, they saw some bubbles in the sand. The next, a wave washed away some of that sand, and they were staring at the bulging eyes of a northern stargazer: 
Using a bucket, the family returned the fish to the water; they said it was alive and well the last time they saw it. 
The Chesapeake Bay Program said the fish can grow to nearly 2 feet in length, but average 8 to 18 inches long.
Here's a stargazer in action:
While the stargazer may look like it has lots of scary, pointy teeth, it actually doesn't.
But don't take too much comfort in that. Instead of teeth, they have something else.
"Northern stargazers have an organ on their heads that can deliver an electric charge that stuns and confuses prey and helps ward off predators," the Chesapeake Bay Program said.
Despite that, East Coast Surfing Championships said the fish doesn't generally pose a threat to humans. But, just to be safe... 
REAL LIFE. REAL NEWS. REAL VOICES.
Help us tell more of the stories that matter from voices that too often remain unheard.
BEFORE YOU GO
PHOTO GALLERY
Fantastic Fish