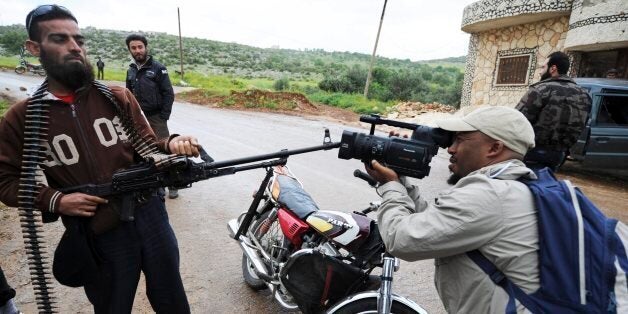 GAZIANTEP, Turkey -- A couple of months ago, Noureddine al-Abdo started feeling increasingly trapped inside his own house.
A popular and well-known opposition activist and citizen journalist, al-Abdo once had free rein over the liberated countryside he called home, in Syria's northwestern Idlib province.
"When the liberation happened, it was like a release -- we felt we were released," al-Abdo said recently. "The whole countryside of the north, from Homs to Aleppo to Bab al Hawa, I felt that it was mine."
There, for more than two years, he worked tirelessly to bring news about Syria's northern region to the world. He reported regularly to international media outlets, sometimes venturing out with armed brigades of Free Syrian Army (FSA) fighters. When foreign reporters came to the country, he ferried them through the back roads of Idlib, and into more treacherous terrain to the east and south.
That feeling of freedom made the campaign against the rule of President Bashar Assad -- the risks and sorrows, the friends and close family members lost to war -- feel worth it, he said.
But lately, something has changed. A different kind of revolutionary fighter flooded parts of the north where Assad's forces were already defeated. They have set up random checkpoints and demanded strict adherence to Islamic religious law, targeting not just Westerners, but Syrians, too.
Many of them are Islamic extremists linked to al-Qaeda -- people al-Abdo doesn't recognize from other regions, even other countries. They have threatened journalists and challenged the loose band of more secular fighters known as the Free Syrian Army. Abductions of Syrian activists, once rare, happen at a rate of two or three a day.
For al-Abdo, daily life started to feel impossible. He said he could barely sleep and when he ventured out, it was never far. And so, unhappily, reluctantly, al-Abdo left Idlib a few weeks ago, retreating to the safety of southern Turkey. "By the time I left, I wasn't moving more than 200 meters from my house," he said.
He is not alone. It's no secret that rebel-held northern Syria is too dangerous for Western journalists and humanitarians. Dozens of Westerners, especially journalists, have been kidnapped in the north, mainly by an al-Qaeda-linked brigade of Islamic extremists known as the Islamic State in Iraq and Syria (ISIS).
But over the past month or so, that danger has engulfed Syrians, too -- people who, like al-Abdo, dedicated their lives to the revolution, or worked in rebel-held areas as doctors or humanitarians.
On Tuesday, Razan Zeitouneh, a leading human rights champion and opposition organizer, was abducted from her office in a rebel-controlled suburb of Damascus, along with her husband and two colleagues. Friends and allies quickly pointed the finger at a local band of Islamic radicals.
Zeitouneh's abduction was front page news, but threats and abductions of outspoken Syrians have been building steadily.
In early November, the opposition outlet Raqqa Information Center announced it was closing amid constant threats from ISIS, and the "physical lashing" on one of their colleagues. Photographer Ziad Homsi, whose work was featured recently in the New Republic, was among those detained in Raqqa.
The same month, a well-regarded Syrian journalist and stringer for McClatchy, Mousab Alhamadee, was forced to flee the country after threats from a pair of Islamic rebel factions -- and the abduction of one of his friends, a local activist -- made his job impossible.
In an essay for McClatchy's website, Alhamadee wrote that he had covered the rise of Islamic extremist groups among the opposition around his home in Hama. But after militants from ISIS infiltrated the town, and abducted his friend, Alhamadee realized an earlier "golden age" for journalism was behind him.
"What drove me to leave," he wrote, "wasn't so much the threat, but the fact that I was unable to write about the abduction, or how the FSA had managed to win his freedom – a story that would have made good propaganda for the secular branch of the armed opposition. I knew if I wrote it, it likely would be the last thing I wrote."
Doctors working in northern Syria said they haven't fared much better, despite their continued neutrality.
One Syrian doctor, who still works and lives in the north, told HuffPost that even though he has repeatedly treated ISIS fighters, he and his colleagues face daily harassment and threats at ISIS-run checkpoints. The situation has gotten "much worse," over the past month, he said.
The irony of abuse and harassment in supposedly "liberated" parts of the country does not escape its victims. Many compare the authoritarian tactics of the Islamist groups to those of the regime, whose crimes they fear are being forgotten amid the new threat.
"We hate ISIS -- they are dictators by the force of god," said al-Abdo, as he sat in the cramped apartment he shares with a cousin on the outskirts of Gaziantep. "But we will not forget the regime -- they created ISIS. They made them possible."
To someone like al-Abdo, the Islamists were the final blow that drove him from the country. It's an infuriating injustice.
"I can understand dying from a bullet or a mortar from the regime -- I am ready for this," he said. "But it would be horrible to die from some faceless group. Why should I have to be afraid of someone who is part of the revolution? Who are you to ask for my ID at a checkpoint?"
Popular in the Community