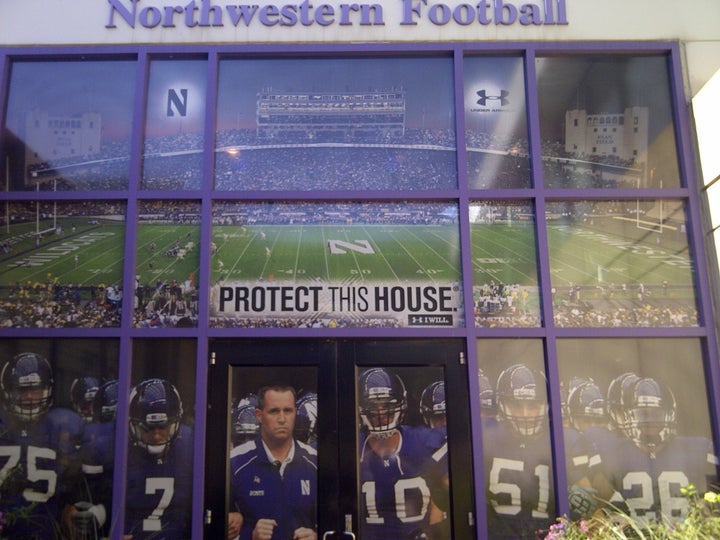 EVANSTON, Ill. -- Five years ago, Northwestern football and home-field advantage were far from synonymous.
Look no further than September 28, 2007's pre-game scene. Shuttle buses were flooded with Michigan Wolverines fans visiting from Ann Arbor, splitting their outbursts between boisterous chants of "Go Blue!" and questions about the local area. As one vehicle pulled up to Ryan Field's entrance gates, a rambunctious gentleman turned to the back of the bus and shouted: "That's your stadium?! It looks like a high school field!"
Northwestern fans wearing purple suffered that instantaneous rise in blood pressure. Judgmental. Obnoxious. Uninformed. Partially true?
On that cloudy 2007 fall afternoon, anyone unfamiliar with Evanston would have been hard pressed to recognize Ryan Field as the home of Wildcats football. Nearby street lamps stood bare, lacking any school paraphernalia. The club's season schedule was buried on a miniscule sign above the stadium's main ticket office. The crowd of 40,000-plus fans was half maize and blue.
Now in 2012, that picture is a faint memory. Visiting fans instantly know that Chicago's Big Ten Team is open for business, with football at the center of its sales pitch.

During Head Coach Pat Fitzgerald's seven seasons at the helm, Northwestern's makeover on the field has been all about progress. Forty-three wins, four bowl appearances, and a 10-year contract extension all affirm Fitzgerald's commitment to his alma mater, and vice versa.
Yet the program's business decisions off the field are equally as indispensable. Back on July 29, 2010, Northwestern Director of Athletics and Recreation Jim Phillips introduced the university's first-ever sports marketing campaign. "Chicago's Big Ten Team" brought something that the school lacked: a branding strategy that connected 19 varsity athletics programs, in a conference of national standing, to a global city with a potent media market.
"We want to remind sports fans that incredible Big Ten action is taking place in their backyard," Phillips said that day. "We are proud to be Chicago's Big Ten team, and we are opening our arms to everyone. We invite all college sports fans to enjoy the great combination of Northwestern and the Big Ten."
At Ryan Field on a recent Saturday morning, signs of the effort to remind sports fans of that fact abounded. The south end of the stadium is decked with banners showcasing the team's senior leaders. The field's facade and locker rooms and weight room facilities are flooded with Under Armour logos, advertising the team's official outfitter. (Back in December 2011, Northwestern became the first Big Ten institution to sign a sportswear deal with the popular merchandiser -- a partnership headed by the July 2012 unveiling of the school's sleek new football uniforms.)
With a name-brand business model in hand, the results are coming closer to home. On Saturday, Northwestern announced that its Board of Trustees has approved plans for the construction of a new athletic facility on the north end of the Evanston campus. The $220-million roadmap includes most notably an indoor competition venue that can house football practices at a location closer to classes and dormitories.
Individuals familiar with the winter walk or drive from Sheridan Road to Central Street will appreciate the magnitude of this decision. Yet this news should come as no surprise in light of the direction the administration is pursuing on behalf of the football program -- onward and upward.
"It's similar to anything in our life," he said. "You need to invest in it if you hope that there will be some returns on that investment. If you under-resource it and under-support it, then you have very little chance to have success. But if you support it and give it the resources it needs, it really gives you an injection that allows you to compete at the very highest level."
Phillips' words reveal everything you need to know. As one of 31 remaining undefeated teams in Division I Football Bowl Subdivision play, this program is not looking to succeed at just any level. Strong business off the field is putting a quality product on the field.
WATCH the full press conference below:
PHOTO GALLERY
Northwestern Football: Chicago's Big Ten Team
Calling all HuffPost superfans!
Sign up for membership to become a founding member and help shape HuffPost's next chapter