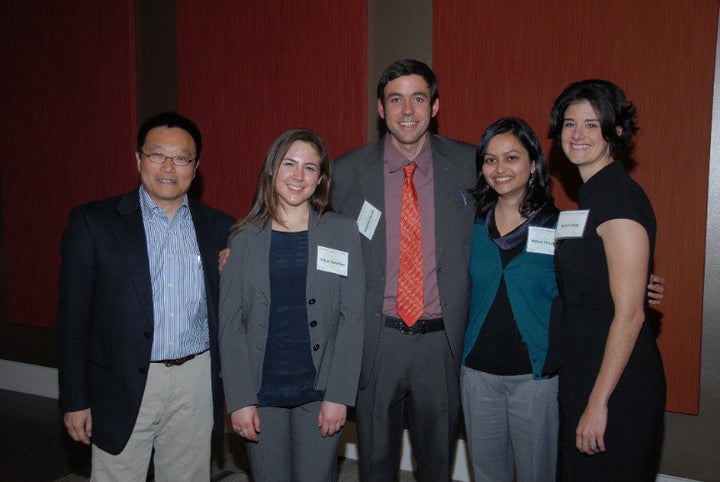 Where does getting a paycheck meet making a difference? For some students around the country, the often-separate goals are coming together in a variety of courses and programs at universities.
A growing number of universities across the country have begun expanding offerings around impact investing, an emerging field of investors and social entrepreneurs who are looking to create positive social impact in addition to turning a profit. Schools like Harvard, Stanford, Duke and Northwestern have all created programs to educate a new generation of students who want to blend the concepts of social mission and financial return.
"We're starting to hear and feel a shift among the students," said Jamie Jones, the director of Social Entrepreneurship at Northwestern's Kellogg School of Management. "The old model of a bifurcated world -- where people make a lot of money any way they can and then towards the end of their lives give it away -- just doesn't exist with them. This generation wants a better integration of those two ideas."
Northwestern fulfills this growing demand among students through a number of course offerings. From "Social Entrepreneurship" and "Sustainability and Finance" to "Innovate for Impact" and the straightforward "Impact Investing," the Kellogg School gives students a variety of approaches to what is ultimately a very broad field.
For investors looking to get more out of their money, it's not as simple as looking for market-rate returns. Impact investors may settle for returns below the market rate, funding companies and products that cater to some of world's poorest populations and offer a large-scale impact. Concepts that fall under the impact investing umbrella are many, and include a company that produces solar lanterns that provide a safe form of light to millions and an investment fund that offers alpha returns to institutional investors, while focusing on both communities and the environment.
And investors fill every iteration in between, Jones said. "There is an appetite for all of it."
Courses at Northwestern give students a feel for the various approaches available in impact investing, while also providing students with the financial strategies to meet their goals. "We touch on impact investing from an entrepreneur's perspective, discuss how to think about impact investing and the layering of capital, and we teach students how to creatively use positive impact," Jones said.
In addition to the work done in the classroom, Northwestern also hosts a competition to give graduate students the chance to develop an impact investment strategy and present it to a panel of investors.
Launched in 2011, the International Impact Investing Challenge is currently accepting submissions for its third annual competition, taking place in the spring of 2013. The panel of judges is a mix of impact investors, private wealth managers, family foundation investment arms and other investors, designed to give students a variety of viewpoints and feedback, Jones said.
The attention being given to impact investing in schools across the country comes as no surprise. As an asset class, impact investing has the potential for invested capital of up to $1 trillion and profits of close to $700 billion over the next 10 years, according to a 2010 report by JP Morgan.
The success of the movement is due in part to consumers and employees driving businesses to act responsibly, Jones said.
As the trend continues, Jones said she hopes impact investing will be more than just a movement, becoming the standard way of doing business. "I want to believe that in 15 years there won't be a need for a director of social entrepreneurship. That all businesses will have to integrate some of the principles of social impact," Jones said. "It's a matter of time -- we're only seeing the tip of the iceberg at this point."