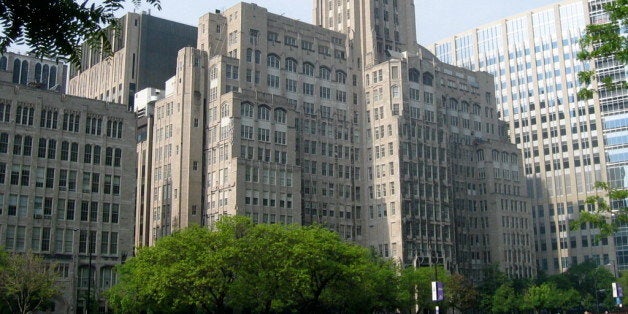 A Northwestern University professor who edits a bioethics magazine has shelved the publication over a dispute with administrators, who demand that public relations staff approve content.
Katie Watson, a professor in the university's Medical Humanities and Bioethics program who edits the journal Atrium, said the demand followed recent controversy over the school's censorship of an essay called "Head Nurses," recounting sexual experiences with nurses. Watson said medical school administrators told her she must allow a "vetting committee" to review her editorial choices "and veto them if they were perceived to conflict with other institutional interests."
"Approximately a week after this vetting committee told me what I would, and would not, be allowed to publish, I canceled the issue," Watson told HuffPost, explaining she is "not moving forward with the publication under that condition."
The standoff follows Northwestern's censorship of last year's Atrium issue containing an article written by Syracuse University professor William Peace about oral sex performed by nurses on hospital patients in the 1970s. Northwestern, a private university in Evanston, Illinois, removed the article from its website, but backed off when a faculty member threatened to expose the censorship.
Watson said she had been selecting proposals for the next issue of Atrium, which is published roughly once a year. She met with a hospital administrator, a medical school administrator on the faculty, a person from the medical school communication department -- the members of Atrium's new vetting committee.
Northwestern spokesman Alan Cubbage declined to comment on Monday. The university wouldn't answer questions from HuffPost last week about the Atrium censorship, and instead provided a statement saying, "The magazine now has an editorial board of faculty members and others, as is customary for academic journals."
"It's unusual for the PR department of a university to have any oversight of a peer-reviewed journal edited by a faculty member at that university," said Ivan Oransky, co-founder of the Retraction Watch blog and a professor in New York University's journalism and medical schools.
Watson told Peace she has staunchly guarded editorial content against administrative tinkering not because she necessarily is a fan of each article, but to preserve the free expression of "all the challenging, illuminating voices" in Atrium.
Watson is considering ways to make Atrium independent, to find another publisher, or to close the journal permanently.
"I work with good people in both the medical school and the hospital, and I remain hopeful," Watson wrote. "But if I become convinced Atrium can no longer move forward with integrity here, I will drop the publication's MH&B and NU affiliations and move it elsewhere, or I'll throw a party for the terrific run it enjoyed and end it."
Alice Dreger, a Northwestern medical professor who guest-edited the controversial Atrium issue, said if the administration "honestly believes" it's normal to allow "administrators and PR folks tasked with making sure we don't publish anything that might offend anyone ever again ... then our administration seems to be made up of people who have never worked with scholarly journals." She said the finds the administration monitoring of journal content "extremely disturbing."
"They said, 'We paid for it, so we get to say what's in it,'" Dreger said. "I asked them whether, under the new 'Northwestern Medicine,' brand, I was expected to run all of my work past them -- my articles, my books, my tweets, my talks, my blogs, my op-eds -- given that Northwestern essentially funds all of my work. To this, they had no good answer, but to repeat that they could 'monitor' Atrium."
Popular in the Community