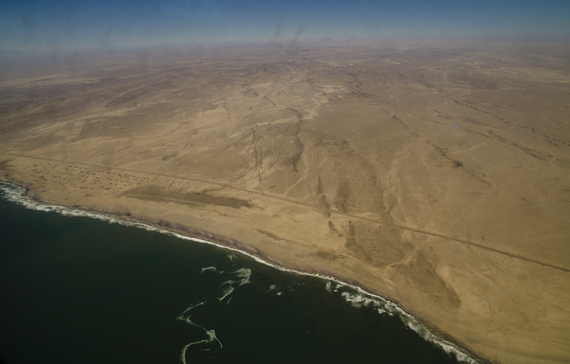 Wedged between pounding South Atlantic surf and stark desert wasteland, littered with the blistered remains of shipwrecks and the disintegrated bones of their doomed crews, Namibia's notorious Skeleton Coast is one of the bleakest spots on Earth. Portuguese sailors who risked washing up on its deadly shore called this desolate region that runs north from of the coastal resort town of Swakopmund to the Angolan border the "The Gates of Hell." The Bushmen called it "The Land God Made in Anger." The Skeleton Coast is all those things, but undeniably beautiful too.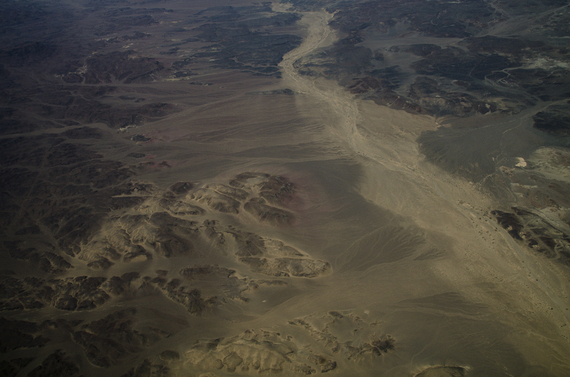 From the window of my single engine Cessna the Skeleton Coast's seemingly infinite expanse of towering ochre knife-edge sand dunes, blood-red basalt mesas, twisting canyons and ancient dried waterways forms a magnificent, otherworldly canvass, bordered on the West by emerald green waters and crashing surf. The cold Benguela current creates a dense ocean fog called "cassimbo" that engulfs its 300-mile long coastline for most of the year. To the East, 5 million acres of Namib Desert, the oldest in the world, spread like a tawny stain deep into the African continent. Known as Kaokoland, this is Southern Africa's Empty Quarter.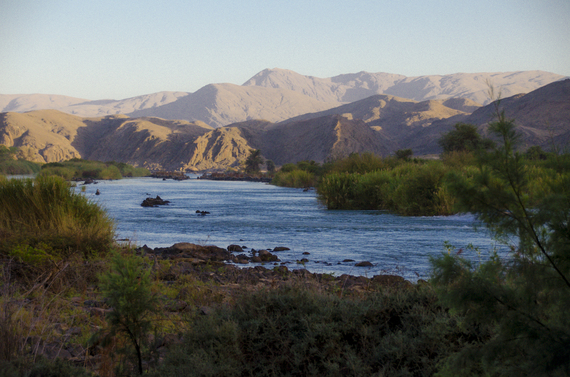 My destination is Serra Cafema, one of Southern Africa's most remote safari lodges. The Portuguese name for the mountains to the north, Serra Cafema lies completely off the grid at the end of the vast Hartmann Valley.
Flying for three hours from either Namibia's capital city of Windhoek or the coastal resort town of Swakopmund is the only viable way to reach its string of nine stilted luxury villas shaded by Albida trees that hug the elevated southern bank of the mighty Kunene River. This winding band of watery green demarcating much of the frontier between Namibia and Angola is the only permanent source of water in the region.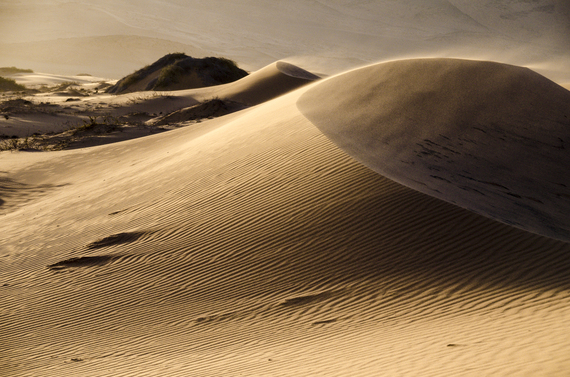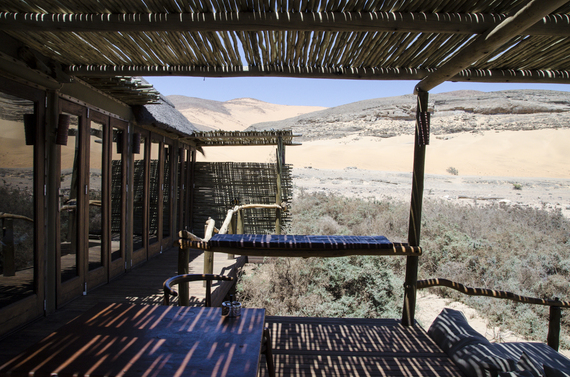 Boating along the Kunene early the next morning, I drift past lush riverside oases where deceptively languid crocodiles and magnificent water birds, including two of southern Africa's rarest -- the rufous-tailed palm thrush and the Cinderella waxbill -- coexist beneath the bleak, Martian-like backdrop. On the Angolan shore, there are no signs of human habitation, save for a pair of children waving at me as their mother scrubs clothes against a riverside rock, ever watchful for hungry crocs lurking to strike just beneath the surface.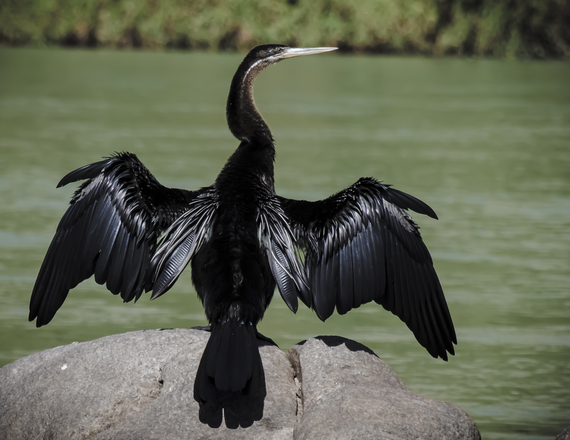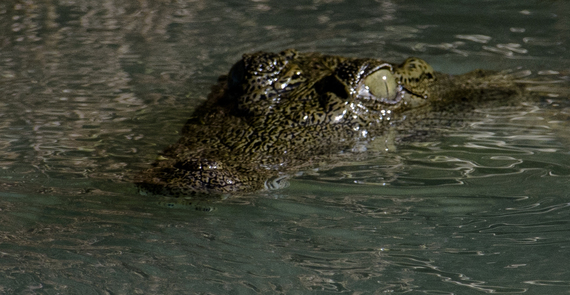 A mile downstream I go ashore on my first foray into Angolan territory, although no record of my border crossing will ever exist. There's no one to stamp your passport here where modern political demarcations mean little, and nomadic pastoral tribes like the Himba roam unhindered across frontiers tending to their cattle. Tall, slim and statuesque herders, the Himba live in small, scattered settlements, leading a pastoral life that has remained virtually unchanged for hundreds of years through innumerable wars and droughts in one of the most extreme environments on earth.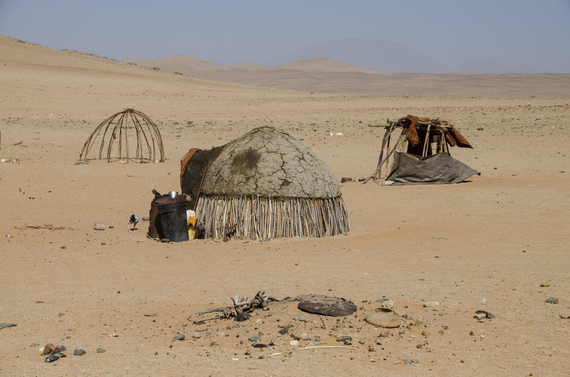 That afternoon, I visit a Himba settlement near Serra Cafema. It consists of a cluster of hardscrabble, beehive-shaped structures made from saplings bound together with palm leaves and plastered with mud and dung. The men are all away tending to their cattle, leaving only a few young women and their children behind. Adorned in necklaces and bracelets made of shells, leather and copper, they each wear on their heads a small crown made of goat skin. Their braided hair and bodies are smeared in otjize, a kind of natural sunscreen made from mixing butter, ash and ochre that helps protect their skin from the harsh desert climate.
For these women a visit from Serra Cafema's guests is not uncommon. They dutifully pose for photos while clutching their children, and then display some of their handicrafts for purchase. Finally, they bid me farewell with polite smiles and waves.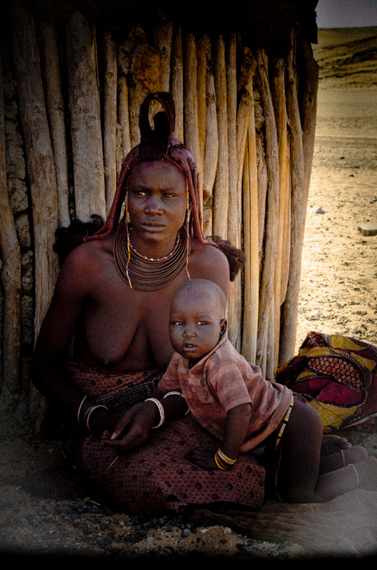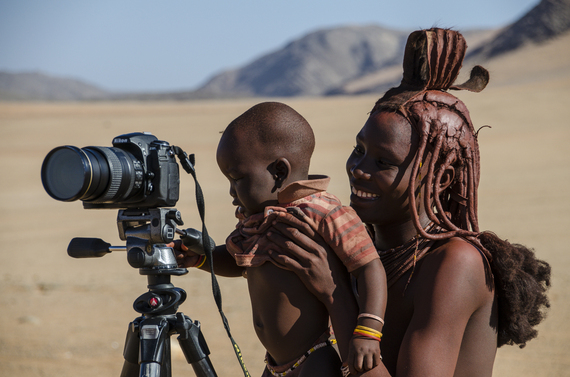 Waving back, I ponder what they must think of these bizarrely clad strangers who descend upon them for a few hours, then climb back into their noisy vehicles and vanish again into the future. Do they ever wish they could come along for the ride?
En route back to camp, I spot a half-starved oryx watching me like a Pleistocene mirage from atop a rocky outcrop in the hazy distance. This year's drought has been unusually harsh, and the few wild creatures hardy enough to inhabit this wasteland along with the oryx -- ostrich, springbok and even leopard -- are all suffering, their fallen's bones scattered to the searing Namib desert winds. High on the crest of an enormous dune a dozen baboons crouch, warming themselves in the late afternoon sun's amber rays as they watch their curious human cousin return to the camp they've been casing out since I left.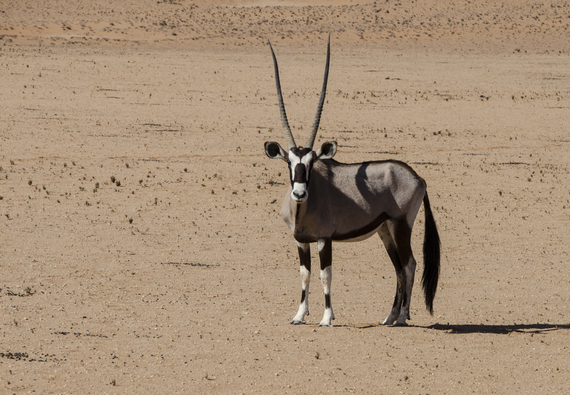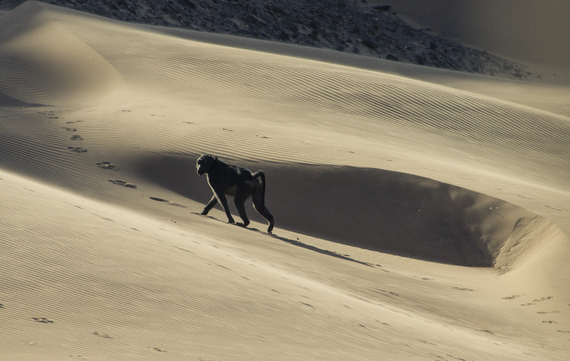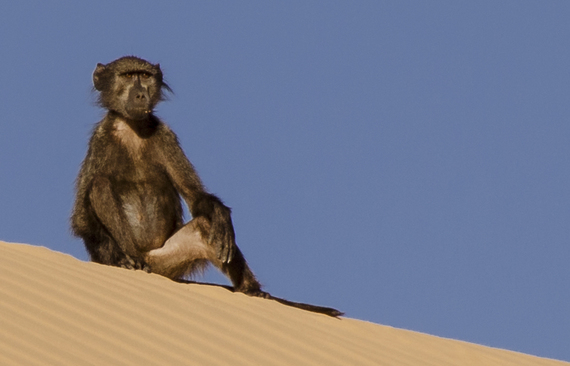 Twilight is bathing the endless horizon now, the wide African sun sinking beneath a nearby Skeleton Coast where many a marooned sailor met his desperate end. But for me -- a tiny speck of life in this ocean of sand that could pass for the lunar Sea of Tranquility -- silent, solitary and seductively peaceful Serra Cafema awaits, and with it the promise of a sundowner gin & tonic amid the definition of splendid isolation.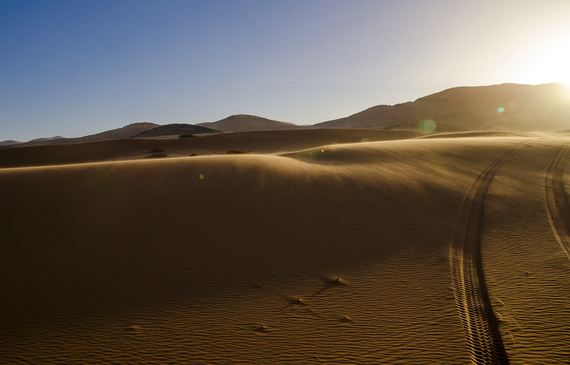 If You Go
Located in the extreme northwest of Namibia on the banks of the Kunene River that forms the frontier between Namibia and Angola, Serra Cafema Camp consists of 8 riverside wood, canvas and thatched villas on spacious, elevated decks. The Ozonganda, or main area, comprises indoor and outdoor dining areas, sunken lounge, library, curio shop and swimming pool, all sharing views of the Kunene River. Denver-based Africa Adventure Consultants can arrange customized northwestern Namibia safari itineraries that include Serra Cafema.