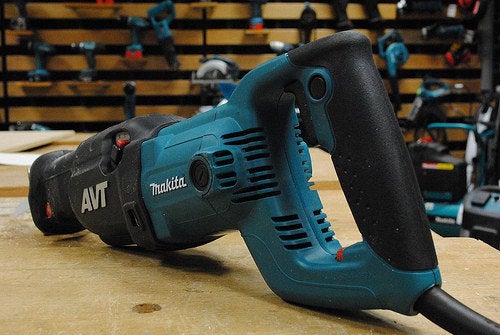 A Northwestern University professor is defending a controversial after-school demonstration, which featured a naked woman "being repeatedly sexually stimulated" by a device he called a "fucksaw" in front of students.
The Daily Northwestern reported Tuesday that Prof. John Michael Bailey, who teaches a popular Human Sexuality course at the school, often holds after-class events which include everything from "a question-and-answer session with swingers to a panel of convicted sex offenders."
Last week, the after-class event featured a naked woman being stimulated by a motorized sex toy called a "fucksaw" on stage, the paper reports. The woman was not a student.
The "fucksaw" in question is basically a dildo attached to a reciprocating saw which, when cranked up to full blast, can drive a person to orgasm.
Students were reportedly warned about the explicit nature of the demonstration, and were urged to skip the event if they were worried about being uncomfortable.
One school administrator told the Daily Northwestern he was surprised to hear of the demonstration, but said it most likely did not violate school policies. But after the "fucksaw" story made national news Wednesday, the university's president spoke out against Bailey's after-class event.
Northwestern University President Morton Schapiro told the Chicago Sun-Times he was "troubled and disappointed" by the incident, and that an investigation into the matter was underway.
"I feel it represented extremely poor judgment on the part of our faculty member," Schapiro's statement said. "I simply do not believe this was appropriate, necessary or in keeping with Northwestern University's academic mission."
On Wednesday, Ken Melvoin-Berg, a Chicago tour guide who spoke to the class before the demonstration, told the Chicago Tribune he was receiving a lecture fee, from the university.
"Sticks and stones may break your bones, but watching naked people on stage doing pleasurable things will never hurt you," Bailey told his class in response to the controversy.
The student newspaper published a statement from Bailey following the public scrutiny of the demonstration:
Do I have any regrets? It is mostly too early to say. I certainly have no regrets concerning Northwestern students, who have demonstrated that they are open-minded grown ups rather than fragile children. I have not enjoyed the press, because I have assumed that reporters will sensationalize what happened and will not provide my side. (A welcome exception to this, mostly, was the Daily Northwestern article.) I suspect that my Dean is not enjoying this publicity, and I do not like displeasing my Dean. To the extent that this event provokes a discussion of my reasoning, above, I welcome it. I expect many people to disagree with me. Thoughtful discussion of controversial topics is a cornerstone of learning
Chicagoist has a photo of the sex toy here.
Support HuffPost
The Stakes Have Never Been Higher
Related
Popular in the Community