Norway in winter may sound cold and bland to many people but as I have found this February it is very far removed from that with a whole wealth of activity, exploration and experiences to be found there.
Thanks to a social media competition 'Norway, Your Way' by visitnorway.com plus the help from lots of online friends I was chosen as the U.K. representative to go explore what Norway in winter has to offer. It proved to be a whirlwind 10 days with so much to do but still leaving me wanting to go back soonest to explore more. The following photo slideshow shows only some of the memories we made and have.
Lillehammer, home of the 1994 Winter Olympics. A small winter wonderland town that quite rightly shows off its achievements in hosting such a huge event. Once there you can yourself take to the Olympic bobsleigh track and experience 3G around the bends. For fast but more gentle fun, you can go tobogganing down the special made runs and to top the day off we stayed overnight in Hunderfossen Snow Hotel, an experience to say the least, wrapped up inside a thick sleeping bag in a tranquil cool icy room. The icy/snow walls absorb all sound so the sudden quietness as you fall asleep is remarkable.
For such a large country, Norway's population is still only measured to be just fewer than 5 million total. As you travel throughout the land you notice that each village, town or city seems far separated from the next. To see some sort of large denser urban life you would need to visit the capital Oslo or the beautifully set port city of Bergen. Both have huge amounts of history to explore and are quite different to one another in their own right.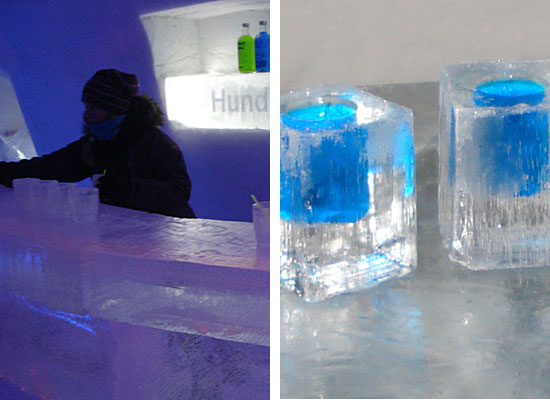 Norwegians are famous skiers and it soon becomes understandable why: snow and slopes are everywhere. Norefjell was the first of our winter sports stops. Cross country skiing was the order of the day. Yes, it is harder than it looks. As I spent a lot of time on the floor it was humbling but great to see many toddlers gliding past me with ease. Overnight was more than comfortable staying local at Recover Norefjell, lovely wooden cabins set high in the pine trees, a perfect retreat. For our Alpine skiing adventures we went high above the town of Voss. Miles and miles of great runs and lots of choice for all standards. This I did take to a lot faster and enjoyed all the downhill to the full whilst staying upright most of the time.
Further up the coast we visited the town of Ålesund, full of its art nouveau architecture. Fishing boats full of the days catch line the port as you walk along, and I can honestly say I have never seen cod as large as these here. A treat it was to be able to go out to sea with one of the boats and see them catching them in action.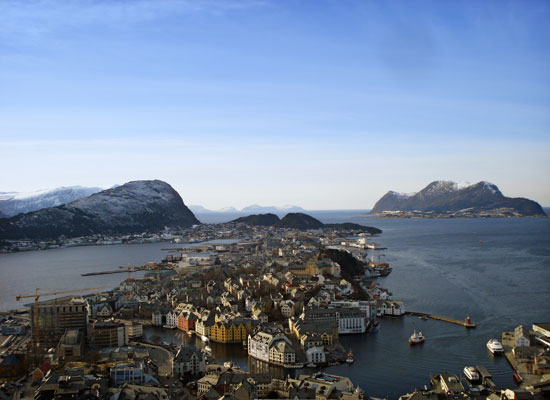 Our travel memories are always filled with sights of wonder and a new one gained for me here was the fjords of Fjord Norway. I had seen pictures and imagined but from setting off on boat at Flåm and spending time cruising through them we could only look on in awe. The winter had made them their own special way too with calm icy water with reflections of icy mountains.
For a different kind of boat journey a trip up the Western coast by the famous Hurtigruten brought a whole new adventure. Rocky coats, superb sunrises and Arctic seas. It was aboard here we took our sight of the North Cape, the northernmost point of mainland Europe. A bitter wind on deck did not stop everyone from getting out a savoring the views and thoughts of where we where.
And so, yes, the Arctic Circle, with more to do than you can imagine, life goes on very happily up here and they have the sports to show for it. In Tromsø it was dog sledding at the Villmarkssenter. Exhilarating! Snow suited up we walked to the dogs and that was it, the howling began in earnest. They knew they were going to get a run out and they simply just wanted to go and go. Gorgeous dogs and gorgeous white surroundings. How could we finish the day? Well of course, a tour and tasting session of the local Mack Brewery.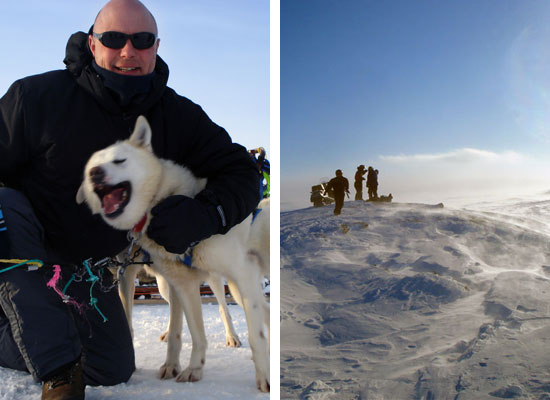 Further up we had more fun in Alta and the snow scooter safari with Garjia Fjellstue. Engines revved up and off we went, around and upwards onto the mountain tops, icy wind in the faces and the sun shining down on the snow that was being blown across creating a great landscape. No matter how fast you motor along it was impossible not to stop to look around you at times.
There was one thing throughout this trip that could not be planned. This event would need not only us to be in so far north, but also to have the perfect weather conditions and solar activity. Yes, the northern lights. It was incredible, the last night, as we had looked around Norway's largest Ice Hotel, the Sorrisniva Igloo Hotel, and drank blue vodka out of glasses of ice the elements came together, we had our Northern lights. All rushed outside and looked up. Truly unforgettable, green glows dancing, shooting stars making a turn for us and one of the most memorable evenings of my life to cap a most memorable ten days.