While other industrialized nations grapple with dangerously problematic plastic consumption, Norway stands out, recycling up to 97 percent of its plastic bottles thanks to a nationwide bottle deposit scheme.
Ingrained in the Norwegian model is the idea that the container is on loan; it's not yours. And why would you want it when you can exchange it over the counter ― at stores, gas stations or one of the several thousand reverse vending machines in public places like schools and supermarkets ― in return for cash or store credit?
Plastic producers in Norway are subject to an environmental tax. The more of their plastic they recycle, the lower the tax. Almost all of them are signed up to the bottle deposit scheme and, if they reach a collective recycling target of above 95 percent, they don't have to pay at all. Producers have collectively met that target for the last seven years.
They ensure they reach that target by attaching a deposit value ― the equivalent of around 15 to 30 cents, depending on size ― to each plastic bottle, to be redeemed when it's returned. The high-quality plastic waste that's collected can then be recycled into everything from textiles to packaging, including new plastic bottles.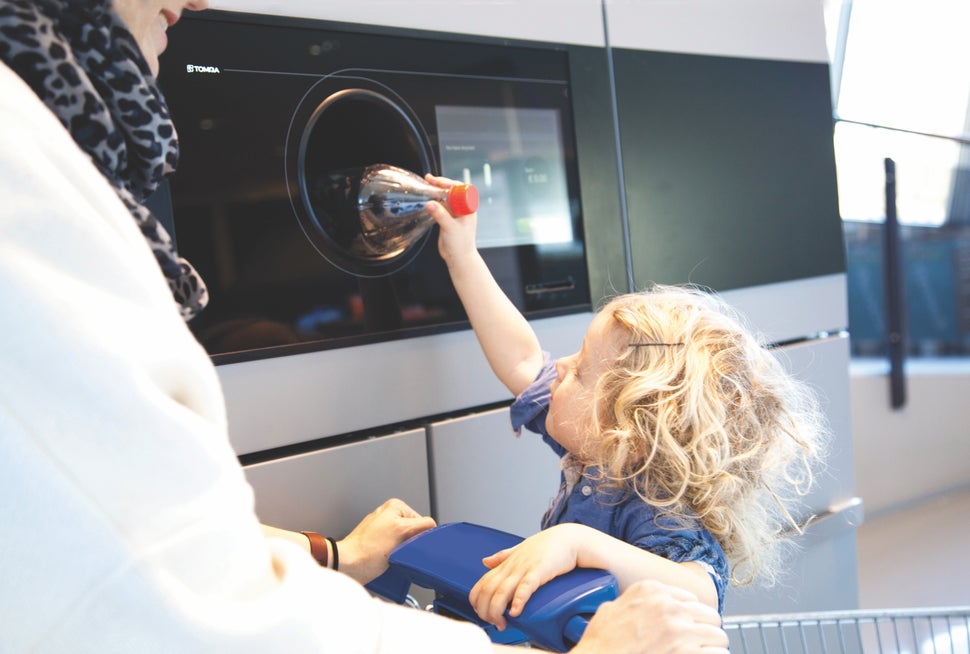 This simple but effective system would seem like a no-brainer for the United States, where recycling rates for plastic bottles have plunged from 37.3 percent in 1995 to 28 percent today.
It's no secret that America is going through a recycling crisis. Since the mid-1990s, there's been a huge uptake of single-stream recycling in the U.S. ― the type where households throw every supposedly recyclable thing into a single bag. This is cheaper for the local waste disposal authority and gives great tonnage while encouraging people to take a chance on stuff they think might be able to be recycled.
For a long time, it worked. Recyclers hauled the waste away, gave it a cursory sort (increasingly by automated machinery), and the materials were sold on the open market ― usually in China, where 31 percent of America's plastic was shipped to last year, according to supply chain management company Afflink. 
Until recently, the U.S. trade imbalance with China meant consumer goods arrived at U.S. ports and the empty containers could then be filled with plastic trash relatively cheaply. Then the sword fell ― or rather, China implemented its National Sword plan to reduce or ban imports of certain types of waste ― and low-grade plastic scrap from the U.S. and other industrialized economies was no longer welcome.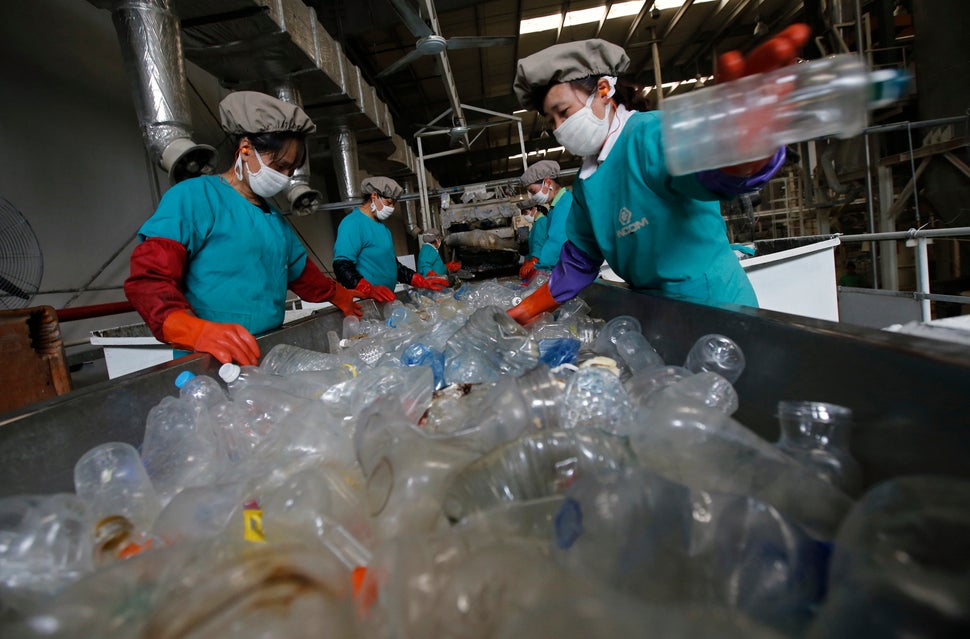 Mountains of recyclables, including plastics, have been piling up in the months since then. In Oregon, recycling processors are now permitted to send recyclable materials to landfills. Sacramento, California, and Hooksett, New Hampshire, have canceled or significantly curtailed their recycling programs, forcing residents to throw their recyclables in the trash. 
So, could the introduction of a national bottle deposit scheme like Norway's help restore faith and order in American recycling? Would such a scheme even be possible?
Dune Ives thinks so. Ives is the executive director of the Lonely Whale Foundation, which uses smart messaging to change behavior and expectations regarding single-use plastics. Last month, the organization scored big when its Strawless In Seattle campaign helped secure a ban on single-use straws in Seattle.
Although Ives says the U.S. hasn't had a high-level national discussion on bottle deposit systems, the results of a recent Lonely Whale poll on single-use bottles in the U.S. are good news for fans of deposit return schemes.
"People were really surprised that stuff they thought was being recycled isn't, but their response was resoundingly 'OK, so what can I do to help change that?'" Ives said.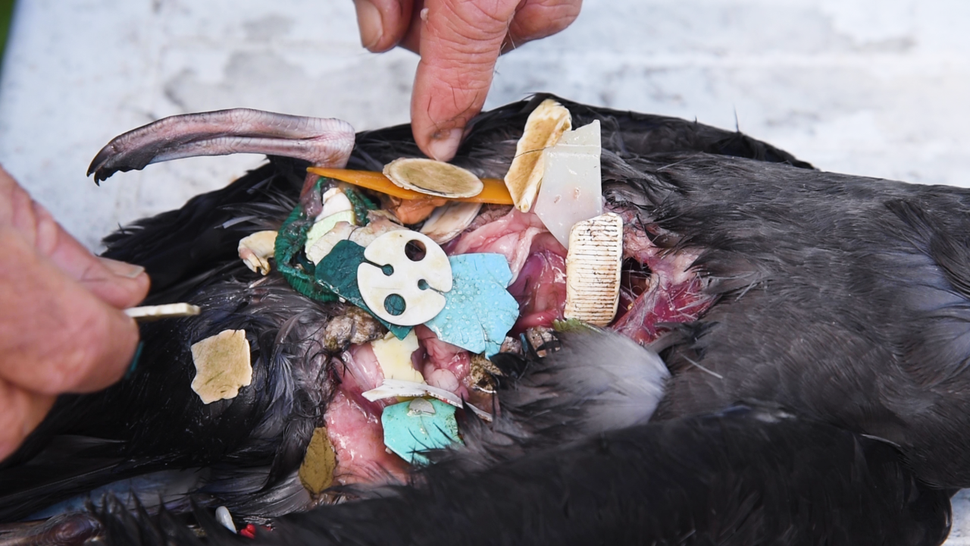 The U.S. does have a history with bottle deposit schemes. Enacted in 1972 as an anti-litter law, Vermont's bottle bill is one of its oldest pieces of environmental legislation. Similarly, California's is more than 30 years old. However, neither is flourishing. In California, nearly 1,000 centers where you could return bottles for nickels have closed over the past two years ― that's about 40 percent of them.
Brands have spent decades and millions of dollars lobbying against bottle bills, fearing that even a slight increase in cost with the addition of a deposit might hit sales. As policymakers look again to deposit schemes, that pushback takes different forms, including talking up the importance of existing municipal recycling.
This has led to some "we're all in this together" messaging from companies promoting producer responsibility. A recent announcement from The PepsiCo Foundation about its All In On Recycling initiative, which provides $10 million to make municipal recycling easier for 25 million families, might be, in PepsiCo's words, "one of the largest-ever public gifts of its kind."
But wouldn't it be better to invest in a bottle deposit scheme or a way of scaling back plastic bottle use overall?
For example, London-based Polymateria is developing next-generation plastics that biodegrade or can be recycled, depending on where they end up. Polymateria CEO Niall Dunne says many plastic brands use multiple resins and additives that the system cannot deal with and prioritize marketing over solutions for when plastic products reach the end of their lives.
Not so in Norway, where keeping things simple has been key, Dunne said.
"They picked two PET resins and said, 'These are the ones you can work with.' Then they lined the whole value chain up behind it, all the municipalities, the recycling machines and processes, and achieved great results."
It's hard to imagine such restrictions working in the U.S., where free market privileges are sacrosanct. The Texas Supreme Court recently ruled to overturn a ban on single-use plastic bags on the grounds that it was unlawful, even though one of the court's justices, Eva Guzman, wrote in a concurring opinion, "Allowing plastic debris ― bags, styrofoam cups, water bottles, and similar pollutants ― to migrate unchecked into the environment carries grave consequences that must not be ignored."
You get the sense that would not happen in Norway.
For more content and to be part of the "This New World" community, follow our Facebook page.
HuffPost's "This New World" series is funded by Partners for a New Economy and the Kendeda Fund. All content is editorially independent, with no influence or input from the foundations. If you have an idea or tip for the editorial series, send an email to thisnewworld@huffpost.com.
Calling all HuffPost superfans!
Sign up for membership to become a founding member and help shape HuffPost's next chapter