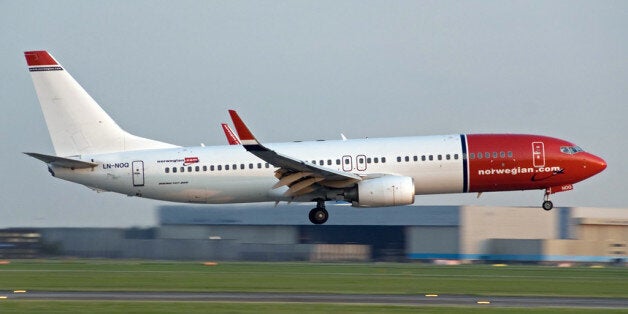 The time has come: budget airline Norwegian has launched its much-hyped, low-cost transatlantic flights. Here's everything you need to know.
Norwegian announced its new cost-efficient flights last October, and promoted the options as affordable alternatives to the pricey seats on most UK to U.S. routes. Right on schedule, the first flights took off from Gatwick Airport on July 3.
According to a Norwegian press release, almost all of the 291 seats on the airline's 787 Dreamliner have been booked on every inaugural flight between Gatwick and the three U.S. destinations -- New York, Fort Lauderdale and Los Angeles
Flights between London and Los Angeles will operate twice a week, with prices starting at £199 (about $340) each way. Flights between London and Fort Lauderdale will also operate twice a week and start at £179 (about $306) each way. The thrice-weekly London-New York flights begin at £149 (about $255) each way.
According to Skyscanner, the cheapest flight from London to New York last month cost $718. Enough said.
Sound too good to be true? According to The Guardian, the airline is offering far fewer super-budget seats than you might expect. Last week, only four of those mythical £149 tickets could be found between July 2014 and March 2015 (the furthest ahead that flights can be booked). The airline also charges £35 (about $60) each way for an "amenity package" including food and a checked bag.
The Guardian also admits that pretty much every other flight out there is significantly more expensive, so Norwegian's cheaper base fares do pay off.
And if the idea of flying budget across the Atlantic gives you back pain, don't fret. The Telegraph's Soo Kim experienced the flight firsthand and reports that the flight was comfortable, with a user-friendly in-flight entertainment system and generally good service.
Norwegian, which was named the best value airline in a May Skyscanner survey ahead of easyJet, British Airways and Ryanair, is not the only airline making headlines with budget-friendly flights. Ryanair announced in February that it too has future plans to launch transatlantic flights at just £10 ($17) one way -- but that won't occur until the airline acquires the necessary long-haul aircraft. Perhaps low-cost flights will also be in the cards for the future of flying.
Congrats, Norwegian. Things are looking good for you!