With a population of just over 5.3 million, Norway is historically known for fishing, its petroleum industry and as home of the Vikings. More recently, the Scandinavian nation has become a hotbed for electronica – birthing dance music tastemakers Kygo and Matoma. Soon singer Astrid S could join their ranks as Norway's hottest pop music export.
"Last year I worked my ass off, and it is really nice to see this year it has paid off," Astrid S told Party Foul Radio with Pollo & Pearl. "Hopefully my hard work this year will pay off next year too."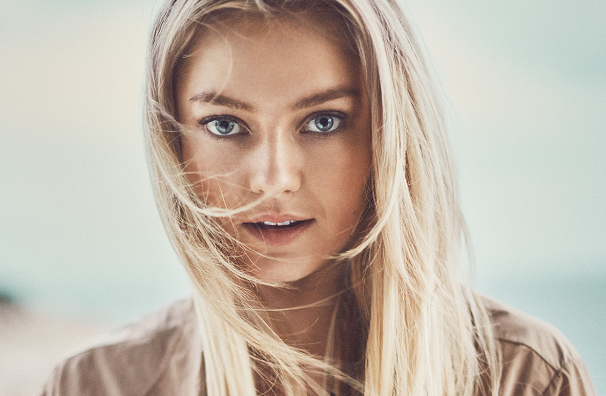 For now, Astrid S is Scandinavia's own little secret – but perhaps not for long. She first shot to fame in her "small and intimate" homeland in 2013, as a favorite on televised singing competition Pop Idol. Since, the 19-year-old has hit the country's Top 10 a cool half-dozen times.
"In Norway, everyone knows everyone, and everyone is very supportive of each other," she stated, "If there is anyone new, or a new song is coming out, everyone will probably know about it."
For Astrid S – real name Astrid Smeplass – that fueled early success at home. Of nine total singles, all but one have landed in the upper half of the Norwegian Top 40. In 2016, she tasted her first intercontinental success. "Hurt So Good" became a Top 20 hit in New Zealand.
Her greatest achievement to date, though, has undoubtedly been current single "Think Before I Talk." A saccharine pop anthem about troubled romance, it entered Denmark's Top 10, made the Swedish Top 20 and became her first Norwegian No. 1 single. As the track continues to build momentum internationally, Astrid calls its success "a relief."
For Astrid, that fear seems unfounded. Though not coming as quickly as it did in Norway, her international recognition is growing.
In addition to a series of solo singles, which have amassed nearly 20 million collective YouTube views, other artists are seeking out the young talent as well. Astrid S appears on the 2015 Avicii release "Waiting for Love" and provided backing vocals for Katy Perry's "Hey Hey Hey" (though the Norwegian had no idea she was recording for the pop superstar's Witness album when pulled into a studio to sing).
One of her favorite projects to date, she said, is a 2015 recording with Canadian pop star Shawn Mendes. The international pairing collaborated for "Air," taken from the Mendes' full-length debut Handwritten.
"To be honest, when I was going to do the song with Shawn Mendes, I hadn't heard of him before," admitted Astrid.
WATCH: Astrid S "Think Before I Talk"
Since recording together, Mendes has scored a string of U.S. Top Ten hits. As his present single "There's Nothing Holding Me Back" lingers in the Billboard Top 20, Astrid S has only glowing things to say about her young contemporary.
"He's been so successful," Astrid said, "It's so well-deserved."
Astrid's own crossover into the global market is in its early phases. This month she launches a European tour and announced her first performances in New Zealand, where she has seen her greatest foreign radio support. Though she tries not to focus too heavily on success – "So I don't go crazy," Astrid said with a laugh – she can't ignore obvious signs her music is reaching new audiences.
"You really notice how you're growing when you go on tour," she shared. "To be able to tour around the world, and do bigger venues every year, is really, really cool."
After heading home to Norway closer to the holidays, Astrid will return to the studio in the new year. She predicts a full-length album in 2018. Though she has "maybe two songs already," the rest of the album is currently up-in-the-air.
"It's hard to think long-term with music, especially making music," she said, explaining uncertainty about which musical direction she might take. "It is just all about what makes me inspired."
Contributing to demand for its release, the singer suggested, was a 2016 tour with out performer Troye Sivan. The experience "opened so many doors," she said. In addition to the exposure it offered, Astrid admitted concert dates throughout the U.S. and Europe introduced her to Sivan's massive LGBTQ fan base.
"I've never felt more unconditional love than from your community," Astrid relayed.
"It's just the best compliment ever if someone tells me they listen to my music and that, you know, it makes them forget all their problems for a while and maybe they feel like they belong or they feel understood," she said.
"I'm so thankful to also have fans of my own that are part of the [queer] community." Astrid concluded. "They really [want] to make me feel good onstage and feel good about myself. I have nothing but love for them."
LISTEN: Norwegian pop singer Astrid S & Oscar-Winner Patricia Arquette join Party Foul Radio
REAL LIFE. REAL NEWS. REAL VOICES.
Help us tell more of the stories that matter from voices that too often remain unheard.